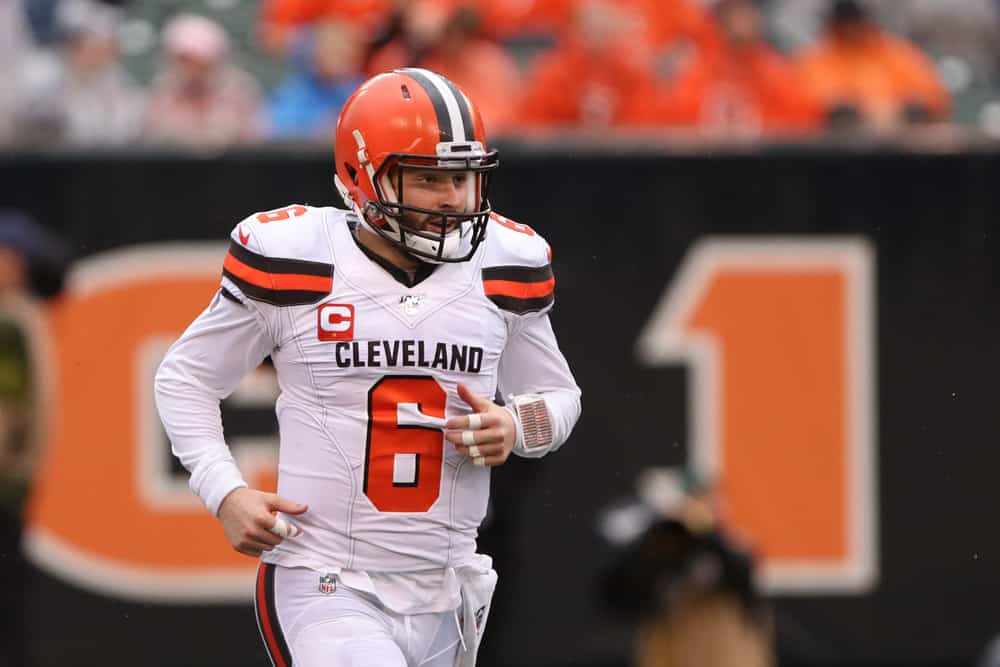 Defense, defense, defense… that seems to be all the Cleveland Browns pundits are talking about.
Free agents, draft picks, injured players returning, and even the undrafted free agents, it's all defense.
But by the time the 2021 season yields to another offseason, the offense will re-assert itself.
And at least one player will make us forget about the Browns' vaunted defensive overhaul of 2021.
In their first 3 seasons, only two players in NFL history have at least 11k pass yds, 75 pass TD, and an 89 passer rating:

Baker Mayfield
Dan Marino

It's been a HISTORIC start to Baker's career. pic.twitter.com/yTlhEL6BgC

— CBS Sports HQ (@CBSSportsHQ) May 31, 2021
That's because this season figures to be all about the quarterback.
Or more specifically, Baker Mayfield's pending franchise quarterback-level contract extension.
And the Browns' passer is primed to maximize his negotiating power with a huge statistical jump.
Baker the touchdown maker 😏@bakermayfield pic.twitter.com/oCDqgL0I5b

— Cleveland Browns (@Browns) February 24, 2021
Armed with deep receiving threats, Nick Chubb's contract-year-run, and that defense, Mayfield is set for a big year.
But it is his own drive and desire to prove his franchise-quarterback mettle that assures a breakout season.
And, if all else fails, there's a 17th game to tack on.
Here is how we're projecting Baker Mayfield's 4th season in stats.
Sure Thing: 4,000-plus yards
Remember last season when we all said Kevin Stefanski would get the most out of Baker Mayfield?
RPOs, designed rollouts, and play-action would make him more dangerous than ever.
Well, it all added up to a mere 3,563 passing yards in 2020.
But there are plenty of signs that Mayfield's passing yardage will improve the second time around.
Most deep completions last two seasons:

1. Patrick Mahomes – 76
2. Russell Wilson – 69
3. Aaron Rodgers – 64
4. Baker Mayfield – 59
5. Deshaun Watson – 56 pic.twitter.com/bGy8dvFv1D

— PFF (@PFF) September 9, 2020
Most obvious is the expected reduction or elimination in Baker's 2020 learning curve.
Mayfield was one of the top passers in the NFL over the second half of the season.
Listening to all the defensive hype, Cleveland fans can hope for a couple of more plays per game, too.
Just a few more third-down stops can make a big difference.
Show us the most iconic photo in #Browns history. We'll start with one of our faves⬇️ pic.twitter.com/QANSIcDyWV

— PFF CLE Browns (@PFF_Browns) May 28, 2021
Finally, a healthy return of Odell Beckham Jr and the addition of speedy Anthony Schwartz opens things up.
It's not that Mayfield will complete 10 long touchdowns per game, but the threat opens windows for others.
Quarterbacks only need to throw for 235 yards per game to hit 4,000 in a 17-game season.
Mayfield averaged 285 passing yards over the last six weeks and figures to top 4,000 easily.
In fact, our prediction is about 245 yards per game, enough for a Browns record 4,165 total passing yards.
Ups and Downs Along The Rest Of Baker's Stat Line 
Mayfield's impressive second-half performance obscured his overall quarterback rating of 95.9.
It was the second-highest QBR in Cleveland Browns history, although it only ranked 15th in the NFL.
Milt Plum's 110.4 QBR mark posted in 1960 might be safe, but a more comfortable Mayfield will flirt with 100.
Better choices will help, as will the effectiveness of the deep threats in opening up underneath.
Baker Mayfield's end of the half hail mary attempt last night was the longest NFL pass attempt PFF has ever charted 🚀 👀 pic.twitter.com/lsRWDiwCjT

— PFF (@PFF) December 15, 2020
Cleveland's tight ends could have the season fans expected in 2020, assisting Mayfield's completion percentage.
Another 30th-ranked 62.8-percent completion rate won't extinguish the concerns of many Mayfield doubters.
Even if a typical Mayfield completion is deeper than average, he needs to improve his success rate.
Stefanski ran and passed at roughly an even rate in his first Cleveland season, with 31 passes per game.
#Browns Baker Mayfield on deep throws (20+yds) since WK9:

142.0 passer rating (1st)
57.9 Adj. completion % (3rd)
362 yds (4th) pic.twitter.com/BP703d5iml

— PFF CLE Browns (@PFF_Browns) December 15, 2020
For the reasons stated above, we expect a solid 2-3 more pass plays per game.
With all the good that can do to Mayfield's stat line, it will also conspire to bump his interceptions to the 12-14 range.
Finally, Cleveland's running game keeps Mayfield from topping Brian Sipe's record of 30 touchdown passes, barely.
Ultimately, we see a stat line of 374/578/4165 with 29 touchdowns and 13 interceptions.
Other Things That Could Affect Mayfield
When Kevin Stefanski and his staff evaluated their 2020 offense, a few games stood out.
Particularly, Cleveland's bad weather stretch in November was brutal statistically.
We're sure Stefanski will look at other teams who fared better in wind and rain.
And he'll see the most successful bad weather teams run their regular offense regardless of the elements.
#Browns QB Baker Mayfield on possibility for another bad weather game Sunday: I don't know if forecast has as much wind as the past two games, but I enjoy seeing how everybody handles it, if you can adapt, then great, my mentality is take care of the ball

— Nate Ulrich (@ByNateUlrich) November 18, 2020
Even if the weather reduces Mayfield's effectiveness, it works better than adjusting to Mother Nature.
Expect bigger point totals in the snow, wind, or rain games of 2021.
We also think Stefanski and Mayfield continue to evolve into a fine-tuned machine.
That is not to say they become predictable, as much as to say game flow improves substantially.
If only y'all knew the journey… Except it's not close to being finished… It continues…
📽: @petelaflame https://t.co/V8Iydk2m9K

— Baker Mayfield (@bakermayfield) June 2, 2021
It is a minor thing that could add another play or two to each game.
And it puts more pressure on opposing defenses, leaving them susceptible to quick plays and trickery.
All of which bodes well for a big statistical season from Baker Mayfield and the most important stat of 2021.
That is, Mayfield and the Browns will win more than the 11 regular-season games notched in 2020.