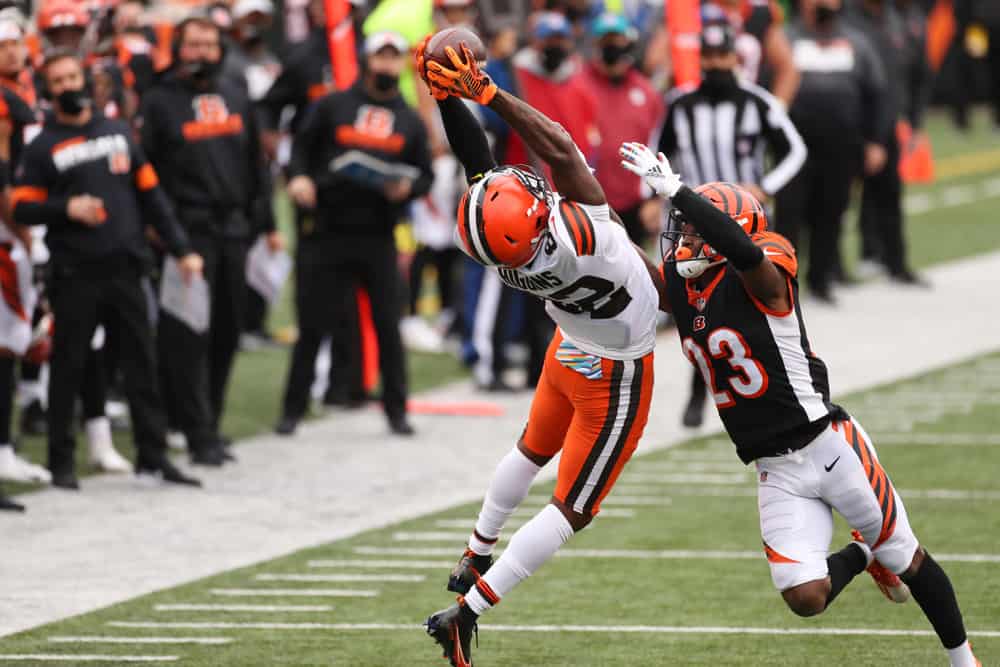 Cleveland Browns WR Rashard Higgins recently appeared on The Jim Rome Show.
Higgins has been on the Browns roster since 2016 so he has a lot of insight on where the Browns have been and where they are headed.
Here are highlights of the conversation:
1. Would Higgins Have Scored When Chubb Stepped Out Of Bounds (vs. Houston)?
Rashard Higgins admitted he would have scored on the play Nick Chubb stepped out of bounds on.
He echoed a similar sentiment that Myles Garrett made earlier in the week by saying how Chubb handled himself in that situation is a testament to who he is.
Chubb would rather win the game then rack up points or stats.
2. What Does He Think Of This Team's Resiliency?
Higgins attributed a lot of their success to Coach Stefanski.
He said Stefanski often tells them:
"Things may not go your way. Just stay with the game plan and keep a level head."
The Browns are doing just that and finding themselves on the winning end of games.
Higgins talked about how different guys have stepped up when needed.
In his case, he had his career-best game against the Bengals when OBJ went down.
He had 6 receptions for 110 yards.
Rome asked him about the pivotal play in the 4th quarter against Houston where Baker Mayfield told him in the huddle that he was throwing the ball down the field, and Higgins needed to make the catch.
Higgins said that shows how Baker believes in him, and he believes in Baker.
Hollywood did more of the same against the Eagles.
Rashard Higgins went up and got it 😤 @CALLME_WOOD @Browns

📺 #PHIvsCLE on FOX pic.twitter.com/VNYLT7TRy6

— The Checkdown (@thecheckdown) November 22, 2020
3. How Does It Feel To Be On A Winning Team?
Higgins talked about how he has been there for the 0-16 and 1-15 seasons.
He has "seen it all".
Higgins mentions the countless coaches and players who have come and gone in the past 4 years.
Needless to say, he is happy to be on a winning team with a lot of great players after enduring those difficult years.
4. "Hollywood" Higgins
Rashard Higgins brought up his mother while talking Jim Rome.
He says she taught him to "give off the energy you want to receive".
Higgins tries to carry himself that way while working "his ass off in practice".
#Browns Kareem Hunt on Rashard Higgins getting involved in the game more: "He's a great person and a great teammate and I love seeing good things happen to good people."

— Camryn Justice (@camijustice) October 29, 2020
He talked about his journey into the NFL.
It has never come easy for him starting with being the 172nd pick in the 2016 NFL Draft.
Rome asked him about the origin of his nickname "Hollywood".
Higgins earned the name from his pee-wee football coach when he was only in 4th grade.
He was a little flashy kid with swagger and wasn't afraid to make big hits.
His coach told him if he kept making big plays, then they would call him 'Hollywood'.
Ever since then, Hollywood has worked to live up to the name.
"I can't mess up. It comes with responsibilities, naming yourself with a name like 'Hollywood.' … Hollywood doesn't drop the ball."
Higgins in 2020
Rashard Higgins is on pace to have his best NFL season.
In 2018, he caught 4 TD catches and had 572 total yards.
Thus far in 2020, he has 2 TD catches and 290 total yards.
With OBJ out, the Browns definitely need some "Hollywood" to carry them through the second half of the season.