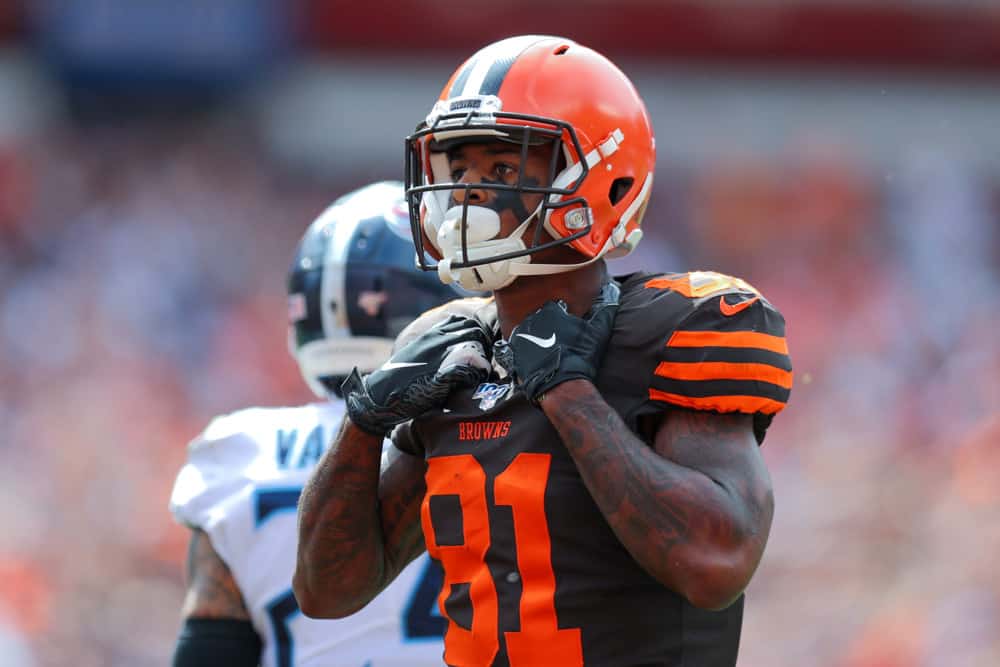 Cleveland Browns fans got some welcome news today.
While it is too early to say if the front office heard wide receiver Rashard Higgins' pleas to stay in a Browns uniform in 2021, we can only hope so.
Higgins' agent may not approve of his tactics or negotiation strategy, but he articulated his intentions very clearly.
What Higgins Said
Higgins appeared on 850 ESPN Cleveland's The Next Level podcast on Friday.
Of course, the first question asked to the free agent Higgins was what he hoped for his future.
He replied with a heartfelt answer.
"Don't give up on me. I never gave up on y'all."
Higgins went on to address GM Andrew Berry directly.
Hollywood Higgins on what he wants Cleveland to know about his future: "Don't give up on me, I didn't give up on you. Tell Andrew to send the papers and I'll sign where I need to sign."

— Emmett Golden (@egoldie80) February 26, 2021
Later in the day, it was reported that the Browns want to try to keep Higgins on the roster, but it may end up being a money matter.
From MKC: "The Browns would like to re-sign Rashard Higgins if they can get him at the right price, a source tells me."

— clebrownsnetwork (@clebrownsntwork) February 26, 2021
Rashard Higgins Career
Higgins has spent his entire five year career in Cleveland.
During that time, he has seen and experienced a lot of ups and downs.
Last season, he signed a one year deal for $910,000 to stay put.
Statistically, 2020 was his best year.
He scored 4 touchdowns and accumulated 599 receiving yards during the regular season.
Higgins had 7 catches for 116 yards in the playoffs.
Of course, the most noteworthy play involving Higgins in the playoffs was the controversial fumble-touchback and head-to-head play with the Kansas City Chiefs Daniel Sorensen.
Over his career, Higgins has proved a steady and consistent target for QB Baker Mayfield.
Coach Stefanski on Higgins
Stefanski has always spoken highly of Higgins even after the fumble-touchback that really turned the tide of the Chiefs' game.
After the game, Stefanski said this about the ill-fated play.
"I will never ever doubt Rashard Higgins' effort or our guys' effort. Our rule there is not to reach the ball out when it is first and goal, and he knows that. Again, [I] appreciate his effort. He battled like he always does, but we have to fight that urge because it is such a big loss if it does end up being a touchback."
Time Will Tell Higgins' Fate
We know that the Browns are not planning to use the franchise tag on any players so Higgins will not be subjected to that.
What we don't know is if GM Andrew Berry is working behind the scenes to offer Higgins a deal between now and March 17 or if another team will scoop up Hollywood Higgins for 2021.
Rashard Higgins hopes to re-sign with the #Browns before hitting the market 'but I haven't seen an offer yet' https://t.co/fx6K1dAI06

— Mary Kay Cabot (@MaryKayCabot) February 26, 2021
Let's hope Higgins' pleas and efforts are rewarded with a contract to stay in Cleveland.