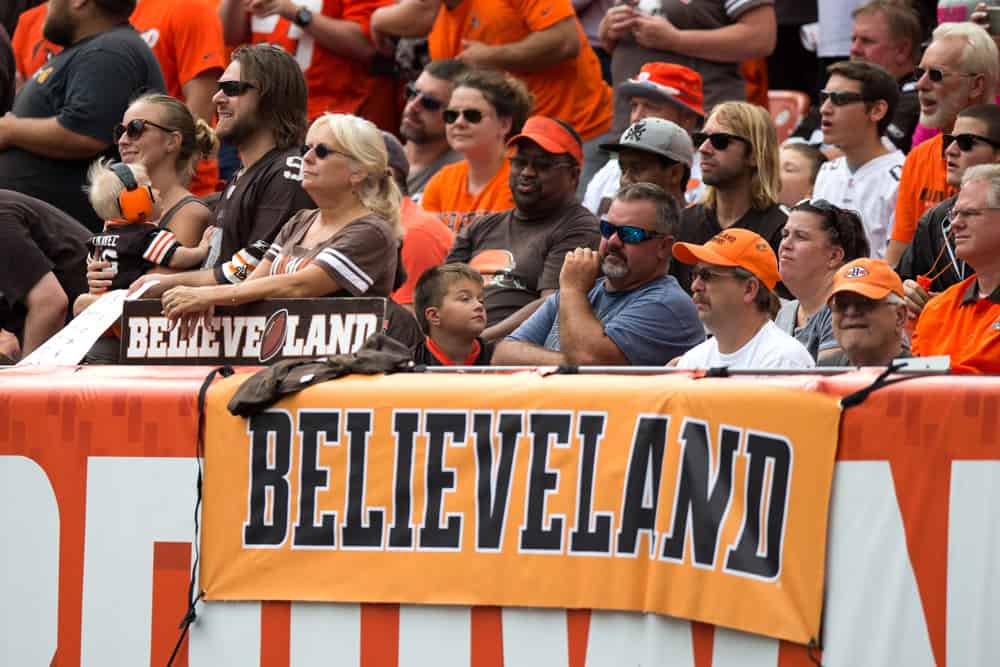 Ray Prisby, who Cleveland Browns fans might know as "Showdawg", is having a pretty good year.
First, Browns legend and Hall of Famer Jim Brown came calling on the Cleveland super fan.
Brown wanted to let Prisby know he was a finalist in the 2021 Ford Hall of Fans contest.
"I was totally caught off guard," Prisby said. "That's something I'll always remember."
Then, he was notified that Ford was flying him to Tampa Bay for Super Bowl Week.
That is where he was when the larger-than-life NFL Hall of Fame president, David Baker, knocked on his hotel door.
RAY "SHOWDAWG" PRISBY – BROWNS SUPERFAN AND "HALL OF FANS" INDUCTEE https://t.co/gI8IbeHF1f

— News-Talk 1480 WHBC (@1480whbc) February 5, 2021
And just like that, Cleveland's own Superdawg was a member of the Ford Hall of Fans.
Prisby is one of three fans inducted this season, and the first Browns fan to be so honored.
Over 27,000 fans vied for the honor, with Kristi Brown (Cardinals) and Wayne Mabry (Raiders) joining Prisby in the Class of 2021.
Their official induction takes place this weekend and the trio will be introduced during the big game.
What Does It Take To Be A "Hall of Fan-er"? 
Prisby is a veteran of the US Air Force and says he exclusively dresses in orange and brown.
He is an authoritative source of Cleveland Browns history, stats, and trivia.
Naturally, he has an extensive collection of Browns memorabilia, much of which is in the Browns Museum at FirstEnergy Field.
Prisby's extensive collection is full of so many vintage items that the Browns asked to borrow some of his collection for the museum at FirstEnergy Stadium. https://t.co/jSgN2RoVuq

— clevelanddotcom (@clevelanddotcom) January 17, 2021
Superdawg is also a published author of a children's book, which includes a character who is an avid Browns fan.
And of course, he does all this for the right reasons, as he told Camryn Justice of News5-Cleveland: 
"I collect because I like the history of the Browns," Prisby said. "I just love the history because the Browns have such a rich tradition and such a rich history, there's so much to tell."
Most of the competitors entered the contest online, and once he was a finalist, fans could vote every day for their favorite.
And vote they did, earning the thanks of Prisby for the support of his fellow Browns fans and veterans.
"It's unreal to think that that many people could get behind a small-town guy like myself, but they did and I can't do nothing but appreciate that," Prisby said.
The Ford Hall of Fans now has nine members as it inducts its third class of Super Fans.