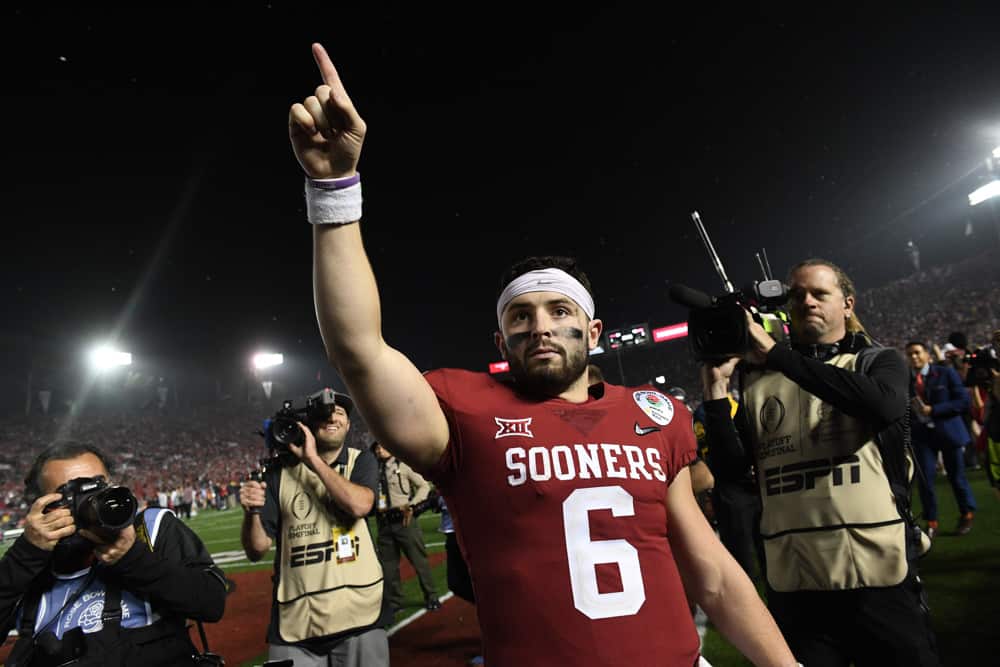 No matter how happy we are as Cleveland Browns fans, the offseason can be a drag.
Who among us wouldn't skip 6 months of life to get to the season-opening kickoff in Berea?
With so much time on our hands, it's not uncommon to play imaginary roster and draft games and wonder "what if?"
Like "what if" we knew Baker Mayfield would be the best quarterback in the 2018 draft and we picked him?
The Cleveland Browns make University of Oklahoma quarterback Baker Mayfield the No. 1 pick in the 2018 NFL Draft https://t.co/9iCw03QwRr pic.twitter.com/BNgGsgyWkb

— CNN Breaking News (@cnnbrk) April 27, 2018
Oh, wait! That's what happened.
Well, maybe we can think "what if" we took Sam Darnold, and Mayfield went to the Jets, and would Baker survive?
But no, that is just a silly question that nobody in their right mind would ever wonder about.
How about if we reimagine the 2018 draft and where the 5 first-round quarterbacks could have ended up?
If teams knew then what we know today, how different could the NFL look?
And would John Dorsey's double-top-secret overall top pick still be Baker Mayfield?
How Scouts Saw the 5 Way Back Then 
As with many drafts, some popular expectations of the 2018 first-round quarterbacks proved misguided.
Although not as bad as 2017 when Mitchell Trubisky ranked ahead of Patrick Mahomes and Deshaun Watson.
But that will never stop scouts and general managers from sharing their opinions on anybody else.
Sam Darnold was a popular choice for the overall first pick in 2018, despite concerns about his risk-taking.
At this point, Baker Mayfield's personality alone makes you want to root for him!🤣

His journey to being the top draft pick was insane! Good for him.🏈#HeismanHouse https://t.co/681FSL8jrT

— All Sports Best (@AllSportsBest) September 15, 2018
Many prominent NFL scouts and coaches insisted 2019 MVP Lamar Jackson would never be an NFL quarterback.
Josh Allen couldn't hit the broadside of a barn from the inside, and as they say, you can't teach accuracy!
Josh Rosen was arguably the best passer, but immobility and injuries dropped his value.
And some guy named Mayfield was great in college, but he was way too short and not athletic enough to be #1.
Of course, the evaluations were more inclusive than that, and the top five had many positive assets, too.
What If Scouts Knew The Future? 
About the only thing Josh Rosen hasn't had trouble with in his limited NFL experience is injuries.
Rosen ranks #42 out of 42 quarterbacks with 500 pass attempts since 2018 and would be mentioned with Mason Rudolph as a late-round flier.
Sam Darnold showed some of the skills that made him a favorite for the top pick.
While it didn't work out in the skill-deficient offense in New York, scouts would push his arm and coachability.
If he stood 6'3" @bakermayfield might be the consensus top pick in this year's draft@PFF_Steve and @PFF_Sam think he should be anyway pic.twitter.com/Jj3Dv20MD0

— Sports Illustrated (@SInow) March 1, 2018
Lamar Jackson's updated scouting report would call him a dual-threat quarterback and a defense's nightmare.
Jackson would infuse excitement and promise to a franchise in need of talent and provide an emotional lift.
Josh Allen would be a worthy leader in a passing offense with deceptive escapability and a field-stretching arm.
Lack of speed and athleticism are offset by Baker Mayfield's quickness and accuracy.
And his history of fighting past doubt and adversity to emerge a winner can't be discounted, either.
So, The Browns Draft Mayfield At Number 1? 
Remember we are still talking about the 2018 Cleveland Browns.
No decision came easy and with Jackson and Allen posting some good numbers, Mayfield is not a lock at #1.
At least for teams not named the Cleveland Browns, and the Browns take advantage of that.
Knowing how the quarterbacks will pan out, the Giants feign interest in replacing Eli Manning with the #2 pick.
The new kings of Cleveland 👀

Top Browns draft picks Baker Mayfield and Denzel Ward threw out tonight's first pitch at the Indians game. pic.twitter.com/jlBxHKwZah

— FOX Sports: MLB (@MLBONFOX) April 28, 2018
The Jets know what Mayfield can do, but they are set on a splashier selection.
So… the Jets jump ahead of the Giants, trading their #3, #72, and two future first-rounders to Cleveland.
And Lamar Jackson becomes a New York Jet.
Buffalo wants Josh Allen, and a well-placed rumor out of Cleveland makes them sell the farm for the Giants' #2 selection.
That leaves Baker Mayfield available for the Browns to take at #3, sparking the resurgence of Cleveland football.
And hopefully saving this writer from many nasty social media postings.
Sorting Out The Aftermath 
So, in our little daydream, Buffalo and Cleveland grab the same quarterbacks they picked the first time around.
Both teams make noise in the 2020 playoffs and enter 2021 as Super Bowl contenders.
And Baker Mayfield versus Josh Allen MVP debates will rage for years.
Baltimore is not so lucky, and their misfortune should have been the Jets' gain.
14 QBs were drafted in the top 5 between 2009 and 2018.

Baker Mayfield is the ONLY ONE who remains on the team that selected him. pic.twitter.com/PjrYdFpSX6

— NFLonCBS (@NFLonCBS) April 7, 2021
Except Adam Gase reduced Lamar Jackson to a wildcat option behind his starter, Joe Flacco.
The Jets will take another shot at a quarterback in the 2021 draft as Jackson starts over in Carolina.
Sam Darnold enters his fourth season in Arizona, while Josh Rosen wallows on the Steelers' practice squad.
And somewhere some sportswriter or TV pundit still debates whether Baker Mayfield was the right choice.
Even as the next great Cleveland Browns dynasty rolls on.