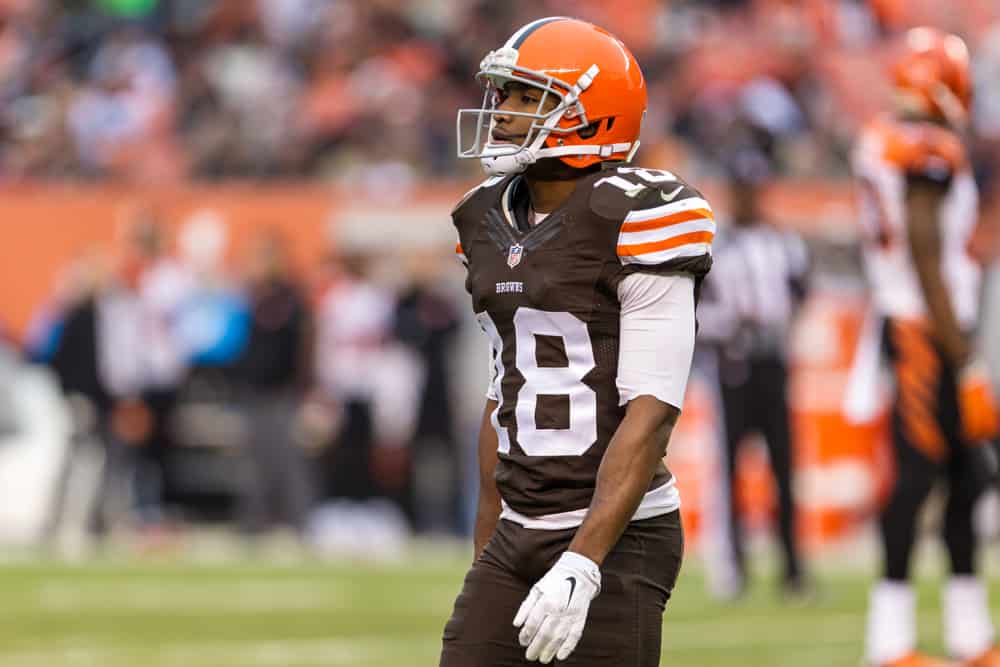 Former Cleveland Browns wide receiver Taylor Gabriel, 30, announced his retirement from the NFL.
Gabriel was an undrafted free agent signed by the Browns after the 2014 NFL Draft.
Taylor Gabriel made his retirement official while floating on a raft in a swimming pool.
Retired ✌🏽 #7YearsUndraftedFreeagent #Tryout pic.twitter.com/L9piptbbb7

— Taylor Gabriel (@TGdadon1) April 10, 2021
Taylor Gabriel's Career
Gabriel officially played 6 seasons and 83 career games.
He spent two seasons, 2014 and 2015, with the Browns.
During that time, he played in 29 games, tallied 862 receiving yards, and 1 touchdown.
Gabriel's second stop was in Atlanta for the 2016 and 2017 seasons.
Taylor Gabriel caught 7 touchdown passes and had 957 receiving yards as a Falcon.
He also rushed for a touchdown.
Gabriel was an integral part of the NFC Champion Atlanta Falcons successful 2016 season.
Taylor Gabriel had 3 catches for 76 yards in the Super Bowl loss the Falcons suffered after the Patriots came from behind.
In 2018, Gabriel signed a four year $26 million contract with the Chicago Bears.
He stayed with the Bears for the 2018 and 2019 seasons where he accumulated 1,041 yards and caught 6 touchdown passes.
While with the Bears, he earned the nickname "Turbo" for his speed.
The Bears released him prior to the 2020 season in an effort to create cap space.
Gabriel opted to sit out the 2020 season because of COVID-19.
The Cleveland Browns In Taylor Gabriel's Era
Taylor Gabriel was in Cleveland during the lowest of times.
In 2014, the Browns had Brian Hoyer has the starting quarterback.
Mike Pettine was the head coach, and Kyle Shanahan was the offensive coordinator.
They finished in 4th place in the AFC North with a 7-9 record.
2015 was worse.
The Browns went 3-13 with another last place finish in the division.
Mike Pettine was still the head coach; Kyle Shanahan left the Browns to become the Falcons offensive coordinator.
Josh McCown was the starting quarterback.
Golf In His Future
Gabriel developed a love for the game of golf after joining the NFL.
He admitted it was an ironic choice given his love of speed and "Turbo" nickname.
While with the Bears, he told NBC Sports:
"It's not a sport to where you're running and jumping, and I wouldn't say not doing anything really athletic — it's more mental than anything. But I feel like it kind of helps me football-wise in the sense of kind of focus. Like dialing in on that swing, keeping that same swing rhythm pattern, not getting too frustrated after I just sliced a drive or go O.B. on the driver. So it's helping me."
Gabriel's wife often joined him on the golf course so it appears there will be many pool and golf days in the couple's future now that Gabriel is officially retired.