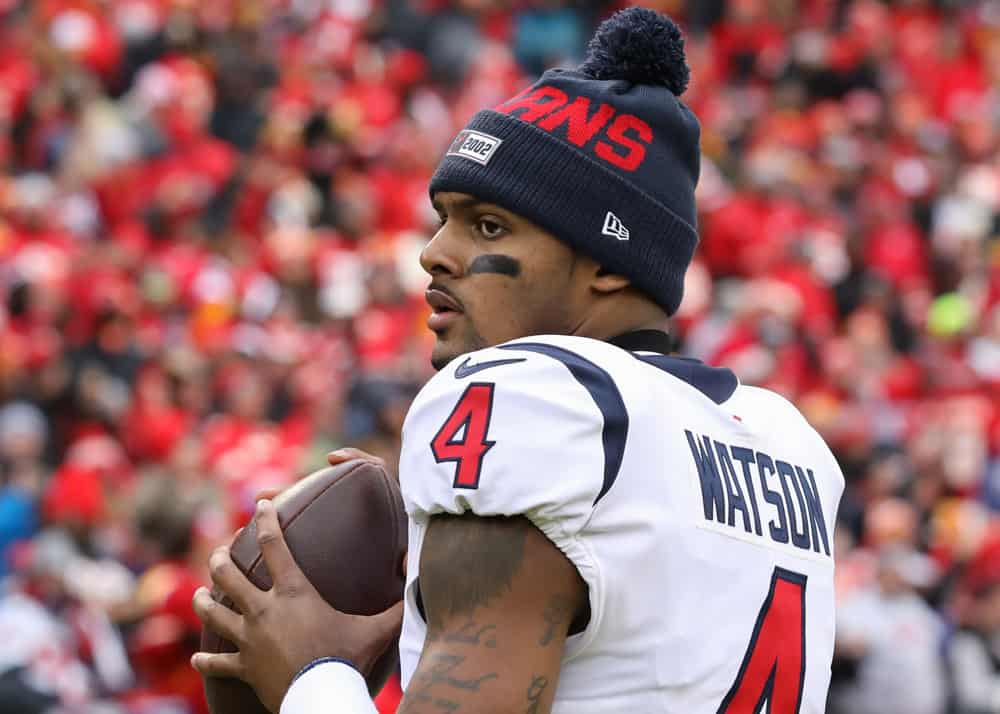 Now that the Cleveland Browns had the Deshaun Watson situation blow up in their faces, let's take a look at why this team did not need Watson in the first place.
Of course, Watson could bring positives to the team, but it is debatable if they were enough to outweigh the negatives.
1. Watson's Baggage
The teams courting Watson are not fully aware of the baggage he brings to his next team.
The reason for this is that no one knows just how much worse Watson's situation will get.
Though he is criminally cleared, there are outstanding civil cases.
On the day he met with the Browns, he was providing testimony in a deposition for a civil case.
How bad will these civil cases be when 22 women are involved in the complaints against him?
Will the NFL suspend him?
This is just a guess, but I think the NFL is going to give Deshaun Watson a significantly longer suspension than the teams currently competing for his services are expecting.

— Michael David Smith (@MichaelDavSmith) March 17, 2022
If precedent is any indication, the league will, for at a bare minimum of 6 games.
That is what prior offenders got when criminally cleared in cases with 1 woman.
Given the number of women involved, the suspension could be much longer.
Whoever gets Deshaun Watson inherits his baggage off the field as well as his contract that runs through 2025 at an average of $39M a year = cap hit of $40.4M in 2022. @fox8news #Browns #Saints #Panthers #Texans #Falcons

— John Sabol (@John_Sabol) March 15, 2022
2. Asking Price Was Too High
The Texans were asking for a minimum of three first-round picks.
Then, there were the other players likely involved in the trade package.
Some would view that as mortgaging the future for the present.
Deshaun Watson is the only elite QB on the market now. His potential trade could be the biggest in NFL history if the legal issues settle. #Texans should get at least 3 1sts, a star player, and additional picks/players. The Wilson trade increased his price, DW is much younger.👏🏽

— Maanav Gupta (@MGSportsTalk) March 8, 2022
This is not to say that the Browns would not have experienced winning results with Watson.
No one knows that for sure either, but if he played as he did in 2020 and before, they should have.
It is worth noting that players that sit out are never quite the same.
Le'Veon Bell is a perfect example of a player who sat out a season over a contract dispute and was not as dominant or effective when returned.
He is not a quarterback, but the precedent is worth mentioning.
3. Too Much Drama
Fans had mixed reactions to the news that the Browns were trying to trade for Watson.
How would they have felt if Watson became a Brown?
Would he have been booed on Sundays at First Energy Stadium?
The Browns organization prides itself on being forward-thinking and ahead of the rest on women's initiatives; having a quarterback who was accused of the things Watson is would fly in the face of that.
The women working in the organization may have been angry.
Lot of reports about how teams are selling themselves to Deshaun Watson. I'd like to know how Watson – and the team that trades for him – plans to publicly address his allegations and the fans they will alienate. pic.twitter.com/r2vIlmP7dV

— Gregg Rosenthal (@greggrosenthal) March 17, 2022
As we have seen from today's events after the Browns learned they were not getting Watson, the Browns have enough of their own internal drama that is constantly brewing.
Adding Watson to the mix would just amplify that way more than necessary.
Conclusion
Hopefully, Watson ends up in the NFC so the Browns can watch how all of this goes from afar.
This is just one of many compelling storylines in the NFL for the 2022 season.