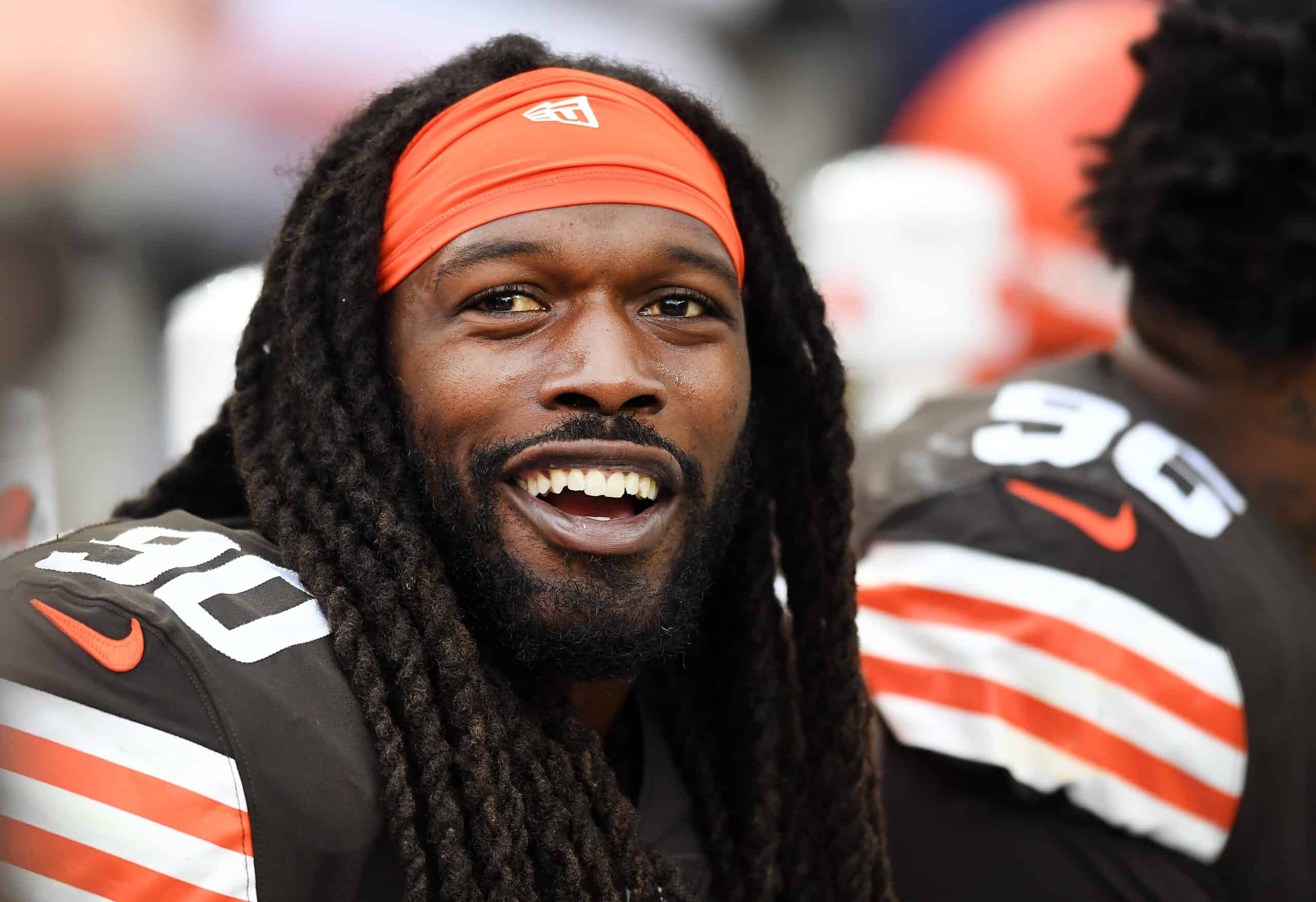 One of Andrew Berry's splashier free agent signings happened in 2021 when the Cleveland Browns signed defensive end Jadeveon Clowney to a one-year $8 million deal.
Truthfully, Berry and the Browns pursued Clowney for over a year though he ultimately signed with the Tennessee Titans in 2020.
Everyone was excited to see what Clowney could do opposite Myles Garrett.
Clowney did not disappoint.
Here are three reasons why the Browns need to re-sign Clowney for 2022.
1. Dynamic Duo Of Garrett And Clowney
As mentioned above, having Garrett and Clowney on the field together was one of the more exciting events in 2021.
They worked together very well, and opposing offenses had to contend with both of them and scheme accordingly.
The resurgence of Clowney's career which had appeared to go off the skids a little because of injuries and delivering below expectation results in previous years has a lot to do with being opposite Garrett.
It is a tag team that can dominate.
Don't let Myles Garrett's 4.5 sacks distract you from the fact that Jadeveon Clowney also had 2 himself.

Not bad for a guy who is "washed."

Batman found Robin. pic.twitter.com/dfv52Ajgbe

— Nick Karns (@karnsies817) September 28, 2021
2. Garrett Wants Clowney Back 
Myles Garrett has a lot of clout within the Browns organization.
A player of his caliber endorsing a return of Clowney definitely helps the cause.
This is particularly true because signing Clowney for 2022 is not going to come at the bargain-basement price of $8 million.
Prior to 2021, Clowney had been making between $13 and $15 million per year so his performance in 2021 pretty much sealed his fate at earning a higher paycheck in 2022.
When asked about convincing Clowney to stay, Garrett said:
"I'll try but you never know…But at the end of the day, I want this team to stay together. I want the defense to stick together."
#Browns DE Myles Garrett on whether he'll try to convince Jadeveon Clowney to re-sign: I'll try but you never know. Guys have their own agendas and want to be in certain places. … But at the end of the day, I want this team to stay together. I want the defense to stick together

— Nate Ulrich (@ByNateUlrich) December 31, 2021
3. Gives The Browns D Continuity And Momentum
The Browns have worked hard to piece together a competitive football team.
Each season, there are necessary changes made to improve the team.
This is an area where the Browns do not need to improve.
They need to let Clowney and Garrett continue to work together and make the defense even better in their second year together.
What Would The 2022 Clowney Contract Look Like?
If re-signing Clowney is in the Browns 2022 plans, the next question is what type of contract would they consider.
Spotrac has Clowney's market value calculated for a four-year deal at $51.1 million.
Jadeveon Clowney is coming off a 9 sack season with the #Browns

Who is going to pay him when free agency rolls around?#NFL

Go here for all 50: https://t.co/b54zAWPL41 pic.twitter.com/TddIBWnXsE

— Pro Football Network (@PFN365) February 19, 2022
Clowney will attract a lot of interest in free agency.
He is 29 years old.
Would the Browns try to land him with another one-year deal or commit long-term to him?
A one-year deal could cost around $15 million.
Clowney has said that money is a factor but may not necessarily go to the team offering the highest price.
He has not been forthright about his desire to stay in Cleveland.
Maybe he does not have the allegiance or maybe he is keeping his cards close to his vest.
We won't have to wait much longer.
Free agency starts in less than a month, on March 16.
We will soon have our answers to the Clowney question.