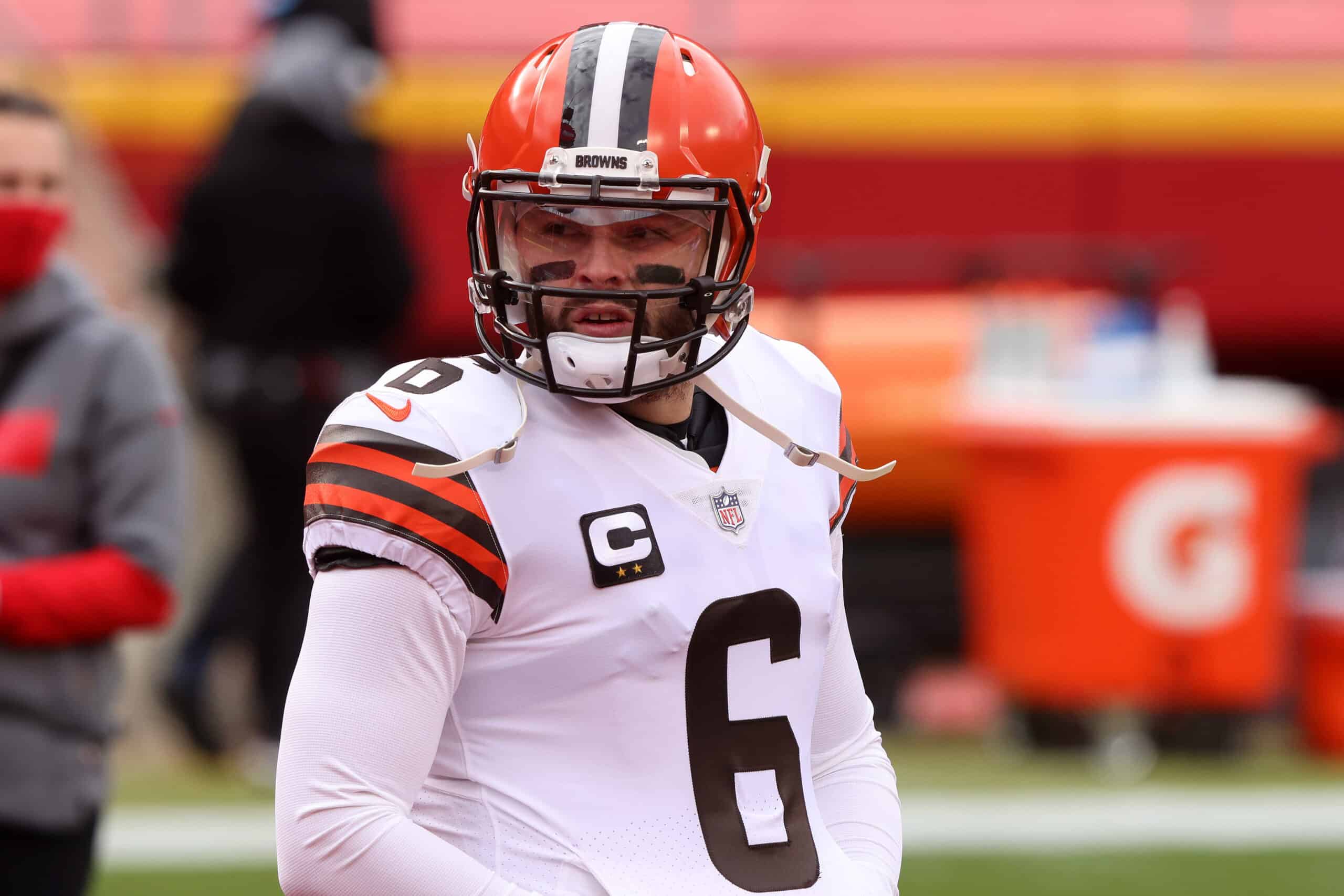 Cleveland Browns quarterback Baker Mayfield is, like the rest of us, trying to figure out what is going to happen with his season.
His fractured shoulder bone and torn labrum require him to wear a harness to play.
Mayfield reluctantly sat out the Thursday Night Football Week 7 game against Denver to allow the fractured bone some necessary healing time.
The labrum issue can only be corrected surgically in the offseason.
#Browns QB Baker Mayfield's shoulder, which will need off season surgery, will take 4-6 months to heal before he can resume full football activity, the fracture is a non-displaced fracture and can heal on its own assuming it doesn't get worse. (Via https://t.co/cJivcQ9imJ)

— MoreForYouCleveland (@MoreForYou_CLE) October 22, 2021
It is a day-to-day situation depending on how he heals if he can play with a healed shoulder bone and a torn labrum.
Josina Anderson is reporting that Mayfield will practice on Wednesday.
Before fans get excited, scared, or stressed, there is a caveat.
In his Tweet, Anderson uses the phrase, "in some capacity, barring any setbacks."
There's an expectation now that #Browns QB Baker Mayfield will practice Wednesday, in some capacity, barring any setbacks, per league source.

— IG: JosinaAnderson (@JosinaAnderson) October 26, 2021
Lots Of Wiggle Room 
Those caveats certainly indicate that Mayfield, Stefanski, and the Browns are seeing how things go.
No one knows how much healing has occurred.
Doctors have already said that he won't be cleared to play unless he can protect himself.
The concern is a blind hit or sack when he would subconsciously use both arms to brace or lessen the impact of a fall.
May Not Know Much More Tomorrow
This will likely be an ongoing assessment so Wednesday is not going to tell us much.
In the meantime, Case Keenum and Nick Mullens have been getting the reps.
Of course, Mayfield wants to play the Steelers.
He has a two-game winning streak on them, in consecutive weeks, from Week 17 and the wildcard round.
Is Baker maybe looking to go for three Straight against the Steelers? https://t.co/p5FFtowhTd

— Jeff-LJ-Lloyd (@Jeff_LJ_Lloyd) October 26, 2021
According to Steelers head coach Mike Tomlin, they are not particularly concerned who the Browns play at quarterback.
Mike Tomlin says #Steelers are "not overly concerned" about who the #Browns play at QB. Says that in Case Keenum, the Browns have "a solid veteran QB who's been a part of the program" and one who made sure Cleveland didn't lose its "personality."

— Aditi Kinkhabwala (@AKinkhabwala) October 26, 2021
Keenum played well against the Broncos but will need to play even better against a tough Steelers defense.
Which scenario will we see on Sunday from Mayfield?
Baker Mayfield's first touchdown pass of his long day in Pittsburgh 😯#Browns | #NFL pic.twitter.com/mHryTDXTRZ

— Pro Football Action🏅 (@ProFootballAct) October 18, 2020
or
Baker was lovin' that Case Keenum TD from the sideline 🙌@Browns | #Browns pic.twitter.com/taGQUj5CD9

— FOX Sports: NFL (@NFLonFOX) October 22, 2021
Time will tell.