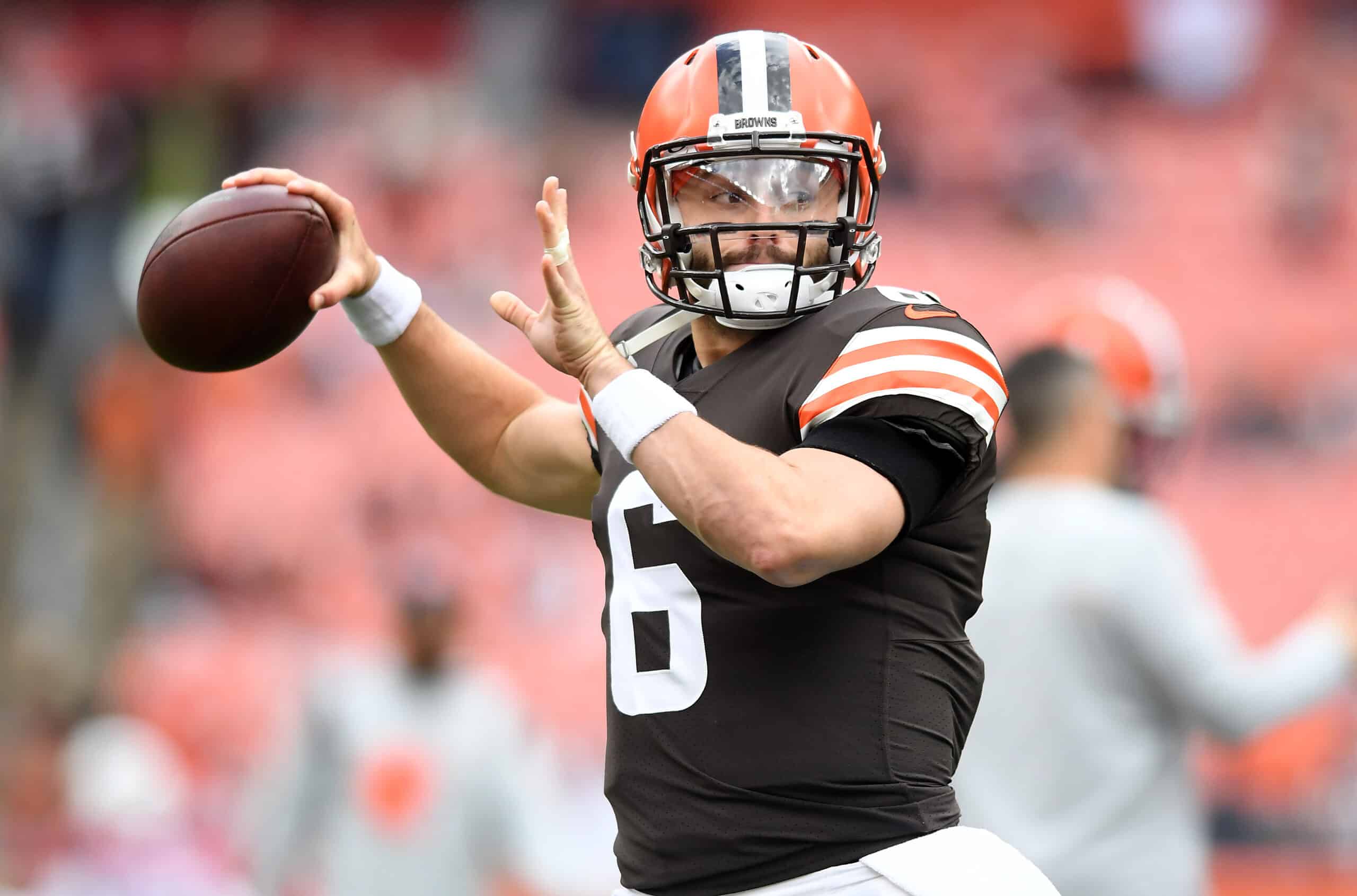 The Cleveland Browns are at a crossroads with star quarterback, Baker Mayfield.
Baker is in the fourth year of his rookie contract and the Browns just picked up his fifth-year option, meaning that he will be with the team through the 2022 season, barring a trade.
Unfortunately, Baker's sometimes reckless and headstrong style of play has caught up to him.
News emerged last week just prior to Cleveland's Thursday night matchup against the Denver Broncos that Mayfield's shoulder injury to his non-throwing arm was much worse than initially anticipated.
It was reported that Mayfield had a fractured humerus in addition to his torn labrum in his left shoulder.
Post Edited: Baker Mayfield not ruled out for Week8, unlikely to play based on bone injury https://t.co/e0MEeKcfaG pic.twitter.com/q9iU7u6AZe

— 4StateNews (@4StateNews) October 26, 2021
While his status for Sunday's rivalry game against the Pittsburgh Steelers is still unknown, it's been reported by USA Today Sports that surgery will be required to fix his shoulder, and recovery from said surgery will be 4-6 months.
The Browns now face a tough decision.
Do they have Mayfield get the surgery now, effectively ending his season or should they wait until the off-season and play Mayfield knowing that he could cause further damage to his shoulder.
Here are 3 reasons why it might be time to shut Mayfield down for the season.
1. The Future is More Important than the Here and Now
If Baker Mayfield truly is the future of the Cleveland Browns, then why risk the rest of his career for one year of maybe making the playoffs with an injured quarterback?
The Browns have been relatively quiet and secret regarding the severity of Mayfield's injury, but if it's as bad as Baker himself says it is, then it's not something to be messed with.
According to Terry Pluto of Cleveland.com, the injury is potentially a career-ender if not handled correctly.
"From the explanations given by Dr. Shultz, his entire career is at risk if the shoulder continues to come out due to bone loss caused by the separations. And then there is the potential for further labrum damage."
Pluto is referring to Dr. Brian Shultz M.D., a sports medicine specialist and orthopedic surgeon at Cedars-Sinai-Kerlin-Jobe Institute in Los Angeles.
If this is true, then why on earth would the Browns risk Baker's career for one season?
#browns Baker Mayfield w torn labrum and fractured humerus bone (shoulder) preventing his rotator cuff from firing. If accurate, this is a rare injury pattern. Could be 2 to 6 weeks before we see him back depending on severity of break & shoulder instability. @TheFantasyDRS pic.twitter.com/HT71NVXwYr

— Dr. Selene Parekh (@seleneparekhmd) October 22, 2021
2. Baker Will be a Shell of Himself Playing Injured
If Mayfield's performance against the Cardinals two Sundays ago showed us anything, it's that Baker isn't good enough to beat great teams when he's injured.
This isn't a knock on Mayfield.
Off the top of my head, I can't think of a single quarterback capable of performing at a winning level with a torn labrum and a broken humerus.
It's not right for the Browns to ask Mayfield to attempt to play under these conditions and Baker shouldn't try to.
3. Baker isn't Experienced Enough to Play Hurt
Playing injured as a quarterback is extremely difficult and dangerous.
There are only a handful of quarterbacks that have the ability to play injured without further hurting themselves.
Unfortunately for the Browns, Baker isn't one of them.
Against the Cardinals, you could tell that he was hurting and trying to protect himself and he did a decent job it until a blindside hit from J.J. Watt took him down.
He managed to return to the game, but the damage had been done.
Baker's style of play and mentality is not one that will serve him well as a battered QB.
His desire to make the big play while risking it all isn't going to go away any time soon and it's part of the reason that Brown's fans love him.
But, in this case, Mayfield's biggest strength is also his biggest weakness: he refuses to play it safe, no matter the consequences.
If Mayfield attempts to return to the fold before he has surgery to repair his damaged shoulder, he will inevitably make things worse.
There's no question that Mayfield wants to play, but it's up to head coach Kevin Stefanski and the team doctors to make sure that he doesn't attempt to do so.