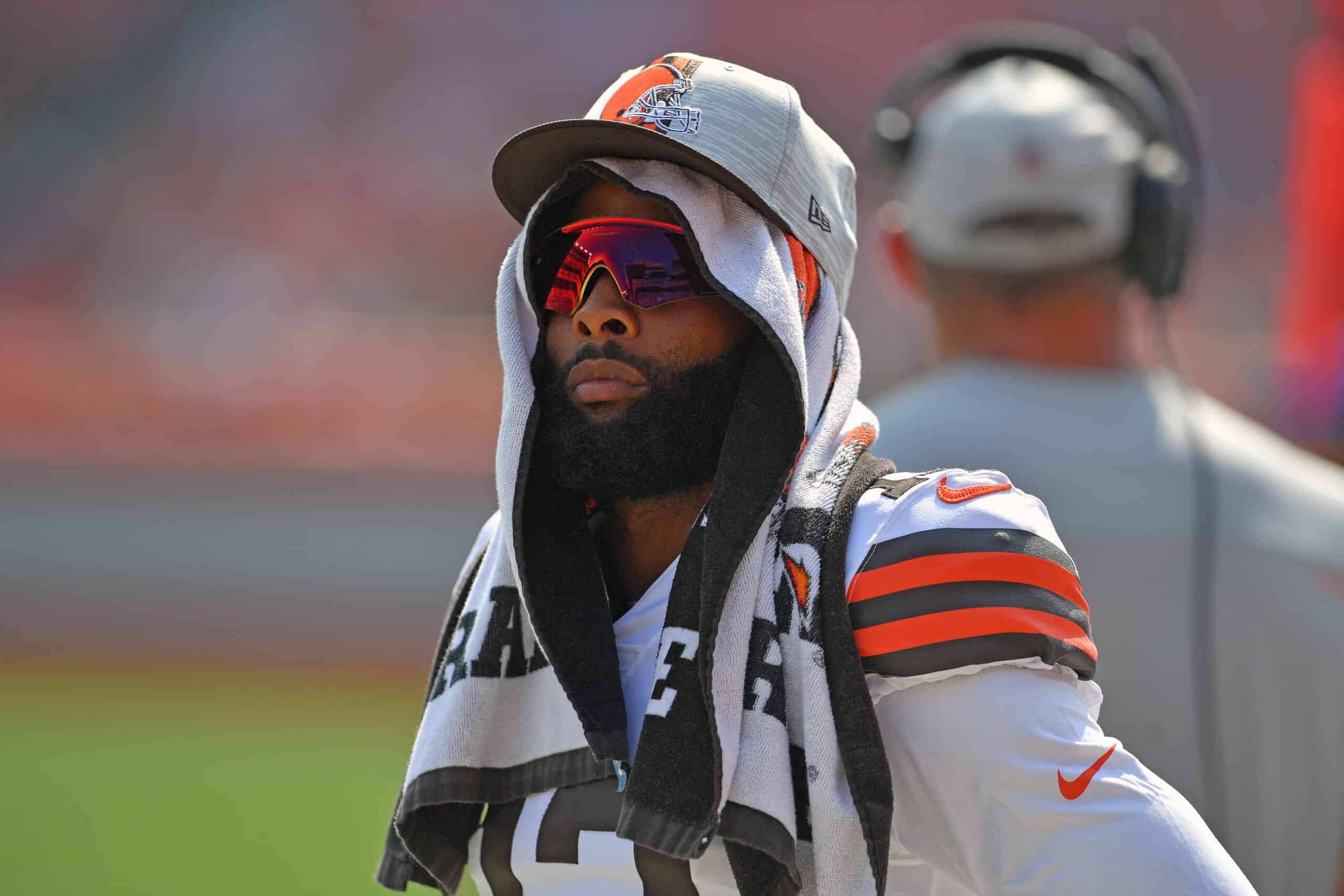 It seemed like the kind of game in which the Cleveland Browns could feature a fully-healed Odell Beckham Jr.
But OBJ accounted for only 3 short targets amid the 500 total yards and 5 touchdowns scored against the Chargers.
Cleveland fell short in a barn-burner of a game, magnifying the non-contribution of Beckham.
"I think Odell Beckham Jr. needs to BEG to be traded."

👀 @stephenasmith pic.twitter.com/UMjb9bwpkN

— First Take (@FirstTake) October 13, 2021
More than a few fans and analysts wondered if he is the forgotten man, and trade suggestions piled up.
But according to The Athletic's Jeff Howe, Beckham's name has not popped up in trade rumors to date.
And it seems likely the former All-Pro receiver will remain in Cleveland past the NFL trade deadline.
This could be Odell Beckham Jr.'s final season with the Browns, sources tell @jeffphowe.

The wide receiver is under contract through 2023: https://t.co/yzolPm173K pic.twitter.com/cXMRyrKILc

— The Athletic (@TheAthletic) October 14, 2021
Howe went on, however, to report there are indications this might be Beckham's final season with the Browns.
Beckham has 2 more years on a $95 million contract he signed while a member of the New York Giants.
But after the 2021 season, Beckham's guaranteed money is paid and there is no dead money to worry about.
Why It Makes Sense To Drop Beckham in 2022
Cleveland has a lot of salary cap space tied up in their wide receiver corps.
Beckham and his best friend, Jarvis Landry, account for $31.5 million in 2022.
All but $1.5 million could be saved by releasing the pair, including $15 million tied to Beckham.
Landry, thanks largely to a Hard Knocks appearance, is sometimes called the heart of the Browns team.
Odell Beckham has played 26 games as a Brown. He's hit 100 receiving yards in two of them.

— Adam Levitan (@adamlevitan) October 11, 2021
Beckham, despite being a popular figure among teammates and coaches, has never captured the fans as much.
Cleveland has several important players up for contract extensions, not the least of whom is Baker Mayfield.
Freeing up $15 million can go a long way in re-signing another important player.
And Cleveland hopes to cover OBJ's loss with players like Anthony Schwartz and Donovan Peoples-Jones
Beckham Not Clicking in Cleveland 
New York shipped Odell Beckham to Cleveland right before the Freddie Kitchens 2019 season.
High expectations for the Browns were shattered in a year full of controversy and mismanagement.
But Beckham managed to rack up 1,000 receiving yards despite playing through a serious core muscle injury.
Kevin Stefanski came on board the following year, and expectations rose again.
#Browns Odell Beckham Jr. on the lack of chemistry narrative with Baker Mayfield:

"I think that's more of a story that's being created…talked to him after the game, talked to him during the game, talked to him after meetings—played Duty with him. We chop it up all the time."

— Camryn Justice (@camijustice) October 7, 2021
Covid all-but canceled preseason practices, slowing the implementation of the full Stefanski offense.
By the time the team clicked, Odell Beckham was sidelined by a torn ACL.
Beckham completed his rehab ahead of schedule, returning in Week 3 of this season.
He shows no signs of residual effects, but Cleveland has not made him a focal point despite the loss of Landry.
Why Is Beckham Not Featured in Cleveland? 
Despite his low usage, Odell Beckham is a well-regarded and respected player in the league.
In his first game back from the torn ACL, Beckham was the fastest player on the field, per NextGen Stats.
Beckham still earns double teams, which helps other receivers make plays.
But despite the extra attention, OBJ ranks among the top NFL receivers in getting open on 72% of pass plays.
.@obj toe tap 👀

📺: #CLEvsLAC on CBS
📲: Browns mobile app pic.twitter.com/W2UI9ysdog

— Cleveland Browns (@Browns) October 10, 2021
In the offensive onslaught in Los Angeles, Beckham was open much of the game but earned just 3 targets.
His team-player reputation is enhanced when fans watch his blocking efforts on run and pass plays.
To be fair, Beckham suffered several drops at key moments this season, including a 4th-and-5 play last week.
But if that is enough to under-utilize him to this degree, moving on is probably best for Beckham and the Browns.