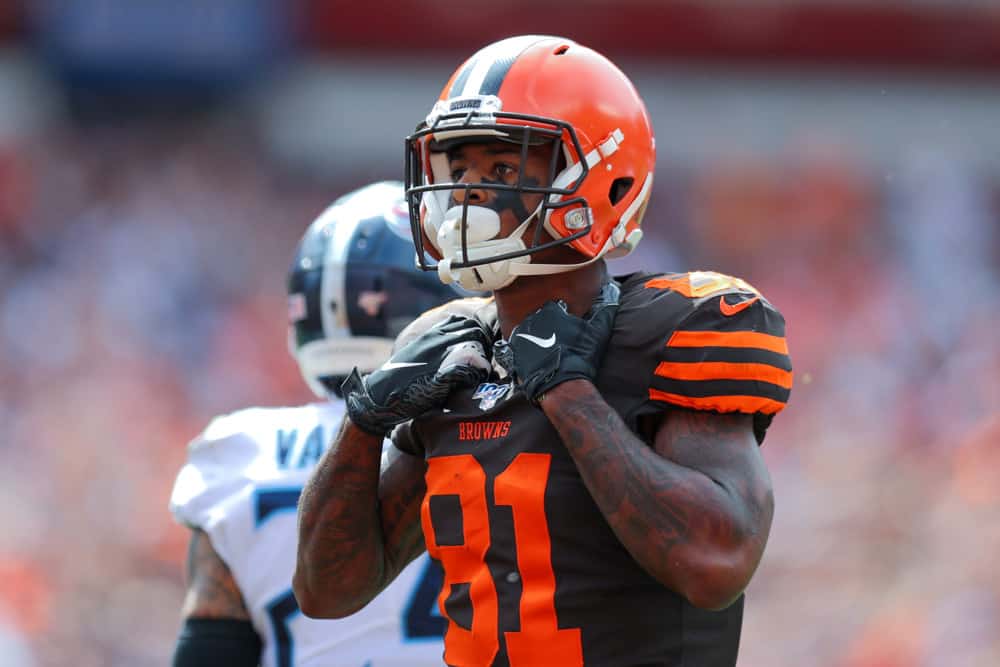 One of the biggest surprises for the Cleveland Browns this season has been the bounce back year by wide receiver Rashard Higgins.
The 26-year-old signed a one-year $910,000 deal with the Browns over the offseason.
He turned down higher offers elsewhere because he believed in what the Browns were doing.
It appears the organization is now rewarding him for sticking around.
The Browns and Higgins have reportedly begun discussing a contract extension.
My understanding is preliminary discussions have already begun between the #Browns and WR #Rashard Higgins on a contract extension.

— IG: JosinaAnderson (@JosinaAnderson) December 9, 2020
This is well deserved after what Higgins has gone through and how he has played on the field this season.
Higgins Staying In Cleveland?
It appears that both sides have interest on a long term deal.
It's undeniable that Higgins and quarterback Baker Mayfield have great chemistry together.
The two of them received plenty of reps together during Mayfield's rookie season.
They were both on the second team offense and it gave them an opportunity to build chemistry with each other.
He entered the 2020 season with six total starts until Odell Beckham Jr. went down with an injury.
Beckham is out for the year after tearing his ACL, but reportedly was making one legged receptions, which is quite impressive.
#OdellBeckhamJr practicing 1 hand catches on 1 Leg after his injury 🤯 pic.twitter.com/cGq3hNc2sp

— FREE WRLD ENT® (@FreeWrldEnt) December 4, 2020
Higgins has been pushed into a bigger role in Cleveland without OBJ on the field.
This season, Higgins has 25 receptions, 400 yards, and three touchdowns through 10 games (three starts) with Cleveland.
It appears Higgins and Mayfield still have great chemistry together.
Through 10 games, Higgins already has two performances with six receptions for 95 yards or more.
A contract extension seems like a no-brainer for Higgins and the Browns.
A New Deal For Higgins
This offseason Higgins took a chance on himself and the Browns organization.
It clearly paid off for him with the numbers he's been producing on the field.
Right now, it's unclear what kind of condition OBJ will be in next season.
Having Higgins on the roster long term is not a bad idea at all.
The Browns offense appears to be playing well with Higgins in the starting lineup.
Cleveland has plenty of cap space in order to sign Higgins to a reasonable deal.
He won't get paid like a superstar, but is well deserving of a new deal after what he's done for Cleveland.