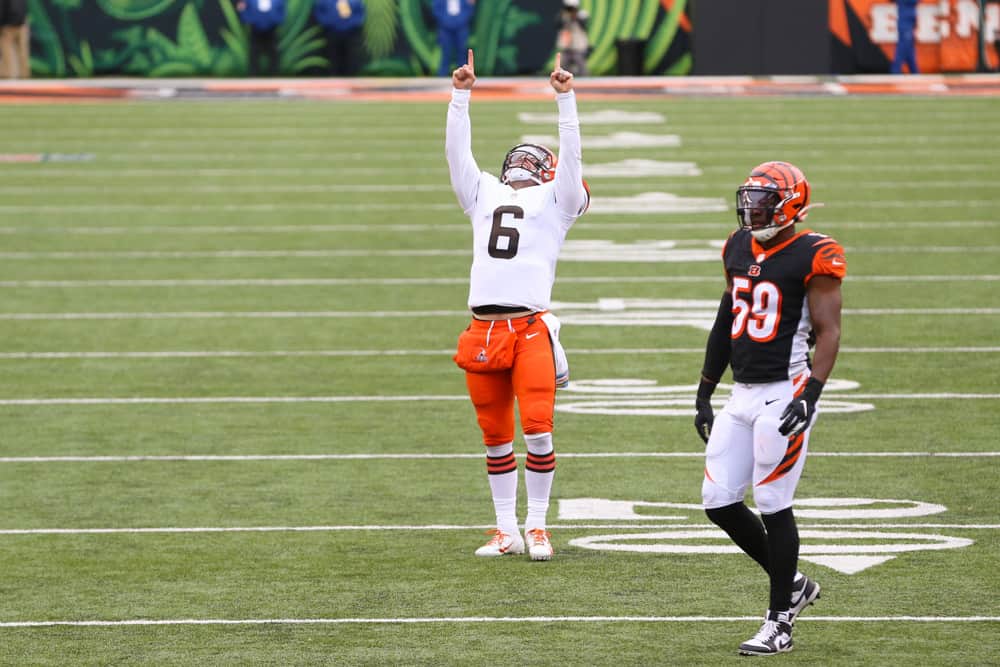 The Cleveland Browns have burst onto the scene as a legitimate contender, especially after their Week 13 win over the Titans.
One reason for the team's success is due to quarterback Baker Mayfield.
Baker Mayfield has been BALLING the last 2 weeks:

NFL Rank
71.0 Comp% 3rd
592 Pass yds 7th
6 Pass TD T-2nd
ZERO INT T-1st
133.3 Pass Rating 2nd@bakermayfield | #ProBowlVote pic.twitter.com/8jqLA5kWxg

— CBS Sports HQ (@CBSSportsHQ) December 7, 2020
The former No. 1 overall pick has started to find his role on the field.
Bolstered by the Browns' stellar run offense, Mayfield has started thriving by taking a secondary role.
This all paid off in the team's performance against the Titans.
While Tennessee was prepared for the ground and pound style of the Browns, what they instead got was an aerial attack.
Mayfield came out of the gate firing, throwing for four TDs in the first half.
This tied a first half record for the Browns, set by Otto Graham in 1951.
However, this wasn't just a one-time performance.
Ever since the Browns' brutal 38-7 loss to their divisional rivals, the Pittsburgh Steelers, Mayfield has stood out.
In six games since then, he has only thrown one interception, and that was back in Week 8.
While the yardage hadn't been there for the QB, he was limiting turnovers and making plays when necessary.
The last few games, however, he's started throwing for even more yardage while still having no turnovers.
Here are three reasons for the QBs success these past weeks:
1. Comfort With HC Kevin Stefanski
In his first season with the Browns, Stefanski has shifted the culture of the franchise.
As the season has gone along, the comfort level between Mayfield and Stefanski has become obvious.
On Nov. 11, Stefanski was very complimentary of Mayfield, and saw major potential for him over the second half of the season.
"We can help him, I know that," Stefanski said. "We can help him in some of the design and some of the play calls. I think he's ready to ascend."
In the four games since those comments, Mayfield has taken big steps forward with his production.
Now, he has had three straight games with over 200 passing yards, the same amount he had the rest of the season.
On top of that, it was obvious during their game this past Sunday that the team genuinely enjoys playing for Stefanski.
It is no doubt that Mayfield is likely a beneficiary from that.
This is a team that looks like they're having fun and playing loose.
Baker Mayfield's slide was flawless 😂 @bakermayfield

(🎥: @Browns) pic.twitter.com/jBENWFByoh

— ESPN (@espn) December 7, 2020
2. Calm Pocket Presence
Another aspect of Mayfield's game that was evident against the Titans was his pocket presence.
He seemed calm, collected, poised, and not panicking against the Tennessee pressure.
Instead, he was able to stand in the pocket and find the open receiver, helping with his ability to deliver on time and accurate throws.
When he did run out of the pocket, he was selective and smart about it.
He never appeared to be out of control and was able to make the smart play more often than not.
75-yard TD❗️@bakermayfield finds @dpeoplesjones for six!

📺: @NFLonCBS pic.twitter.com/lF3XS1AEex

— Cleveland Browns (@Browns) December 6, 2020
A big part of this was his willingness to throw the ball away.
This maturation is a good sign from the third year QB and it will definitely help the team in a potential playoff run.
3. Mayfield Understanding His Role
What has become even more evident is that Mayfield seems to understand his role.
There has undoubtedly been pressure on him to come into Cleveland and turn the franchise around.
On top of that, his first two years in the league weren't outstanding.
However, the Browns now have the league's best rushing offense and Mayfield is taking advantage of that.
He doesn't need to go out each week and carry the team to a victory through the air.
The team has the luxury of being selective with their passing game, chipping away with short passes.
When paired with the rushing game, this opens up deeper throws that Mayfield has been good with.
It also seems that he is developing even more confidence and swagger on the field in his role.
For the Browns, Mayfield's improvement is a major development.
If he continues to play at this level, the team may have a legitimate shot at winning games come playoff time.
Rex Ryan: "If they get this Baker Mayfield? Shoot, the Browns could win it all." 👀@bakermayfield @Brownspic.twitter.com/GQVAfwziQH

— Everything Cleveland (@EverythingCLE_) December 8, 2020