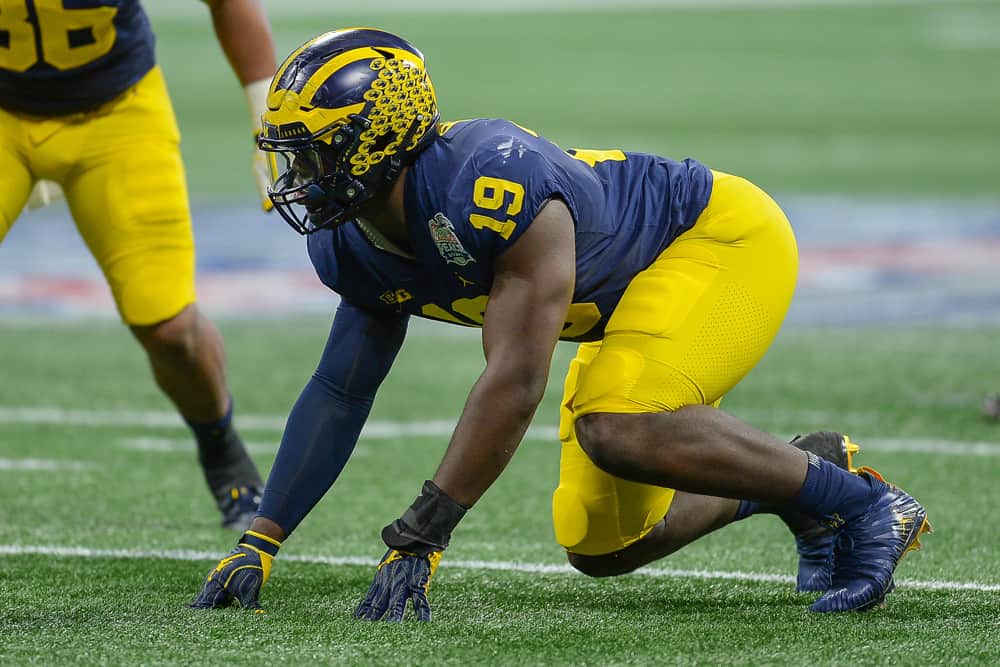 One of the goals for the Cleveland Browns this offseason was to piece together a more consistent pass rush.
Takk McKinley and Malik Jackson will have opportunities to contribute towards that.
But could the Browns also get help in that department through the draft still?
Michigan defensive end Kwity Paye might think so.
Michigan defensive end Kwity Paye said on Zoom he has spoken with the #Browns and he has studied All-Pro Myles Garrett. "We're kind of similar in build. … He's a freak, so being able to watch him and seeing how he uses his weight to leverage O-tackles … kind of helps me."

— Nate Ulrich (@ByNateUlrich) March 25, 2021
Paye-Day?
So the Browns have been in discussion with Paye, but will they bring him to Cleveland?
He'd have to be taken in the first round, if he even falls to the 26th spot.
He's impressed at Michigan's pro day as well which will only increase his value with no NFL Combine this year.
NEVER FORGET Kwity Paye three-cone drill

— PFF Draft (@PFF_College) March 26, 2021
From Ann Arbor: Michigan's first-round pass-rushing prospect Kwity Paye clocked, per one scout's watch, a 4.59 in the 40. Unfortunately, his right quad tightened up on him in the process, and he didn't run the shuttles.

(Shuttles are supposed to be where Paye is REALLY freaky.)

— Albert Breer (@AlbertBreer) March 26, 2021
One issue with him getting to that 26th selection is that the Pittsburgh Steelers have the 24th pick and have also met with Kwity.
#Michigan edge rusher Kwity Paye has met day the #Steelers ahead of his pro day Friday.

How the probable first-rounder has stayed humble on his path to the draft: https://t.co/bIdn2iZaLY @OfficialKwity pic.twitter.com/XtwXhiZ4ba

— Steelers Now (@PghSteelersNow) March 25, 2021
With the departure of Bud Dupree to Tennessee in free agency, Pittsburgh is also desperate for a pass-rushing partner to put opposite of T.J. Watt.
The Browns will be looking to do the same with Myles Garrett.
With defensive ends so prominent in today's game, it's safe to assume other teams will have their eyes on Paye in the first round as well.
4.54 for Kwity Paye! Wow, that's super impressive for a guy who's listed at 6'4" 272 lbs.

Target for the #Giants @ 11? https://t.co/ualaZFqt6m

— Scout Kelley (@ScoutKelley) March 26, 2021
Draft Evaluation
Taking a quick glance at Paye's profile, it's easy to see why teams would have interest in the first round.
At 6'4" and 272 pounds, Paye is a menacing figure for opposing offensive lines to deal with.
His junior season with the Wolverines was a monstrous one. Paye was in on 50 total tackles, 12.5 of those for a loss, and tallied 6.5 sacks as well.
He's a quick, physical edge presence that can impact the game in several ways.
Another player that is going to put up some tremendous numbers today is Kwity Paye at #Michigan's pro day.

Not a need for the #Panthers, but might come into play with a trade down (unlikely). pic.twitter.com/MIO6IqKpPA

— Cat Crave (@CatCraveBlog) March 26, 2021
Kwity Paye — @OfficialKwity — is an athletic DE with a fast first step and strong hand usage

Paye has the athleticism to beat smaller tackles and the power to play through/get by bigger tackles pic.twitter.com/oQct6fcPUm

— Mike Tannenbaum (@RealTannenbaum) March 21, 2021
His senior season at Ann Arbor, similarly to seniors elsewhere around the nation, was anything but normal.
With both injuries and COVID-19 cancellations playing a role, Paye only appeared in four games last season.
While statistically it is tough to judge, his 2020 season was still a good one.
Highest pass-rush win % in the Big Ten last season

1. Kwity Paye, Michigan – 25.8% pic.twitter.com/gxHj5DN3L4

— PFF Draft (@PFF_College) March 26, 2021
The junior year tape and pro day appearance will be what he relies on most in regard to his draft stock.
His 40-yard dash time has sparked a bit of an interesting social media discussion.
From a scout at Michigan today
Kwity Paye ran 4.54

— Daniel Jeremiah (@MoveTheSticks) March 26, 2021
The replies to the aforementioned tweet mention the time being beneficial to Paye since there is no official combine clock.
The general consensus seems to be that you need to add 0.1 seconds to the time, meaning his 40-yard dash time at the NFL Combine would be right at 4.64 seconds.
There will be more conversation about Paye and other edge rushers as the draft creeps closer and closer.
More reports of these virtual meetings are sure to pop up with the draft evaluation process being done do differently due to the pandemic.
For Browns fans, Kwity Paye may just be a name to keep an eye on in April.