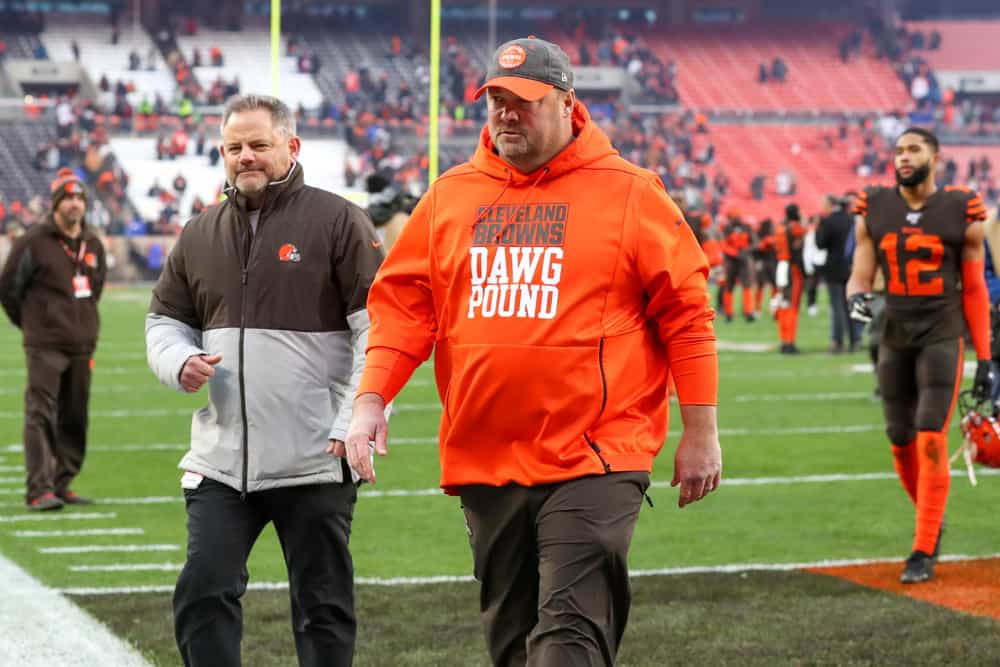 As the conclusion of a disappointing 2019 Browns season comes to an end, the chances of Head Coach Freddie Kitchens returning are diminishing.
According to CBS Sports' Jason La Canfora, the Browns have begun doing due diligence on the head-coaching market and are making calls on potential candidates that could replace Kitchens as coach.
As reported on TOPS on @CBSSportsNet the Browns have been doing due diligence and making calls on potential new head coaches. Yet another bad sign for Freddie Kitchens

— Jason La Canfora (@JasonLaCanfora) December 29, 2019
The Browns came into the season with playoff aspirations and some even picked them to go to the Super Bowl.
Instead, the Browns will finish the season with a below .500 record and missing the playoffs.
Kitchens has been involved in questionable in-game clock management, team discipline issues, and recent sideline shouting matches with players.
Baker Mayfield has also struggled in his 2nd year as the starting quarterback as well.
Given the high-end experienced head-coaching candidates available right now, it wouldn't be a surprise to see the Browns part ways with Kitchens.
Some of those names include Ron Rivera, Josh McDaniels, and Mike McCarthy.
Ian Rapoport of NFL Network has recently reported that the Browns would like to keep Kitchens, but that the decision has not been finalized.
With an eye toward Monday, here is a snapshot look at the head coaching landscape and what is ahead. More coming on @NFLGameDay: https://t.co/kgh0kqvnAI

— Ian Rapoport (@RapSheet) December 29, 2019
A loss to a 1-14 team in the Bengals today would certainly not make a case for keeping Kitchens any stronger.
Browns players have also not seemed to show strong support for Kitchens when recently asked:
Baker Mayfield when asked about Kitchens' future:
"it's not my decision" and "whatever happens, happen."
Joel Bitonio also said he will support whatever changes the organization decides to make, as long as it's about winning:
"We have to make changes of some sort, and if it's players, it's scheme, if it's things like that, there has to be a step to improve as a team."
Plenty of people around the league believe the #Browns will move on from Freddie Kitchens, per @AdamSchefter.

— NFL Update (@MySportsUpdate) December 29, 2019