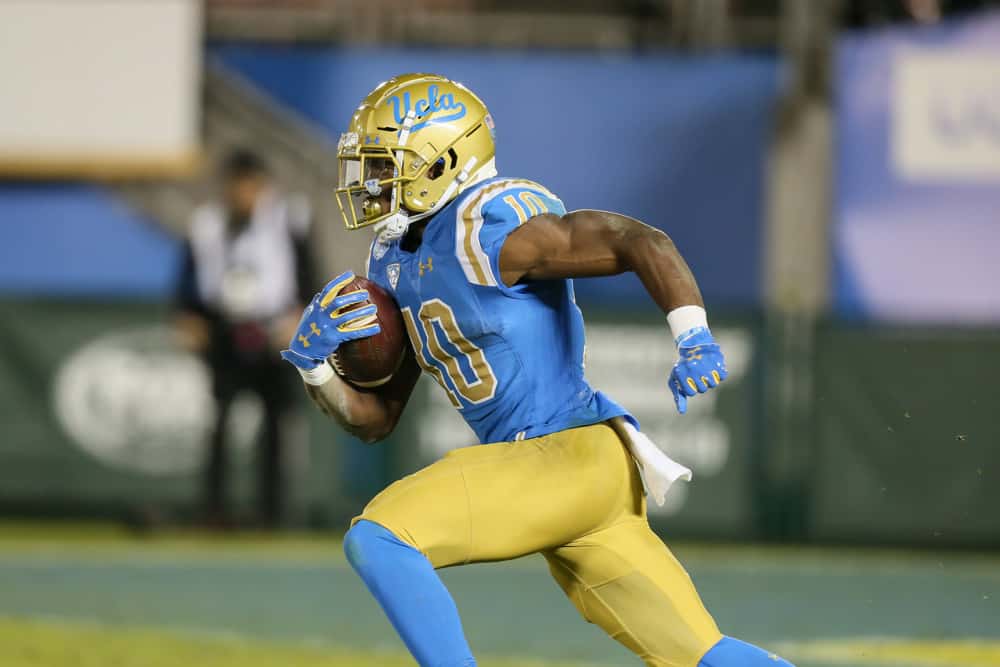 The COVID-19 pandemic has forced the cancellation of the traditional in-person NFL Combine.
It has prompted teams to conduct virtual interviews with prospects.
The Draft Network reporter Justin Melo reported the Browns held a virtual meeting with UCLA running back/wide receiver Demetric Felton.
The Browns are among at least 10 teams who have met with Felton, according to Melo.
#UCLA RB/WR Demetric Felton is a true swiss army knife. He will help an NFL team in a variety of ways.

Felton's virtual slate has included meetings w/ #49ers, #Patriots, #Rams, #Titans, #Browns, #Buccaneers, #Packers, #Bills, #Falcons & #Cardinals to name a few.

— Justin M (@JustinM_NFL) March 10, 2021
Here are Felton's measurements from the 2021 Senior Bowl in Mobile, Alabama:
Height: 5'8 5/8"
Weight: 189 pounds
Wingspan: 74 1/8"
Arm: 31 3/8"
Hand 9 3/8"
Felton's slight stature likely means he won't be a first-round pick, but Prime Time Sports Talk projects him as a third-round pick.
CBS Sports ranks Felton as the No. 12 running back and the No. 139 prospect overall.
In the third round of the 2021 NFL Draft, the Browns have the 89th and 91st pick.
The Browns also have two picks in the fourth round.

Felton at the Senior Bowl
Felton had two receptions for 28 yards and a touchdown at the Senior Bowl.
On his touchdown catch, Felton caught a hitch pass from Texas quarterback Sam Ehlinger, ran the remaining distance to the goal line and beat Georgia defense back DJ Daniel in a one-on-one scenario.
Felton also had a punt return for 10 yards during the Senior Bowl.
Sam Ehlinger to Demetric Felton on an island✅

— PFF Draft (@PFF_College) January 30, 2021
Here's what NFL.com analyst Lance Zierlein wrote about Felton:
"Hybrid talent with experience as both a runner and volume pass-catcher who might be targeted to make a full-time transition to the receiver position. Felton's Senior Bowl week showed off improved route running and an ability to compete against press. His run-after-catch talent gives his draft profile a boost at receiver, but clever offensive coordinators might be well-served to maintain his versatility as a two-position player to help create more options from a personnel grouping and matchup standpoint. With an ability to carry the ball, catch the ball and return kicks, Felton offers scheme and roster flexibility that could push him up the board."
In practice leading up to the Senior Bowl, Felton also showcased his route-running ability in a series of passing drills.
Demetric Felton froze 'em🥶

— PFF Draft (@PFF_College) January 27, 2021
Let the record show that No. 14 (Tre Brown) also had this really impressive rep against Felton today. pic.twitter.com/StQSmvWvnB

— Austin Gayle (@PFF_AustinGayle) January 27, 2021
😳😳😳 pic.twitter.com/LfTdNEP5fP

— Austin Gayle (@PFF_AustinGayle) January 27, 2021
Felton at UCLA
Felton started five of the six games played during his redshirt senior season at UCLA.
In 2020, Felton ranked first in the PAC-12 and sixth in the nation in all-purpose yards per game (165.83).
Felton finished the season with 132 carries for 668 rushing yards and five touchdowns.
UCLA primarily used Felton as a running back, ranking 14th in the country and fourth in the PAC-12 in rushing yards per game (111.13).
In 27-10 win over Arizona on Nov. 28, 2020, Felton had a season-best 206 rushing yards.
Felton also had 100-yard rushing games against California (107) and Oregon (167).
Last season, Felton had 22 catches for 159 yards and three touchdowns too.
The Associated Press named Felton to its first team All-PAC-12 team in 2020 as an all-purpose player.
In 2019, UCLA used Felton for his pass-catching ability; he set a UCLA record for running backs with 55 receptions on the season.
In 2020, Felton's longest rush was 40 yards and his longest reception was 28 yards.
However, Felton set a school record in 2019 with four scoring plays of at least 75 yards in a single season.
Perhaps opposing teams game planned for him more in 2020.
✅ 94 yards
✅ 2 stiff-arms

Demetric Felton turned the jets on for this TD! pic.twitter.com/ulMSMxkahj

— ESPN College Football (@ESPNCFB) September 22, 2019
Shew…Demetric Felton is FAST. 😳

(Via @ESPNCFB)pic.twitter.com/ejLkNBogxp

— PFF Draft (@PFF_College) August 30, 2019
Demetric Felton deserves more love. A hybrid RB who is also a proficient slot WR, Felton is a home run threat and elusive as hell in the open field. He is a massive mismatch for linebackers in space.

He's my pick to be a big Senior Bowl riser among RBs.pic.twitter.com/HOpSKgLqjX

— Nick Farabaugh (@FarabaughFB) January 25, 2021
How Felton could fit in with the Browns
Drafting Felton could help the Browns fill the void if Rashard "Hollywood" Higgins decides to sign with another team in free agency.
If the Browns drafted Felton, it's unlikely he would get many carries from the running back position considering the duo of Nick Chubb and Kareem Hunt.
The Brown could also utilize Felton's returning abilities considering JoJo Natson is due to become an unrestricted free agent.
Natson will likely be with a different team in 2021 considering the Browns signed receiver Ryan Switzer earlier in the offseason.
Switzer also has experience as a returner.
The Browns might want to let Donovan Peoples-Jones focus on his receiving duties alongside Odell Beckham Jr. and Jarvis Landry.