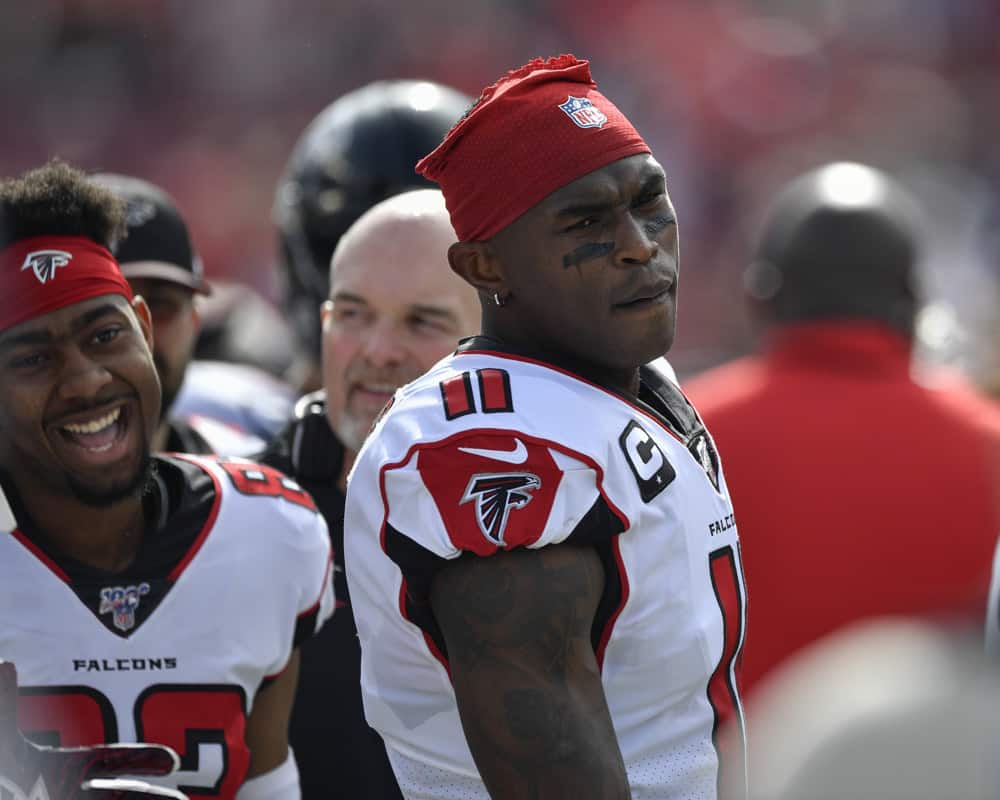 Andrew Berry and Kevin Stefanski won't spill the beans on any potential Julio Jones deal.
But, they won't have to.
According to a recent report from Mary Kay Cabot of Cleveland.com, no such deal will happen.
Cabot addressed the question in her latest "Hey! Mary Kay!" column.
Why the #Browns won't try to trade for Julio Jones, and other Hey, Mary Kay! questions answered here: https://t.co/Aozu1LGna5

— Mary Kay Cabot (@MaryKayCabot) May 27, 2021
Her principal assertion revolves around the financial commitment of each team.
Cleveland already has a lot of money tied up in their wide receiver room.
And just because they have space to absorb another contract doesn't make it a worthwhile investment.
Meanwhile, Atlanta is trying to move Jones to gain salary cap relief as well as secure a future asset.
It makes no sense for them to swap salaries for another veteran receiver like Odell Beckham Jr.
Coaches Already Answered the Question
Atlanta leaked out information on possible trade offers for their star wideout.
And there is no mention of players, just draft picks.
Whether true or not, the leaks cement the notion the Falcons are trying to get younger and free up cash.
.@Bighugh53 on @BullandFox on what team makes sense for Julio Jones: "Cleveland. I would say it has to be an AFC team…either Cleveland or Kansas City…maybe Baltimore. Go to the #Browns. I know it's a little cold for you, but you'll adjust. They'll love you in Cleveland"

— Keith Britton (@KeithBritton86) May 25, 2021
Cleveland fans still seem smitten with the notion of trading Beckham Jr for Jones.
But the team is on record about their plans for OBJ, as noted by Cabot:
"While I've seen and heard a number of people propose a Beckham-for-Jones swap, it's just not going to happen. The Browns are excited about getting Beckham, 28, back from his torn ACL this season, and aren't interested in trading for a 32-year-old receiver"
Berry and Stefanski have a plan for the future of the Browns offense.
To a man, the Browns coaching staff emphasizes the impact Beckham's return will have this season.
And for all the free agency moves, it seems obvious Berry is adding assets for the long haul.
He is not looking to get older any more than he is looking to use more salary-cap space.
Do Any Moves Make Sense For The Browns? 
Cabot dismissed Aaron Rodgers rumors in the same manner as a Julio Jones deal.
Cleveland is simply not interested in adding expensive veterans for quick fixes.
And just because a player might rank better on paper than an incumbent doesn't mean he will fit in Cleveland.
Atlanta has asked teams that have inquired about Julio Jones for a first-round draft pick in return, per sources. Others around the league don't believe the Falcons ultimately will get a first for the perennial Pro-Bowl wide receiver.

— Adam Schefter (@AdamSchefter) May 24, 2021
Andrew Berry left open a window for trade hawkers and social media speculation, though.
He told ESPN's Jake Trotter recently,
"I think the team is coming together, but to be quite honest, we still have a lot of work to do. We're pleased with where we are at this point, but it's by no means a destination."
More deals and additions could indeed be on the horizon.
Julio Jones says to Atlanta "I'm outta here man" @Browns are one of 11 teams with the cap space to take on his 15.3M. What say you Browns fans? Welcome him with open arms? Julio,Odell,Juice,Super Bowl? I'm In!!

— Mike Cairns (@MikeCairns5) May 25, 2021
But they are more likely to constitute a positional reinforcement or tweak than a blockbuster move.
After another strong NFL Draft and free agency haul, the Browns' roster appears solid across the board.
And as Mary Kay says, it makes no sense to suspect Julio Jones will ever be a part of it.