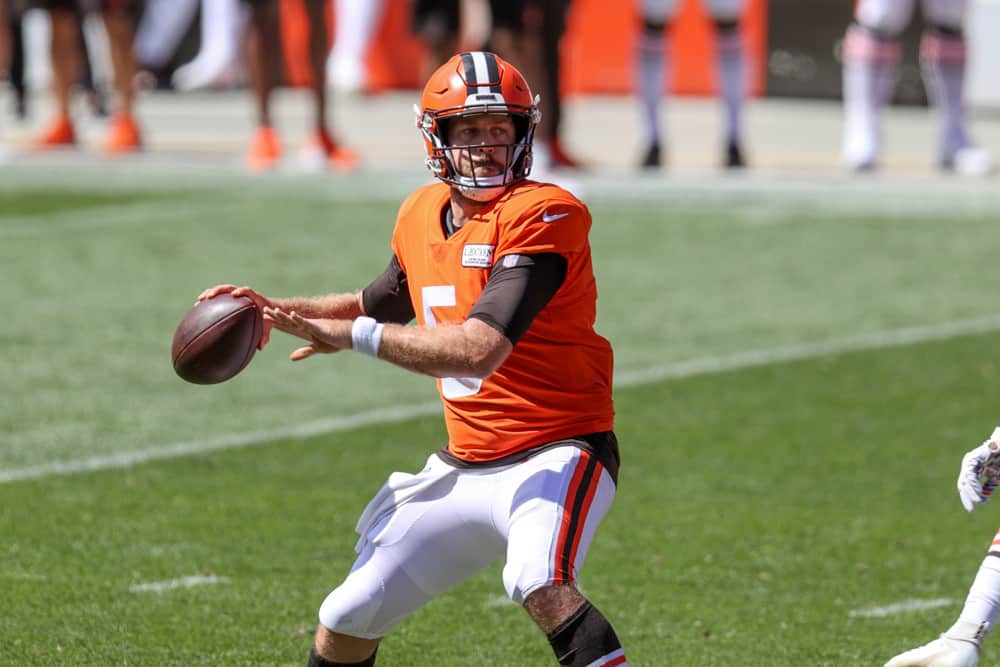 The Cleveland Browns, after days of disarray, have announced that Case Keenum will be the starting quarterback in the Week 7 Thursday night game against the Denver Broncos.
Browns announce QB Case Keenum will start versus Broncos.

— Adam Schefter (@AdamSchefter) October 20, 2021
It is well known that starting quarterback Baker Mayfield injured his non throwing shoulder in Week 2 against the Houston Texans.
However, what we thought was a partially torn labrum has been revealed to be completely torn.
Mayfield's injury was aggravated in Week 7 on a strip sack play from JJ Watt.
A Monday MRI with Browns team doctors apparently did not go as Mayfield hoped.
He got a second opinion but never waivered in his belief that he could play.
Smart Decision
This is the correct decision no matter how you look at it.
Mayfield is a young quarterback.
He does not want to risk further injury or potentially nerve injury by continuing to pop that shoulder back into the socket.
A healthy Case Keenum, on a battered Browns team riddled with injuries, provides the best opportunity to get the Browns to 4-3 after the Thursday night game.
Long Season Ahead
It is true that Keenum should be fresh.
He has played very little in the past two seasons as Mayfield as been a workhorse.
In fact, this is Mayfield's first time missing a start since his rookie season of 2018.
BREAKING: QB Case Keenum to start in place of Baker Mayfield on Thursday night against Denver. Mayfield (torn labrum in his left shoulder) will miss the first start of his NFL career due to injury. #Browns

— Jake Trotter (@Jake_Trotter) October 20, 2021
Keenum and Stefanski have a relationship dating back to the Vikings days so there is not a feeling that the Browns are starting from scratch in a short week.
#Browns HC Kevin Stefanski: "I know Case Keenum the person, the player. I think he'll make our team better. I told him, he knows, he doesn't have to be a coach." Says it's important for him to come in and help prepare. "It's a great lesson for our entire team to see"

— Keith Britton (@KeithBritton86) April 2, 2020
It is unclear what will happen with Mayfield's shoulder.
Essentially: Baker Mayfield still has a chance to play the following week. But Sunday to Thursday was just too fast. Now he'll focus on rehab and tightening up the shoulder. https://t.co/GGQ0Q47BCO

— Ian Rapoport (@RapSheet) October 20, 2021
Hopefully he can rest and rehab it with the goal of getting back on the field as soon as possible.
Like it or not, he is the leader of this team.
Preparing For The Broncos
Though a short week, it is very likely that Keenum had the majority of first team reps on Tuesday and will definitely have them on Wednesday.
Keenum is a veteran backup quarterback so he is the right man for the moment as the Browns are decimated by injury.