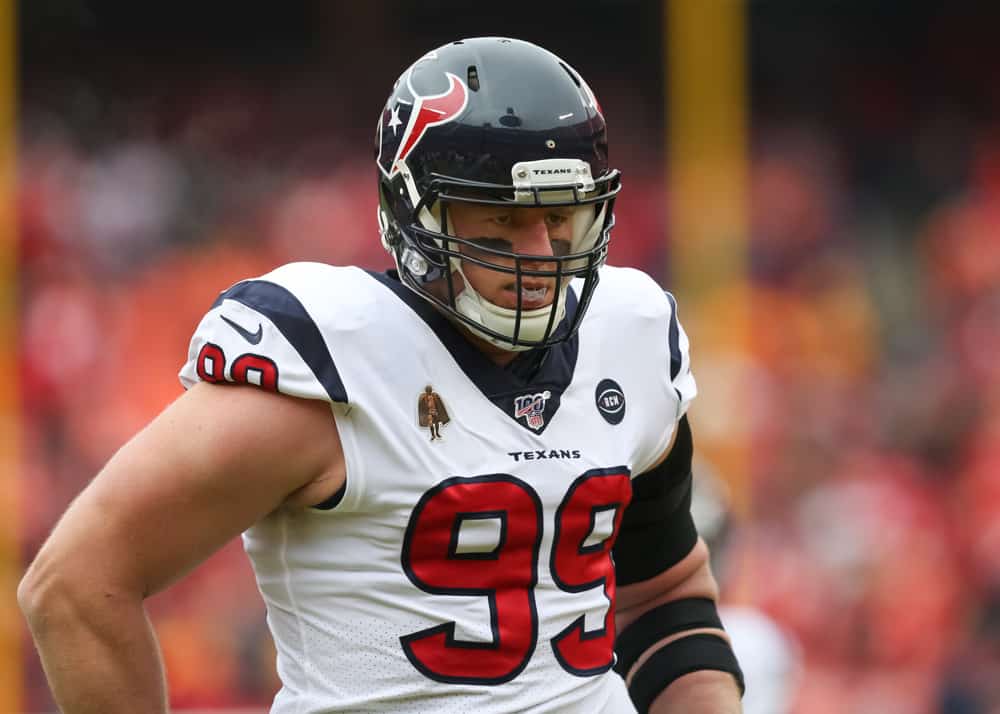 On Friday, the Houston Texans decided to grant five-time Pro Bowl defensive end J.J. Watt his release into free agency.
There should be no shortage of suitors for Watt this offseason, as he'd be an upgrade to just about every roster.
However, it appears Watt is seriously considering signing with the Cleveland Browns, according to Mary Kay Cabot of Cleveland.com.
Ex-#Texans J.J. Watt is seriously considering the #Browns as one of his options because they have a lot of what he wants, sources tell clevelanddotcom https://t.co/8YITdBpPTJ

— Mary Kay Cabot (@MaryKayCabot) February 16, 2021
The 31-year-old pass rusher is likely looking to get paid, but also is seeking a contender since he's not getting any younger.
The Browns have the 10th-most cap space available and made it to the Divisional Round in 2020.
It seems like a dream, but the Browns might seriously be able to land Watt this offseason.
Watt To Cleveland?
Watt was set to make $17.5 million in 2021 before his release from Houston.
He'll likely be asking for something in the same ballpark, but the Browns do have $21.7 million available.
Last offseason, the Browns were prepared to offer Jadeveon Clowney roughly the same amount of money.
The #Browns have made a new offer to Jadeveon Clowney. pic.twitter.com/O6FmlGvvwl

— Everything Cleveland (@everythingcle_) June 15, 2020
Watt obviously won't be cheap, but would make the Browns instant Super Bowl contenders.
After another frustrating year in Houston, Watt is ready to actually compete for a championship.
Having Watt alongside Myles Garrett would make for the most dynamic duo of pass rushers in the league.
Last season, Watt was constantly double teamed, but Browns' head coach Kevin Stefanski knows exactly how impactful Watt can be on defense.
"He's a very, very unique player in that his combination of size, strength, athleticism, quickness and power is really unrivaled," Stefanski said. "He gets those long arms up, and he bats balls in the air. He's a very, very disruptive player. He lines up all over the formation, so you can't key in on where he is going to be. I have a huge amount of respect for what he has done in his career."
In 2020, Watt recorded 52 tackles, five sacks, and seven pass defended through 16 games.
He'll surely benefit playing alongside Garrett who will draw plenty of attention away from him.
This certainly seems like the type of move that would put the Browns over the top.
Should Cleveland Sign Watt?
There is also a downside to bringing in a player like Watt to Cleveland.
The expectations are going to be extremely high, which Watt has not had any issues living up to those.
Through 10 seasons, Watt has over 100 career sacks in 128 games.
The biggest concern about Watt is the fact he has been injury prone throughout his career.
He has played eight games or less in three of the last five seasons.
JJ Watt played 16 games two of the last three years. He's going to be 32 and has a history of injuries, but he's still a good player.

He hasn't seen 1-on-1 blocks consistently since he was a junior at Wisconsin. Put him on a front between Clark and Z.

— Peter Bukowski (@Peter_Bukowski) February 12, 2021
Cleveland would need to spend a majority of their cap space to bring in Watt.
The Browns still need to upgrade at linebacker and in the secondary.
Signing Watt would mean the Browns probably won't be able to acquire any other impactful free agents.
Honestly, the good does outweigh the bad in this situation.
Watt is the kind of player and leader that every team should want on their roster.
Yes, it will cost a significant amount of money, but Watt makes the Browns defense a dangerous threat to any offensive line.
It's time to go all-in and get Cleveland to the Super Bowl in 2021.