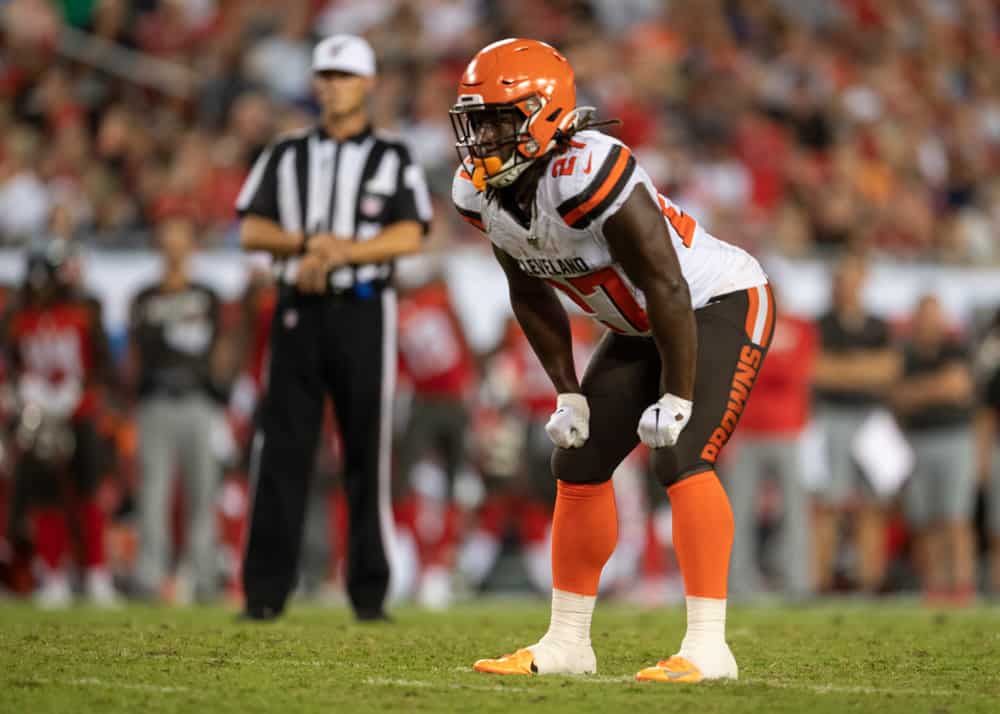 Kareem Hunt's status is one of the biggest questions surrounding the Cleveland Browns this offseason.
The young running back joined the team in 2019 and appeared in eight games after serving an eight-game suspension.
Hunt is clearly an amazing talent to have in any backfield.
However, there is no discussion about him without noting all the off-the-field issues he has had.
That makes his status for 2020 an interesting one because the Browns have to weigh his talent against who he is as a person and what he has done off the field.
ESPN's Jeremy Fowler recently did a TV spot and shared that Hunt in fact believes he will be on the Browns in 2020.
News and notes from around league on NFL Live…Joe Flacco undergoes MRI, Broncos confident he can play next year (in DEN or elsewhere); Kareem Hunt confident he's in Browns' plans for 2020; CU's pursuit of Eric Bieniemy; Bucs' attempt to retain Shaq Barrett could lead to tag pic.twitter.com/d18dHuTXuV

— Jeremy Fowler (@JFowlerESPN) February 18, 2020
Hunt may be going off what he has been told by the organization.
Yet several scenarios still exist when discussing his future.
Retaining Kareem Hunt
Hunt is a restricted free agent this offseason.
As Fowler explains, the Browns could either place a tender on Hunt or offer him a long-term deal.
The Browns could, for example, place a second-round tender on Hunt.
That would allow other teams to sign Hunt, but the Browns would receive a second-round pick in exchange if he left.
Even with all of his troubles, anything lower than a second-round tender could put the Browns at risk of losing Hunt.
A tender seems to be more likely than a long-term deal based on the constant off-the-field issues.
Unfortunately, the 24-year-old cannot be trusted right now to stay out of trouble.
Keeping him on a year-to-year basis lowers the risk for the Browns and should also motivate Hunt to work hard to stay out of the negative spotlight.
If he had done that in the first place he would be gearing up to earn a fortune alongside Patrick Mahomes in Kansas City.
A Scenario Where The Browns Move On
John Dorsey actually made a wise move to give Hunt another shot in Cleveland.
He gave a star talent a second chance and Hunt has made it clear he wants to help the Browns win.
.@Kareemhunt7's first touchdown as a Cleveland Brown! 🐶#MIAvsCLE pic.twitter.com/0cNrEgM74W

— Cleveland Browns (@Browns) November 24, 2019
The only thing that should make the new regime suddenly turn on Hunt would be another serious off-the-field issue.
Kevin Stefanski likes to run the ball and he has been gifted with a duo of Hunt and Nick Chubb.
On paper, that is easily the best duo in terms of overall talent and potential in the NFL.
It is now up to Hunt to prove he deserves to keep going with his second chance.
He believes he will be back and that is likely because he was told that by the team.
However, there should have been some sort of warning given as well.
One more misstep and his hometown team can't continue to pay him millions of dollars if he won't even be on the field.
Hunt being in the NFL is good for him and good for the league.
He just has to work past some demons and commit to being a better person and professional.
If he can do that, there is no reason for the Browns to let him go at any point in his career.