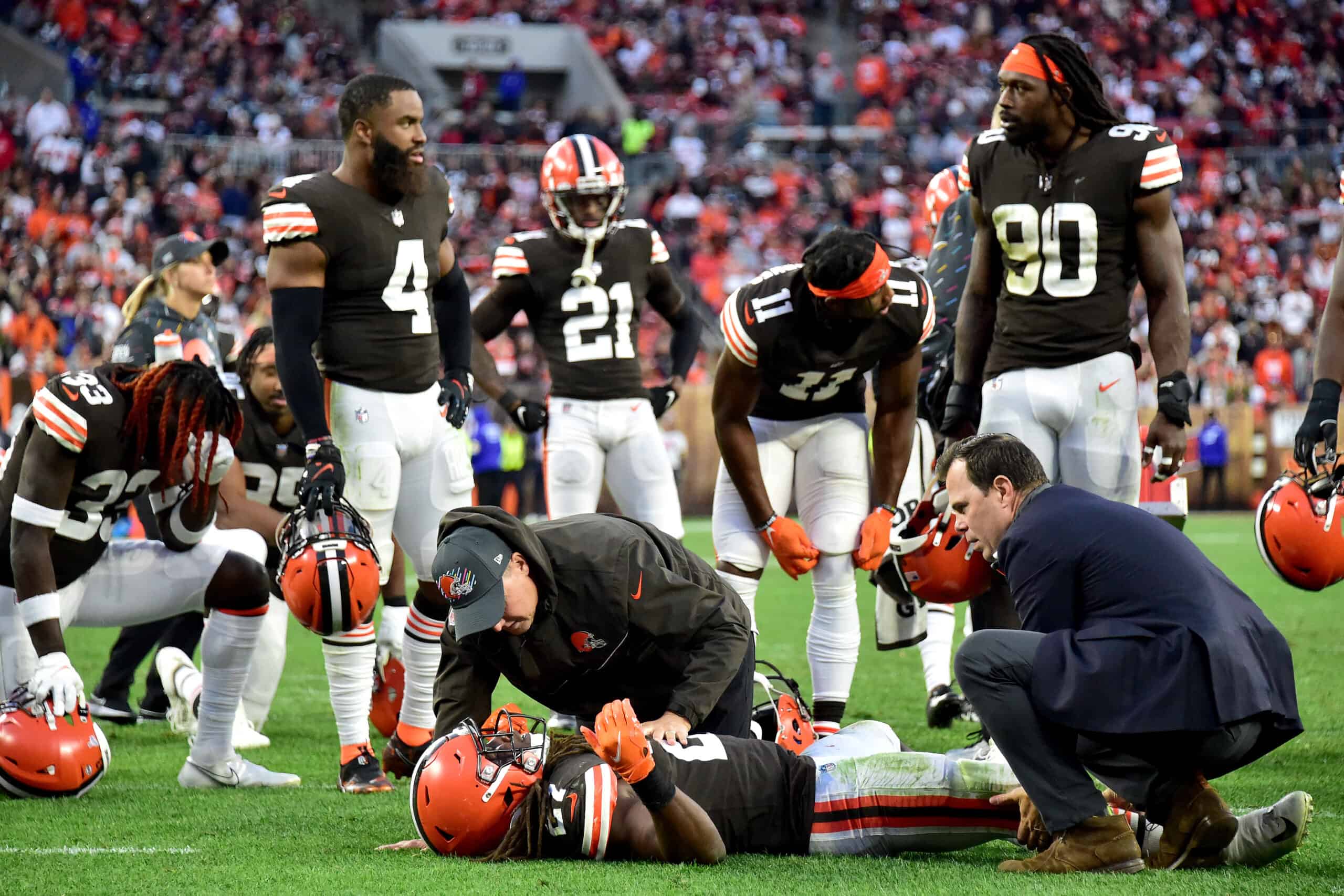 The Cleveland Browns injury woes are continuing in a big way.
After being carted off the field with a non-contact injury, running back Kareem Hunt will reportedly miss at least 3 games.
Coach Stefanski has gone so far to say that he will likely miss more than that.
Browns' RB Kareem Hunt is is out at least three weeks with the calf injured he suffered Sunday, per source. "Hopefully not much longer then that but we will see," said source.

— Adam Schefter (@AdamSchefter) October 18, 2021
Stefanski: It's likely Hunt will miss more than 3 games.

— Tony Grossi (@TonyGrossi) October 18, 2021
This time frame indicates that Hunt will be sent to IR.
#Browns RB Kareem Hunt is expected to miss several weeks with his calf injury, source said. He'll likely head to Injured Reserve.

— Ian Rapoport (@RapSheet) October 18, 2021
Specifics Of The Injury Have Not Been Publicized
The only things that have been publicly ruled out are Achilles and ACL injuries.
That is the only morsel of good news for the Browns.
It means he will likely be back for the second half of the season.
Quarterback Baker Mayfield talked about the impact of losing a player like Hunt.
#Browns Baker Mayfield said he talked to Kareem Hunt after the injury and found out that was the first time he wasn't able to finish a football game. Said it hurts to see a player like Hunt go down like that.

— Camryn Justice (@camijustice) October 17, 2021
It hurts the team, and Mayfield also learned that Hunt has never left a game early.
That fits with his personality which means he was in a lot of pain to go out of the game on a cart.
All that we have heard is that it is a calf injury which is the same issue Nick Chubb is dealing with.
Sums up the day for the @Browns. pic.twitter.com/8M0lg26r8w

— Albert Breer (@AlbertBreer) October 17, 2021
Kareem Hunt is being carted off of the field. pic.twitter.com/PKt3COkxzX

— FOX Sports: NFL (@NFLonFOX) October 17, 2021
Could It Be A Calf Strain?
Calf strains are common injuries for NFL players.
They are tricky because it is a tough area to heal, and the severity of the injury obviously slows down the progress.
No one has official word on if Hunt has a calf strain, but it is unofficially implied.
Chubb probably has the same type of injury but perhaps not as serious; otherwise, his timeline for return would be further out and possibly put him on IR also.
Hunt likely dealing with a Grade 2 calf strain. 6-8 weeks recovery timeline, moderate severity. Return this season is possible but this is going to take some time #Browns https://t.co/hYi2Jsoueg

— Dr. Brandon Bowers (@drbrandonbowers) October 18, 2021
Calf strains are graded on a scale from 1 to 3.
1 is the mildest with an average 2-4 weeks for recovery.
2 is in the middle with a projected 4-8 week recovery.
3 is severe, requires surgery, and a 3-4 month recovery period.
We hope Hunt is a fast healer and gets well sooner rather than later.