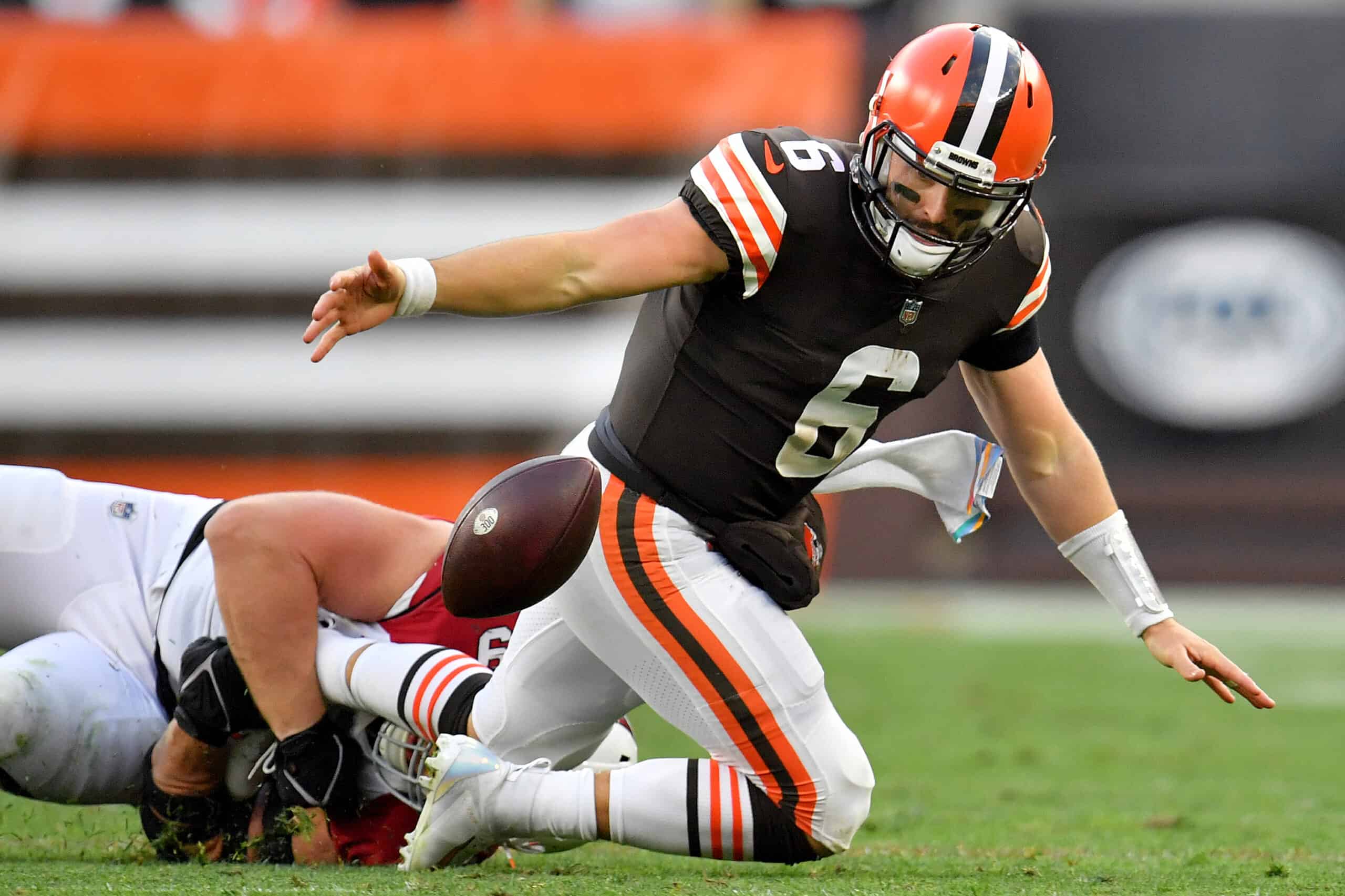 There are various ways to grade a quarterback's performance.
None of them are perfect, with weights that don't always apply to situations or easily tainted statistics.
The 102.4 passer rating posted by the Cleveland Browns' Baker Mayfield indicates he had a good game Sunday.
Unless, of course, he had one or two big plays in an otherwise mediocre performance.
"You could ask anybody in our building, have we played to our potential? Absolutely not."

"We have 11 more games to go show who we are"#Browns QB @bakermayfield pic.twitter.com/DTCGtgG1s3

— Bally Sports Cleveland (@BallySportsCLE) October 18, 2021
Or if the majority of his statistics came in garbage time.
Blake Bortles used to have great passer ratings in games he lost by 2-3 touchdowns.
That's not to say Baker Mayfield's 102.4 score against the Cardinals compares to a Bortle anomaly.
But here is my morning-after, somewhat subjective, shot at grading Baker Mayfield's performance against the Cardinals.
Baker's Passing Score: C
Just like Baker's passes yesterday, my assessment is all over the place.
Baker Mayfield launched the longest complete pass (air yards) ever recorded by NextGen Stats.
That 57-yard (66 air yards) Hail Mary to Donovan Peoples-Jones got Cleveland back into the game.
Mayfield hit DPJ and Odell Beckham with some strong passes and good depth at key points.
BAKER MAYFIELD HAIL MARY 🚀
pic.twitter.com/kSOEtdfaDd

— PFF (@PFF) October 17, 2021
But when Baker Mayfield misses Rashard Higgins 3 times on 3 targets, you know he had some off moments.
Mayfield came out of the gate an absolute mess and mixed in some bad throws later in the contest, too.
We charted 6 of his first 8 throws as high and/or behind receivers, including some receptions.
He calmed down to make some nice passes but he was far from his best form.
Baker's Decision Making/Vision: D
To save a few lines and some Baker Backers angst, we'll combine vision and decision-making.
And the score I came up with is based on how many times and how loudly I yelled at the TV.
That includes the 4th down sack when Baker was ready to snap off a pass to a wide-open receiver and convert.
But he inexplicably pulled the ball down and took the sack.
Stefanski: "We have not been good on fourth down. It's been frustrating. It's another one we have to fix." #Browns

— Jake Trotter (@Jake_Trotter) October 17, 2021
On at least 3 of the 5 sacks suffered by Mayfield, he had an open receiver within dump-off distance.
But even if he didn't see him, Mayfield did not throw or attempt to throw a ball away on any occasion.
The final grade was settled when he opted to run for 3 yards on the rushed final play of the third quarter.
He had David Njoku right in front of him set up for a jump ball against a shorter corner, but pulled the ball down again.
Ball Protection: D-
On the surface, this seems like an easy score to affix, given that Mayfield had 3 turnovers.
But that wasn't the biggest problem.
Mayfield scores a D-minus because he didn't protect the ball any better after he fumbled twice.
He consistently exposed the ball to an aggressive array of defensive linemen and linebackers.
#Browns coach Kevin Stefanski on Baker Mayfield's three turnovers in blowout loss to #AZCardinals: Unfortunate, we can teach off it, but we need to take care of the ball

— Nate Ulrich (@ByNateUlrich) October 18, 2021
Failing to throw the ball away when he had the chance also contributes to this grade.
Mayfield is not a rookie anymore, and how many coaches he had in his 4 years is not relevant.
Rule 1 of quarterbacking is to protect the ball at all costs.
And Mayfield played fast and loose against a strong pass rush all day.
Leadership & Guts: B+
It's impossible not to appreciate how much Baker Mayfield wants to lead this team.
And it's difficult not to give him an A for leadership after peeling himself off the turf to finish the Cardinals game.
But leadership and guts are not all about toughness or trying to make a play by yourself.
Baker's penchant for running out of trouble might have saved him from a few more sacks.
#Browns QB Baker Mayfield said he thinks he'll be able to play through shoulder injury. He said it dislocated again. His left arm is in a sling. "It feels like s***," he said.

— Nate Ulrich (@ByNateUlrich) October 17, 2021
Or… he could have thrown a ball away and regrouped, or taken a chance throwing someone open.
Mayfield's return after re-injuring his shoulder should have been Stefanski's decision, and it probably was.
But regardless of who decided, a gutsy return versus the risk of worsening injury can be a fine line.
And forcing a narrative can not take precedence over common sense and what's best for the team.
Overall Grade: C+
Don't try to figure it out; the final grade is higher than the averages of the sectional scores.
That is because we have to give Mayfield credit for dealing with some factors beyond his control.
Some of the decisions Mayfield made might not have presented themselves if not for injuries.
And we have to give credit to an excellent Cardinals' defense bent on forcing Mayfield to win this game.
Baker Mayfield landed awkwardly on his shoulder on this play

Prayers up 🙏🙏
pic.twitter.com/xBd9UVnMQW

— PFF (@PFF) October 17, 2021
The offensive line struggled and Stefanski turned away from the running game from the start.
Mayfield's own injury and the brace he wears still seem to affect his follow-through.
And I blame the coaching staff for not helping Mayfield's situation enough.
He took a predictable game plan and dealt with it as best he could.