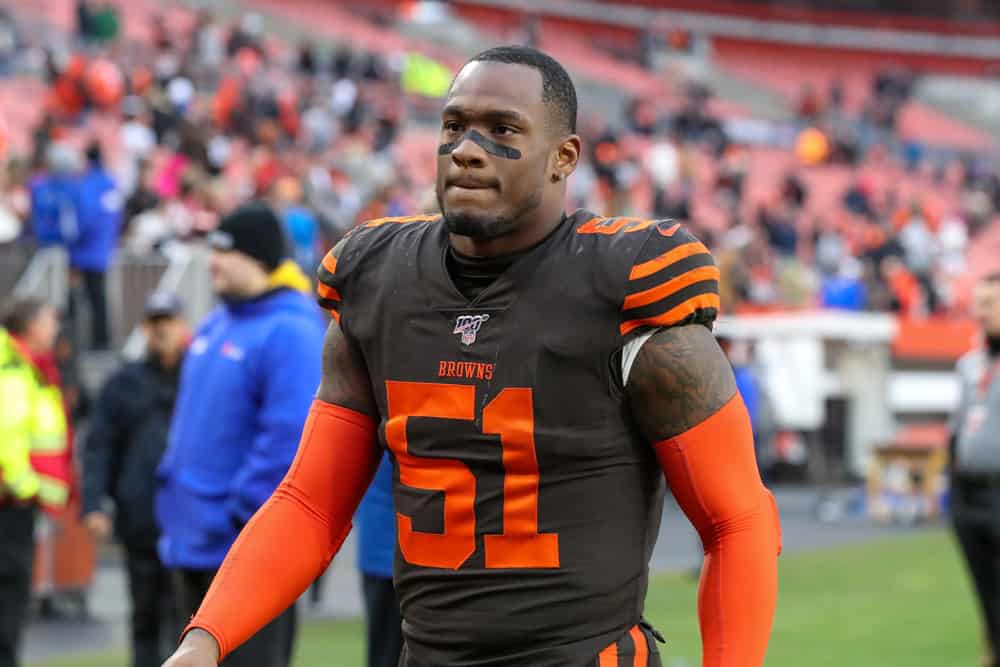 ESPN's Jeremy Fowler is reporting that Cleveland Browns LB Mack Wilson's hyperextended knee will not require surgery as some originally thought.
The current expectation is that Browns LB Mack Wilson will not need surgery on his hyperextended knee, per source. Barring change, looks like a loose timetable of four-to-six weeks upon return, depending how knee responds. Good news for Browns D.

— Jeremy Fowler (@JFowlerESPN) August 31, 2020
This is excellent news for Browns coaches and fans.
Wilson thinks so too.
See y'all soon. 🙇🏾‍♂️

U
N
D
E
R
D
A
W
G#5ive1 #ComebackSZN

— Mack Wilson (@5mackwilson1) August 31, 2020
His Injury
Wilson suffered the injury at practice on August 19.
By some accounts, it was called a "significant hyperextended knee."
Since then, the treatment plan for the injury has been unknown.
It ranged from speculation that he would be out for the season because it required surgery to a much shorter timetable.
Wilson went down with the injury just one day after his overzealous tackle on Nick Chubb that put Chubb in concussion protocol.
What Is A Hyperextended Knee?
Per Healthline:
"A hyperextended knee occurs when the leg excessively straightens at the knee joint, putting stress on the knee structures and the back of the knee joint."
Athletes are most apt to incur the injury but anyone can.
A direct hit to the knee or quick deceleration can cause it.
Swelling, bruising, instability, pain, and less mobility are the symptoms of a hyperextended knee.
ICE is the short-term treatment plan (Ice, Compression, and Elevation).
Surgery is necessary in situations where the hyperextension causes ancillary damage such as tendon or meniscus tears.
Depending on the course of treatment, recovery can occur anywhere from 2 weeks to 6 months.
Mack Wilson's return is expected between 4-6 weeks which means he will miss very little of the regular season.
Given the Browns injury woes, this is very good news.