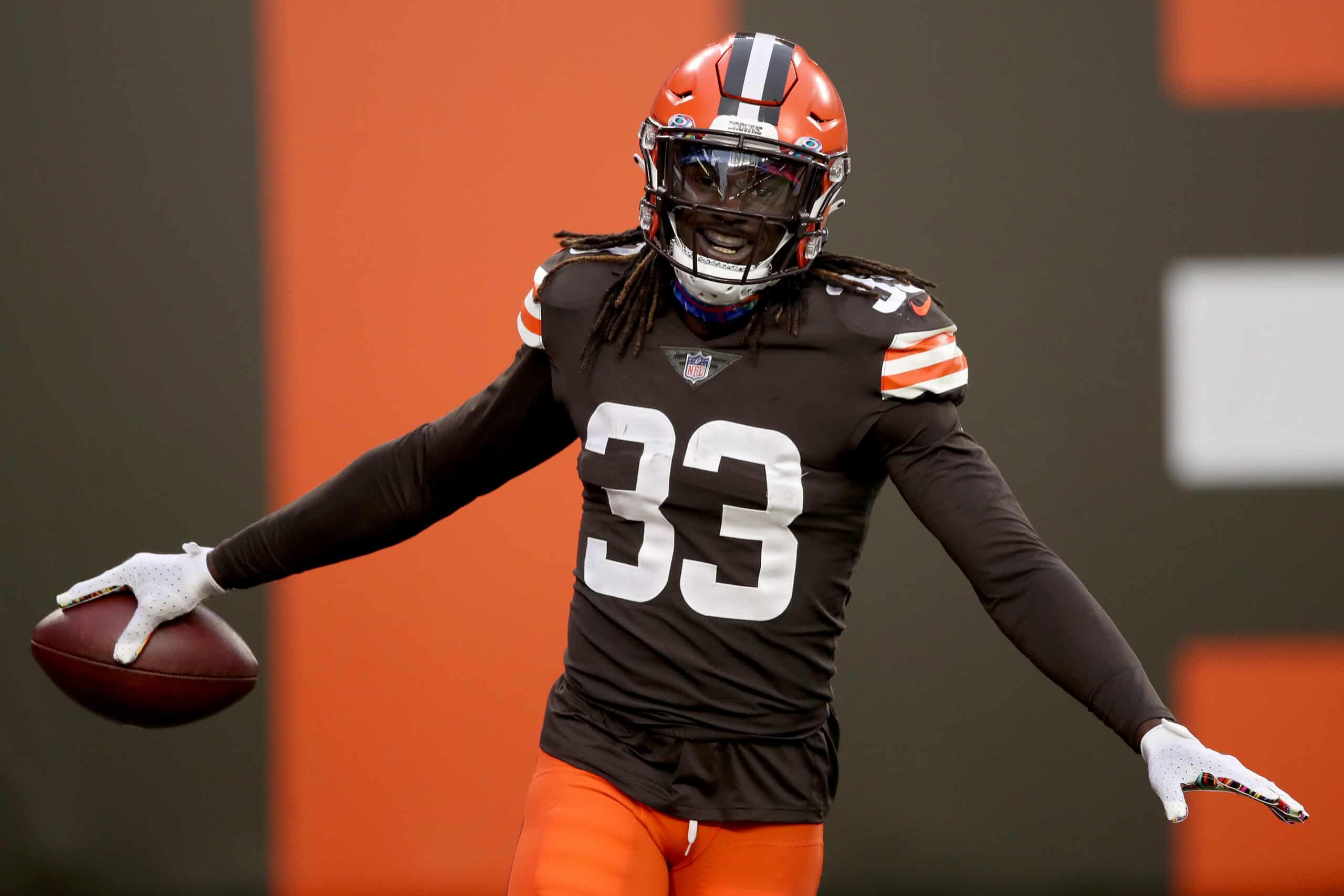 It didn't take long for things to get chippy this NFL season.
That included the Browns and Chiefs in Sunday afternoon's premier match-up.
Cleveland safety Ronnie Harrison Jr. was ejected in the first quarter after this altercation with Chiefs assistant coach Greg Lewis.
#Browns Ronnie Harrison can't do this. You just can't. Ejection and fine is automatic. Even if a coach pushes you because he thinks you're purposely stepping on his player (and I actually don't think it was on purpose by Harrison) you can't open-hand shove a coach in the face. pic.twitter.com/jeWzEu1kUo

— Charles Robinson (@CharlesRobinson) September 12, 2021
Following the incident, speculations were made over whether suspensions would be handed out to either party.
On Monday morning, Tom Pelissero of NFL Network confirmed via this tweet that there would be no suspensions.
No suspensions are expected out of Sunday's incident between #Browns safety Ronnie Harrison and #Chiefs assistant coach Greg Lewis, I'm told. Harrison was ejected.

— Tom Pelissero (@TomPelissero) September 13, 2021
The incident has sparked a small national conversation.
Anytime a player and opposing coach get physical, that will happen.
Did the NFL make the right move by holding back from punishing either side?
Where's The Line?
The altercation started following Harrison's tackle of Chiefs running back Clyde Edwards-Helaire near the Kansas City sideline.
As Harrison gets up, Chiefs center Creed Humphrey and Ronnie make contact, causing Harrison to step on Edwards-Helaire.
Naturally, Chiefs assistant Greg Lewis takes exception to that, and gives Harrison a push.
Ronnie wasted no time in retaliating, giving Lewis a forceful shove back.
That's when flags were thrown, and ejections were made.
The debate is centered around whether Lewis deserved punishment in this instance.
It's over now, and again, there will be no suspensions.
Still, some feel that Lewis should also have been ejected.
It's a "who started it?" debate.
It's unclear whether Harrison was truly removing himself from the pile or if he was trying to step over Edwards-Helaire.
If he was taunting the tailback, then Lewis's actions are more justifiable.
If not, then Lewis is responsible for firing the opening salvo.
Is there no responsibility for being the Firestarter?
Browns defensive end Myles Garrett certainly seems to think so.
#Browns Myles Garrett said #Chiefs assistant should've been ejected like CLE safety Ronnie Harrison Jr. was. They pushed each other.
Garrett told Harrison he needs to be smarter.

— Scott Petrak ct (@ScottPetrak) September 13, 2021
Coach's Thoughts
Browns head coach Kevin Stefanski was asked about the incident after the game.
He told reporters that he did not have a clean view of it and elected not to comment until he had watched it.
Chiefs head coach Andy Reid, however, did share his thoughts on the matter per ESPN.
"He was on the chest of our player. Lewis was trying to get him off, and he didn't want to get off. Lewis kind of just lifted him a little bit and got hit… You don't do that on our sideline. You don't do that to our guys, bottom line."
Knowing Stefanski, this whole event will be old news fairly quickly.
We've seen him put controversial material to bed in the past.
There's no reason to believe he won't do the same here.
Setting a Precedent?
With crowds back in full force this season, the energy and emotions on Sundays this fall will be higher than in 2020.
This may not be the last time we see a player and coach encounter one another.
It will be interesting to see how the NFL handles future incidents like this one.
Here, it seems the league is in the corner of the coach.
Based on social media reactions, however, that's not something universally agreed on.
Ronnie Harrison ain't right.
But KC coach Greg Lewis ain't right either for putting his hands on that man.
Lewis, as a staff member and someone in authority who isn't a player, should actually be punished more in the long run than Harrison.

— Colin Dunlap (@colin_dunlap) September 12, 2021
Coaches should never touch an opposing player. Never. Greg Lewis has no business pushing Ronnie Harrison no matter what's going on. Let the players handle that.

— Honest NFL (@TheHonestNFL) September 12, 2021
What do you think?
Should Lewis be to blame as well here?
Let us know in the comments below!