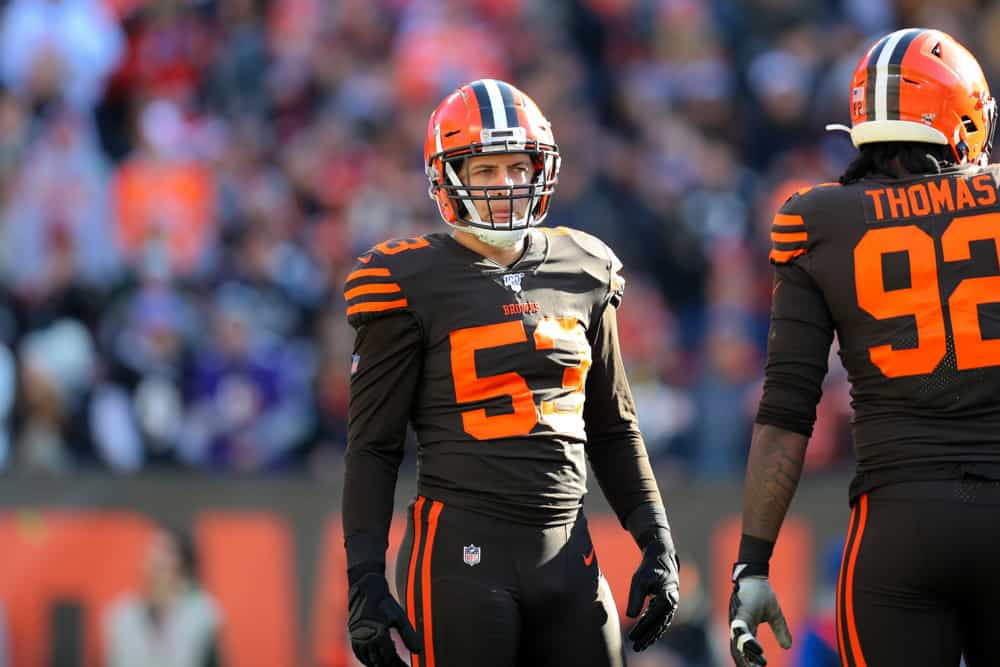 Cleveland Browns linebacker Joe Schobert recently stated that he 'would love to stay in Cleveland, but you never know.'
It was expected that if the Browns are going to resign Schobert, they would have competition in a thin linebacker free-agent market.
It appears that we now know one team that will be in the Schobert free agent mix.
It's been no secret that the Green Bay Packers are going to let linebacker Blake Martinez test free agency as he is unlikely to resign with them.
According to Packers News insiders Tom Silverstein and Jim Owczarski, multiple agents have said the Packers are inquiring about what it would take to sign Browns linebacker Joe Schobert to replace current starter Blake Martinez for the 2020 season.
👀
Per @TomSilverstein the #Packers will be in on #Browns free agent LB Joe Schobert #GoPackGo pic.twitter.com/OvSBKJQRBe

— Arrick Upton (@ArrickUptonGB) February 28, 2020
Schobert is considered one of the best linebackers in a very thin free agent class that includes the Los Angeles Rams' Cory Littleton and Blake Martinez.
While Martinez has more tackles than both Littleton and Schobert, he is not considered better in coverage.
It's easy to understand why the Packers would have their eye on Schobert for an upgrade replacement over Martinez.
Schobert is a Waukesha native and had more big plays in 2019 than any of the other linebackers.
He had 144 tackles, 2 sacks, 4 interceptions, 13 passes defended, and 2 forced fumbles.
In comparison, Martinez has only 3 interceptions and 2 forced fumbles in his entire 4 year career.
According to Martinez's agents, he is seeking a deal in the range of 10 million per season, while the Packers want to pay in the 8 million dollar per year range.
Schobert Would Be An Upgrade In the Packers Defense
In coverage, the numbers show just how much of an upgrade Schobert would be in comparison to Martinez in coverage.
According to Pro Football Reference, Martinez's numbers were much worse in coverage than Schobert's. Martinez allowed 62 of 74 passes (83.8%) against the opposition for an average of 9.2 yards per attempt.
Meanwhile, Schobert allowed 38 of 55 passes (69.1%) against the opposition for an average of 6.5 yards per attempt according to Pro Football Reference.
#RT @NFL: Joe Schobert's second interception of the night! @TheSchoGoesOn53 #Browns

📺: #PITvsCLE on @NFLNetwork | @NFLonFOX | @PrimeVideo
How to watch: https://t.co/6MdaL6cvzP pic.twitter.com/f09MSx23id

— TV Tube HD (@Live_tv_2019) November 15, 2019
NFL free agency officially begins on March 18 at 4 p.m ET.
Teams can begin contract negotiations with players' agents on March 16th.