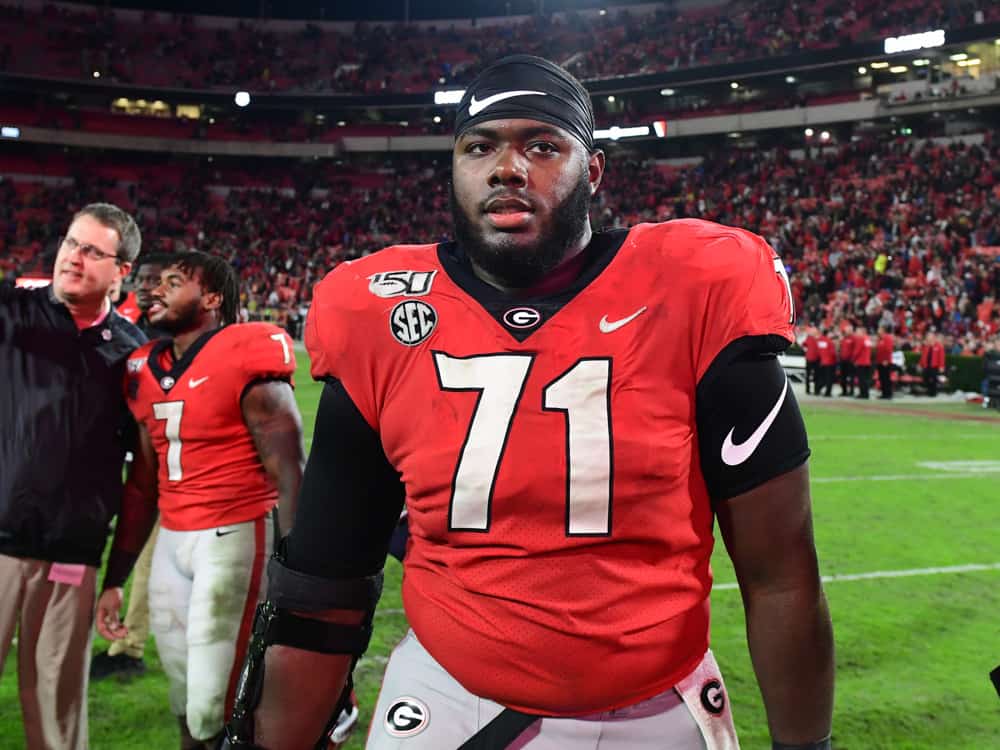 It's no secret that the play of the Cleveland Browns offensive line left some things to be desired in 2019.
Per PFF, they ranked 23rd amongst NFL offensive lines.
The run blocking was ok, as Nick Chubb went on to have another big year as the league's second-leading rusher.
Pass protection, however, was inconsistent all year long and was not of much help to Baker Mayfield.
Now, the Browns have a chance to bring a tackle with the last name "Thomas" on board.
No, Joe Thomas is not coming out of retirement.
I'm talking about highly-rated prospect Andrew Thomas out of Georgia.
During NFL Combine player interviews, Thomas talked about the possibility of him coming to Cleveland and replacing the old "Thomas" in northeast Ohio.
Georgia OT Andrew Thomas on prospects of potentially replacing future Hall of Famer Joe Thomas in Cleveland. He had formal interview with #Browns Tuesday night pic.twitter.com/MSErM5hbFS

— Daryl Ruiter (@RuiterWrongFAN) February 26, 2020
In 2019, the tackle spots were a revolving door between Justin McCray, Greg Robinson, and Chris Hubbard.
None of those three were able to solidify themselves in a positive way at that position, and any longevity from them last season was due to a lack of other options.
Robinson, of course, solidified his fate of not coming back next year with his recent drug-related arrest.
Browns' OT Greg Robinson was alleged to have 157 pounds – 157 pounds! – of marijuana in "several large duffle bags in the rear cargo area" in El Paso, Texas today. pic.twitter.com/O7UyfW7AqO

— Adam Schefter (@AdamSchefter) February 20, 2020
As a result, Cleveland's o-line needs a series of adjustments going into next season, starting with the personnel of the group.
Andrew Thomas could make things one step easier if he is drafted.
At 6'5" and 320 pounds, Thomas was an absolute machine with the Bulldogs in 2019.
He started as a left tackle with Georgia back in 2017 as a freshman, helping lead them to the National Championship game.
Georgia finished with the ninth-best rushing attack that season.
Of course, current Browns running back Nick Chubb was one of Georgia's main threats in the backfield that season with Thomas helping to lead the way.
Isaiah Wynn anchored the opposite tackle position before being drafted after that season.
Thus, Thomas moved to the left tackle position in 2018 and was again an integral part of a top-20 college football rushing attack.
While Georgia dropped to 41st this past season in total rushing yards, Thomas was still as dominant as ever, earning him a spot in top-10 draft pick conversations.
As mentioned, Thomas has already blocked for Nick Chubb before.
Those two saw a lot of success in their Bulldog days, and Thomas says he would love to be a blocker for Chubb once again.
"[Nick Chubb's] a great running back. It would be a pleasure to block for him again." — Andrew Thomas

Best quotes from Day 2 at the 2020 #NFLCombine » https://t.co/w1IKOcowYA pic.twitter.com/aOAF3wKnz3

— Cleveland Browns (@Browns) February 27, 2020
One can't help but get excited at the prospect of taking Thomas in the first round.
It's clear the offensive line was one of the weakest, if not the weakest area with the Browns in 2019.
With star-studded talent at the skill positions, it's important to have a quality offensive line to compliment them.
Again, Chubb still pieced together a fantastic campaign last season, but Mayfield and the passing game were wildly inconsistent.
Having a premiere blocker like Thomas is one step in the right direction to fixing that issue.
Thomas has elite strength and power that is required of NFL offensive linemen.
Here's what our writer Ben Donahue had to say about Thomas:
Andrew Thomas is widely regarded as the top offensive line prospect in the 2020 draft. He has been a solid contributor for Georgia the past few years, especially protecting quarterback Jake Fromm.

In his freshman year, he was named a Freshman All American. He started all 13 games during his sophomore year, which first caught the attention of pro scouts.

Thomas is big, 6'5″ and 320 pounds with great reach for a tackle. Pro scouts have noted that Thomas has quick feet, athleticism and good hand placement and technique in pass protection. When blocking the run, Thomas gets to the second level quickly.

His strength helps him manipulate defenders and turn them the way he wants them to go. Even more intriguing for NFL teams, Thomas has experience in pro style concepts and blocking techniques.

On the downside, scouts note that his initial hand placement on blockers can be too high.

This causes a mismatch of leverage and allows his man to get past him. Also, despite his great ability, Thomas occasionally lacks in flexibility.

This issue leads to Thomas leaning into his blocks which allows defenders to slide past him to the backfield. The Browns current 2020 draft position is 10.

Unfortunately, there are teams ahead of the Browns who need offensive tackles. Some mock draft boards have Thomas going number three overall to the Lions.

If the Browns wanted Thomas bad enough, they would have to trade up to get him.
Besides initial hand placement, the only concerns for Thomas can be his footwork and foot speed, which can be a concern when dealing with some of the top edge rushers in the league.
Besides those few footwork concerns, everything else is there for Thomas.
He looks primed to be a top tackle in the league for years to come.