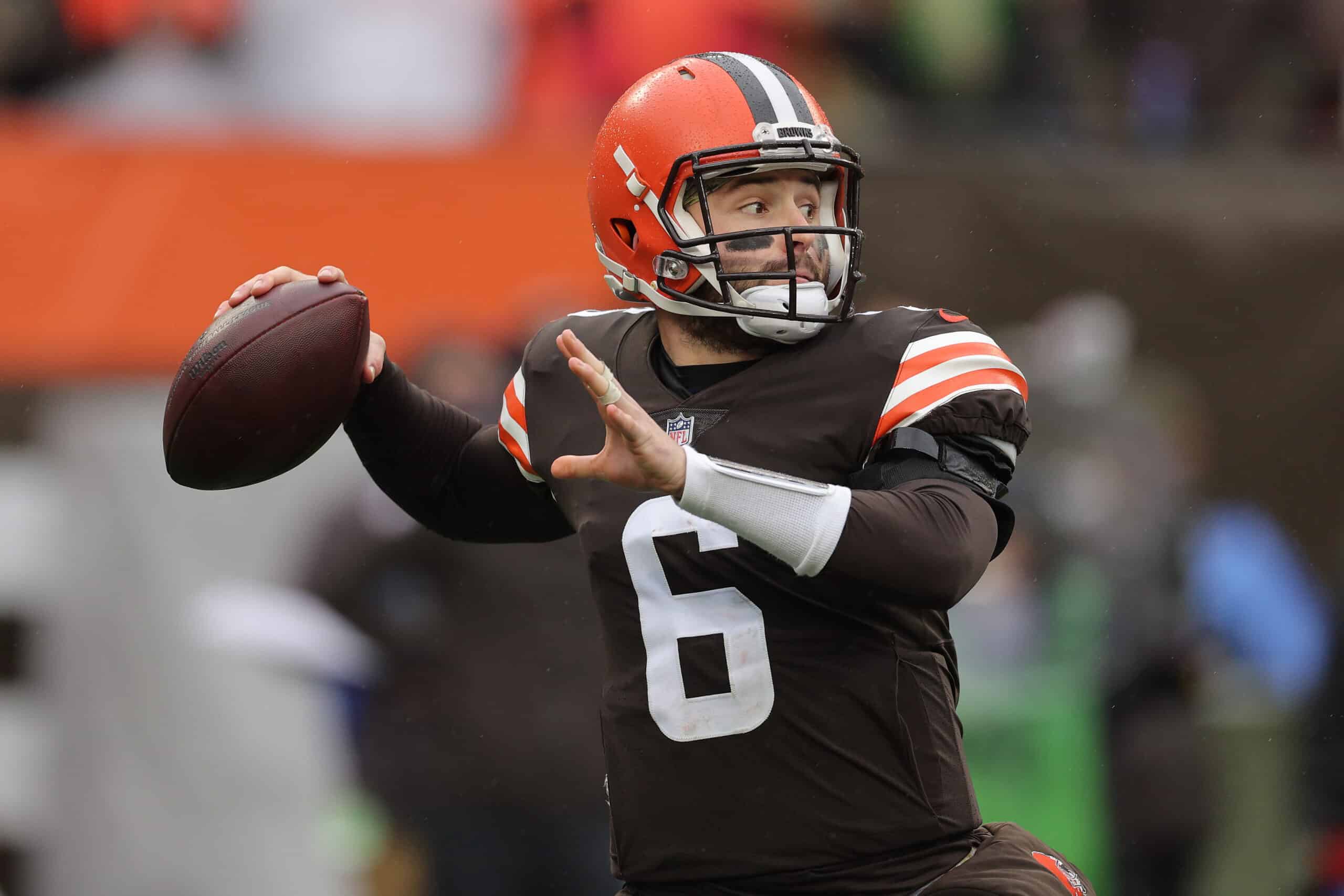 It looks like Baker Mayfield and the Cleveland Browns could be facing a hard dose of reality soon.
NFL quarterback openings are closing quickly, and Mayfield still finds himself with the team from Berea.
Andrew Berry knows by now he is unlikely to recover a first-round pick for his vexed former passer.
GMs value health, consistency, and leadership in their quarterbacks, and Mayfield comes up lacking right now.
So much so that, according to Adam Schefter, one team asked Berry to throw in a draft pick along with Mayfield.
Details about the rest of that offer are not public.
"The Browns had conversation with team about Baker [Mayfield] and the team asked for a pick from the Browns to take Mayfield's contract." – @AdamSchefter

Added: "If anyone thinks they're going to get a high premium pick for Baker Mayfield they're mistaken." pic.twitter.com/0orQ4l3zvG

— Dov Kleiman (@NFL_DovKleiman) March 21, 2022
It is possible it involved a higher pick for Mayfield and the team wanted a lesser selection to offset concerns.
Mayfield's price tag of almost $19 million dollars certainly matters, too.
And with just one season left on his contract, he is no sure thing to stick around on whatever team takes him for 2022.
It Is Not All Baker's Fault
Every great deal in history probably benefited from some good timing or luck.
Neither of those is working in the Browns' favor with Mayfield.
Once the team signed Deshaun Watson, the urgency to move their former starter made him a tougher sell.
And when they added Jacoby Brissett to back him up, there was no way to fake an interest in keeping Mayfield.
So now that leaves Jimmy Garoppolo and Baker Mayfield on the trade market … with the Panthers and Saints in need of a QB

Let's get Baker to Seattle and Jimmy G to Carolina

— Michael F. Florio (@MichaelFFlorio) March 21, 2022
Mayfield posted what amounted to a goodbye note and it leaked that he asked for a trade.
That might have been a desperate attempt to appear he is in control of his own destiny.
But Mayfield effectively sparked the embers of rumored maturity and leadership concerns.
Teams are signing second-tier free agents ahead of Mayfield instead of taking on potential issues.
But Mostly, It Is Baker's Fault
Mayfield's biggest fans scream to the rafters that Mayfield was too injured to impress last season.
Yet he insisted he was healthy enough to play every week, and told everyone it was his call.
Torn labrums are a very common NFL injury that many NFL players work through.
Mayfield's injury to a non-throwing shoulder might not impress GMs as being particularly devastating.
The market is dwindling substantially for Baker Mayfield. The Browns will be lucky to get anything of substance for him at this point. Seattle seems most likely but the league is speaking.

— Mekka Don (@MekkaDonMusic) March 21, 2022
Even with a small fracture complicating matters, Week 17 was not the time for Mayfield to admit it inhibited his game.
More damaging is Kevin Stefanski's assertion that defenses adjusted to Mayfield's need to roll out.
The passer's inability to improve his pocket passing and progressions left him unable to adjust to the defenses.
And his regression in footwork triggered concerns about his aversion to being coached.
What Options Remain? 
Mayfield's announced preference of teams was the Indianapolis Colts.
Indianapolis preferred to send a third-round pick to Atlanta for 37-year-old Matt Ryan.
Atlanta grabbed Marcus Mariota and New Orleans re-signed Jameis Winston to a 2-year deal.
Pete Carroll insists the Seahawks are ready to see what Drew Lock can do as they embark on a rebuild.
Per source, the #Panthers have come up as a potential contender to trade for #Browns QB Baker Mayfield. Something to keep an eye on.

— Evan Massey (@massey_evan) March 21, 2022
Houston let it be known early they had no interest in Mayfield as part of the Watson deal.
Carolina is stuck with the same contract as Mayfield for San Darnold and Miami says Tua Tagoloaiva is their guy.
Meanwhile, San Francisco is still trying to deal Jimmy Garoppolo, while Cam Newton and Andy Dalton are available for cheap/
At this point, Mayfield and a conditional 4th-5th round pick might bring back a third-rounder, at best.