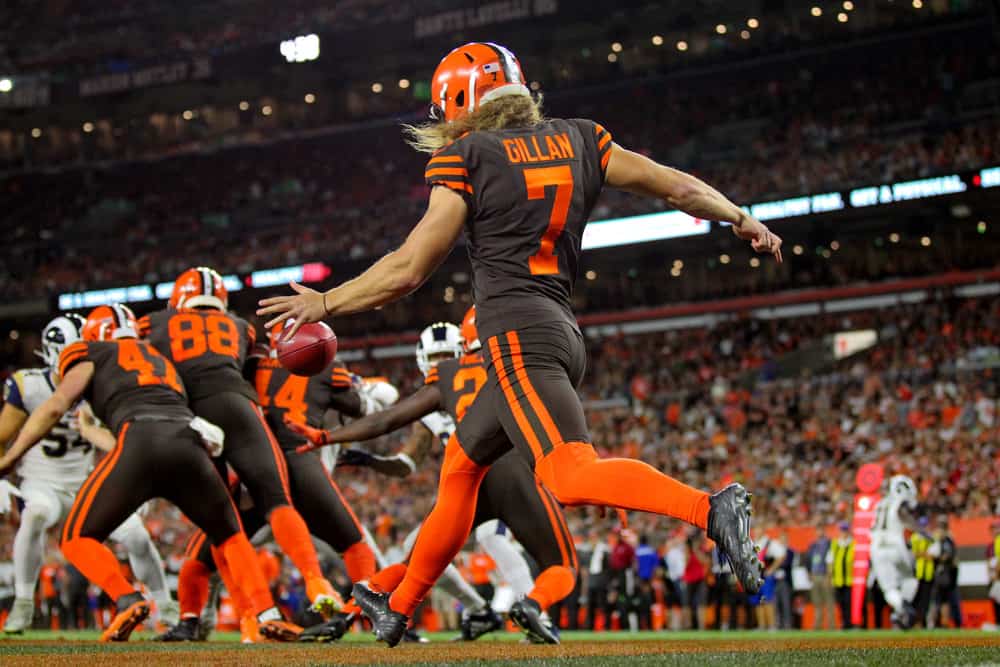 Jamie "The Scottish Hammer" Gillan's road to the NFL is anything but traditional. The 22-year-old, Scottish-born punter grew up playing rugby in Inverness and Edinburgh.
In 2014, he moved to Leonardtown, Maryland, playing football for the first time as a senior at Leonardtown High School. He played in only four games. After graduation, he committed to Bowie State University, readying himself to play Division II college football.
Then, weeks before the season was about to start, Gillan's friend saw a Facebook post that Arkansas Pine-Bluff's (part of the University of Arkansas system) kicker decommitted, and they desperately needed a fill-in. He sent Gillan's HUDL profile via Facebook, and soon enough, Arkansas Pine-Bluff offered him a full-ride, Division I scholarship.
In 43 games for Arkansas Pine Bluff, Gillan punted 214 times for 9,024 yards, averaging 42.2 yards per punt. He added 46 field goals on 74 attempts, a success rate over 60 percent.
After college, Gillan had NFL aspirations. He trained with special teams coaches, entering the NFL Draft in 2019.
Introducing the 🇬🇧's #NFLDraft hopeful…

The Scottish Hammer 🔨

Good luck @Jamie_Gillan10 🏴󠁧󠁢󠁳󠁣󠁴󠁿 pic.twitter.com/9z8AtgIA3G

— NFL UK (@NFLUK) April 24, 2019
After going undrafted, the Cleveland Browns decided to take a chance on "The Scottish Hammer," a nickname he received from his coach in high school. His long-shot NFL hopes became a reality, but he still sat behind veteran punter Britton Colquitt.
Fortunately, the Browns decided to give Gillan an opportunity to start the season as their punter, and he has been impressing Cleveland ever since.
On the season, he has 46 punts, 23 of which landed inside the 20-yard line. He is averaging 46.5 yards per punt, and his longest punt to date came in officially at 71 yards.
Scottish punter Jamie Gillan kicks a massive 74-yard punt#Browns pic.twitter.com/kUiqv2DKzt

— Browns Replay (@BrownsReplay) August 17, 2019
In the second week of the season, Gillan earned AFC Special Teams Player of the Week. Shortly thereafter, he earned AFC Special Teams Player of the Month.
Jamie Gillan named AFC Special Teams Player of the Week

📰: https://t.co/0nKYtQgT2A | #Browns pic.twitter.com/Kf5oKY9FyY

— The Browns Wire (@TheBrownsWire) September 18, 2019
Speaking on his recent successes, Gillan said, "I'm honored. I never really thought about anybody thinking I was a nobody. I was just going out there and punting the ball and doing good things for … the team. I think about the team more than anything."
The future is bright for the Browns' newest special teams sensation. Special teams coach Mike Priefer is already using Gillan in unique ways. His rugby background makes for an interesting onside kick.
the Browns used punter Jamie Gillan to break out the onside dropkick and it almost (almost!) worked pic.twitter.com/AO9YtJPC9L

— Christian D'Andrea (@TrainIsland) October 27, 2019
Austin Seibert might have to worry about his job security one day, as well. Prior to the season, Gillan attempted 60-plus yard field goals in practice. As his leg continues to develop, adjusting to American football along the way, his career trajectory could change as well.
#Browns punter Jamie Gillan attempts a 67-yard field goal during a break in #BrownsCamp practice #3Browns pic.twitter.com/a4W8Fm3n0K

— WKYC 3News (@wkyc) August 20, 2019
With all the new talent in Cleveland, punter is a position that gets overlooked, but field position matters. As the Browns struggle to find suitable defensive replacements for recently injured and suspended players, Gillan's ability to pin opponents inside the 20-yard line will take some of the pressure off of Steven Wilks' defense.