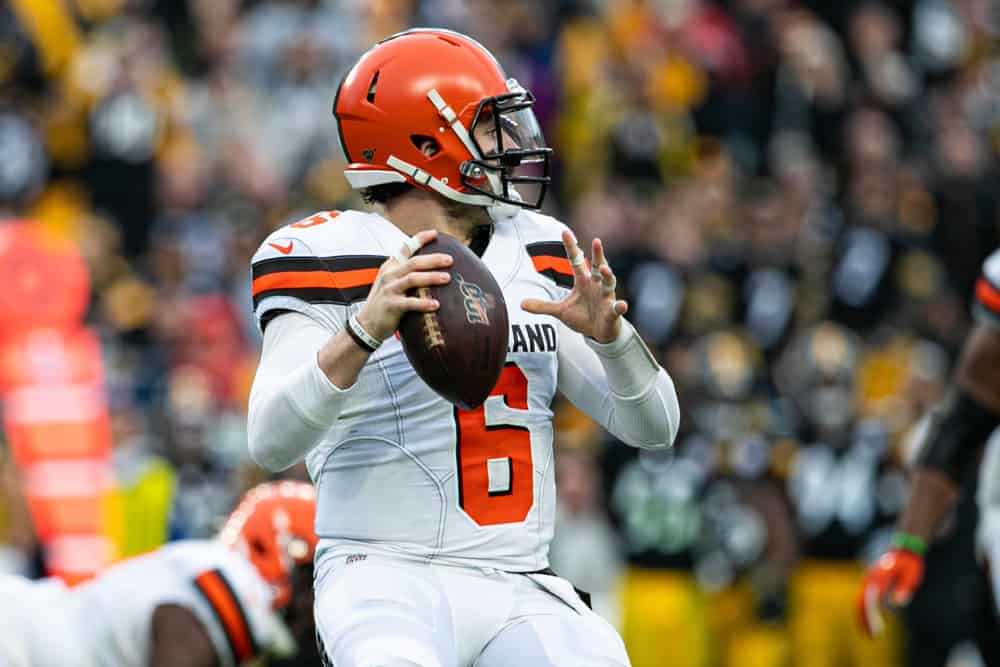 About this time last year, people were speculating on what Cleveland Browns quarterback Baker Mayfield's third year would look like.
The first overall pick in the 2018 NFL Draft did not leap out of the gates as a success story.
That could be attributed to his performance, coaching inconsistencies, and the players surrounding him.
Year 3 was considered make or break for Baker.
Former NFL quarterback Jake Delhomme was one of several that believed Baker could see the bench if he didn't pick up his level of play in Year 3.
Last March Delhomme said,
"They need better quarterback play in Cleveland. There's just no other way of saying it. Don't be surprised if you see Case Keenum come November if Baker struggles. I don't think they'll be afraid in the least bit to put in Case. Baker wasn't drafted by this regime that has taken over. If he plays well, great, I'm happy for him. But if he struggles, don't be (surprised if Keenum) takes over. Keenum is a pro who's going to be preparing and knows this system."
How Baker's Year 3 Went
And just like that, Baker Mayfield has thrown his first NFL Playoff TD pass.#OUDNA | #Browns pic.twitter.com/OVuPGgTZAy

— Sooner Gridiron (@soonergridiron) January 11, 2021
All of us know that Mayfield lifted his play in his pivotal third season.
Case Keenum did not play in 2020 because Baker was a lot better.
Baker Mayfield made a HUGE leap in 2020!

It's looking scary for #Browns opponents in 2021 😳 pic.twitter.com/LUCPjy69jQ

— CBS Sports HQ (@CBSSportsHQ) March 31, 2021
One of the most significant areas of improvement for Mayfield was interceptions.
In 2019, he threw one less interception than touchdowns.
However, in 2020, he was a lot more accurate.
He tossed only 9 interceptions.
In fact, Mayfield did not throw any interceptions the entire month of November.
Baker Mayfield has thrown 156 straight passes without an interception. 25 for 35 today for 334 yards, four touchdowns and no sacks. 147.0 passer rating. 11 TDs in that span

— Jeff Schudel (@jsproinsider) December 6, 2020
Secrets Of Mayfield's Year 3 Success
It does not seem to be one thing that precipitated the turn around.
He spent last spring during quarantine working hard on his fitness.
Alex Van Pelt became the offensive coordinator.
He had great success working with Aaron Rodgers, and his goal was to work on Baker's footwork.
It paid dividends.
Then, there was the offensive line who protected Mayfield extremely well.
He had more time to go through his progressions and make smart throws.
Finally, there was the two-headed monster of a running game.
Nick Chubb and Kareem Hunt's consistent and spectacular work at the line of scrimmage took pressure off of Mayfield to do everything himself.
It goes without mention that Coach Stefanski's influence on Mayfield (and the entire Browns team) changed the tide also.
Year 4 Expectations
Kevin Stefanski: Browns "established our identity" in 2020, expects Baker Mayfield to "continue to improve"https://t.co/E3XFU1mjeP pic.twitter.com/wI5Sv1hzcK

— Around The NFL (@AroundTheNFL) January 19, 2021
No matter what, Baker Mayfield elicits strong responses.
Some think he is the franchise quarterback that will lead the Browns to the playoffs and ultimately the Super Bowl.
Others believe he is not that accomplished and is a short-term solution for the Browns in the QB1 position.
Mayfield's fourth year does not change those preconceived notions.
He will be under the microscope, even more so, to do well and to exceed his third year results.
For his part, Mayfield appears to have matured into the role of starting quarterback for the Cleveland Browns.
This can only help him and the Browns as they enter the 2021 season.