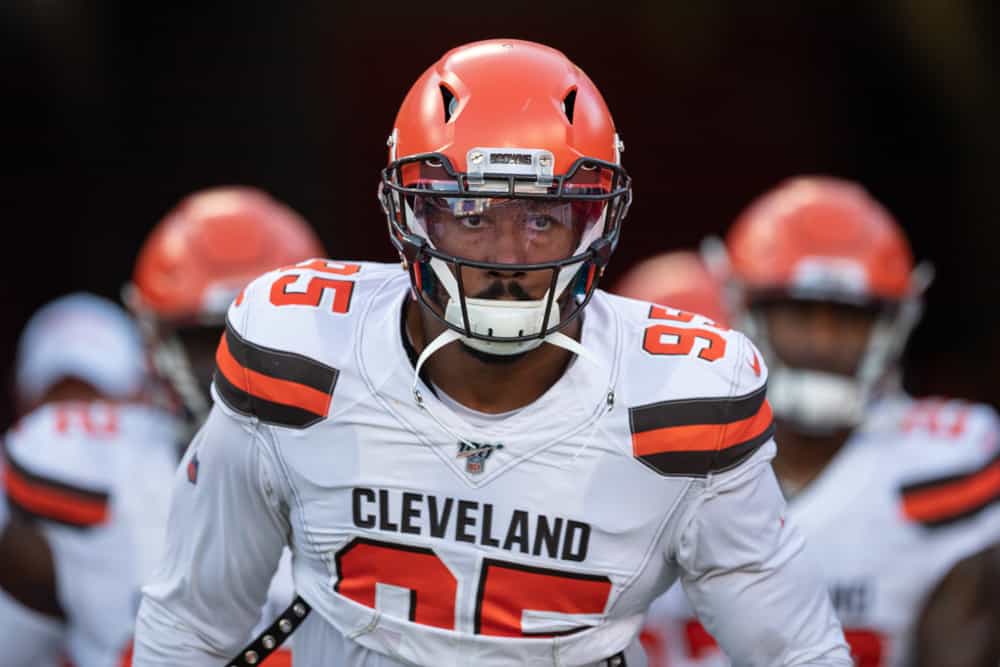 Cleveland Browns defensive end Myles Garrett spoke with media members on a Zoom call Thursday to discuss his massive contract extension.
Garrett — who officially signed a five-year, $125 million contract extension on Wednesday — vowed to put last season's brawl with Pittsburgh Steelers quarterback Mason Rudolph behind him.
"That's just life. You have one mistake. I know people are going to come after you and mine just happened to be on national TV with millions watching," Garrett said. "I'm just going to keep on playing my game.

"I'm not going to worry about what people say, what they do, so if somebody comes at me, I'll walk away, put my hands up. Whatever I have to do to nullify the situation, but then again, it's just a bump in the road. I know my teammates will have my back to deescalate and keep it straight to football."
The NFL suspended Garrett indefinitely for ripping Rudolph's helmet off and swinging it at the quarterback at the end of a 21-7 win over the Steelers on Nov. 14.
Garrett has repeatedly insisted Rudolph used a racial slur before the brawl ensued.
However, no players mentioned the alleged slur to media members after the Browns-Steelers Thursday Night Football game.
Plus, Garrett waited nearly a week to publicly make the accusation against Rudolph.
Shortly after Garrett's allegation, the NFL upheld his indefinite suspension.
"It was a reaction to a situation. Everybody's reaction is different to stimuli that they're given," Garrett said. "I don't believe anything like that has happened before and it won't happen again.

"You just have to be ready for that. Now that I've had something like that happen, and it went the wrong way, it can only go right for me because now I'm prepared."
Garrett ended up missing the final six games of the 2019 regular season.
"My life is much bigger than one moment," Garrett said. "Me, the Browns and my teammates are going to look past that and go on to greater success. That will just be a small bump in the road."
NFL Commissioner Roger Goodell reinstated Garrett in February.
Garrett said he has not spoken with Steelers head coach Mike Tomlin or Rudolph.
"There's been no communication,'' Garrett said. "I have no problem talking to those guys, but there just hasn't [been communication]. Until then, I'm going to keep focused on the season and keep focused on training and getting prepared. I don't have any ill intent towards either of them. I respect Mike Tomlin as a coach, and what he's done in the league has been great for the Steelers and they've had success for a long time.

"I hope Mason Rudolph goes on to have success. I have no problem with him going forward. Whatever happens, happens. If we're able to talk, we'll deal with things as grown men, and that's fine by me. I'm just going to keep my eyes forward and keep focused on the plan and the goal."
Tomlin claimed in a February appearance on ESPN's "First Take" that Rudolph's reputation had been "tarnished" because of Garrett's allegation.
The Browns are scheduled to play the Steelers on Oct. 18 at Heinz Field.
If the game isn't canceled because of the coronavirus pandemic and Garrett stays healthy, it would mark his first game against the Steelers since the on-field fight.
On Thursday, Garrett also downplayed the reputation that he's a dirty player even though the league fined him $52,639 for three illegal hits in the first two games of the 2019 season.
"The media is going to say whatever they want about me,'' Garrett said. "I am what you say I am. I'm just going to play the game how I have always played it, and that's not dirty."
If Garrett faces any kind of fines in 2020, his new extension includes $100 million in guarantees with $50 million guaranteed at signing.
At an average of $25 million per season starting in 2022, the extension makes Garrett the highest-paid non-quarterback in NFL history ahead of former NFL Defensive Player of the Year winners Aaron Donald ($22.5 million annual salary) and Khalil Mack ($23.5 million annual salary).
"I already felt I was in their league," Garrett said. "Now that they have put that — I don't want to say burden — but that banner on me that I'm the highest paid, now I have to assert myself as top dog. Now, I feel like I'm confident and ready to do that."
The 24-year-old defensive end is now under contract with the Browns through the 2026 season.
Here's the list of the #Browns' first-round picks from 2011-2017: pic.twitter.com/LHIsum7wfP

— Mark Bergin (@mdbergin) July 15, 2020
Garrett said Thursday he wants to win the NFL Defensive Player of the Year Award in 2020, and lead the Browns to the playoffs for the first time since the 2002 season.
In 2019, Garrett played in 10 games, compiling 10 sacks, 29 tackles, 11 tackles for a loss, 18 quarterback hits and two forced fumbles.
"I don't to be the same player that I was last year," Garrett said. "I want to be better in all aspects, and even on that trajectory I was [in] the [Defensive] Player of the Year conversation, so I don't want to make it a conversation next year.

"This next year, I want to ball out, win that award, but I want to take my team to the playoffs and even higher than that, but that's all based on what we do as a team and how we can build chemistry with each other. I know it's kind of hard with COVID and getting in the building, so we just gotta work with what we got."
The Browns and DE Myles Garrett are close to a contract that would make him the highest-paid non-QB in the NFL (7 yrs/$144M, including 2 yrs left on rookie deal).

Since being drafted 1st overall in the 2017 Draft, Garrett has the 4th-highest sacks per game rate in the league. pic.twitter.com/iGZnWymcxy

— ESPN Stats & Info (@ESPNStatsInfo) July 14, 2020