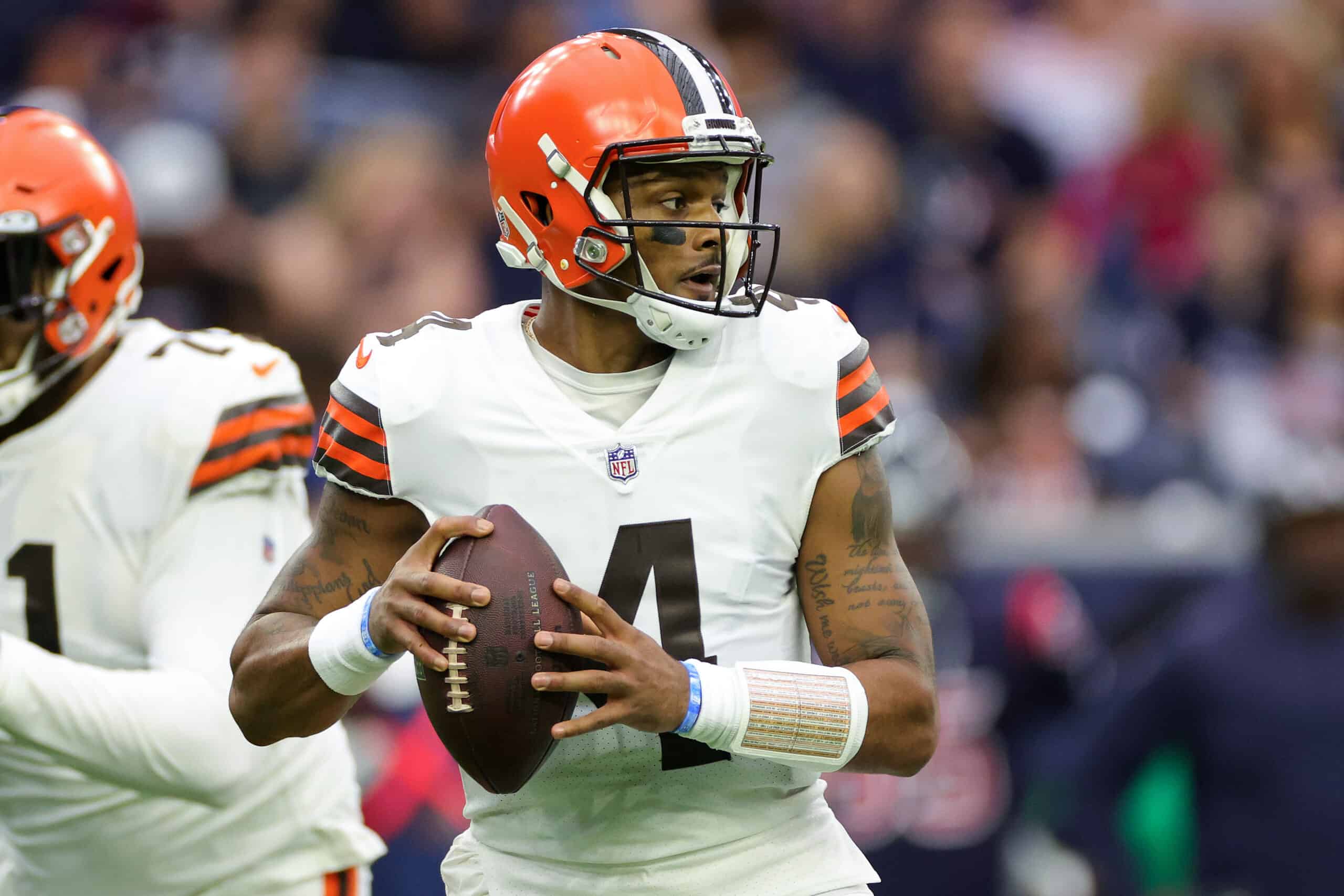 It was 11 games later than they wanted, but the Cleveland Browns rolled out their latest franchise quarterback hopeful last season.
So far, Deshaun Watson looks pretty much like all their other franchise hopes since 1999.
And more than a few fans and pundits worry that this is one deal that could set the team back a decade.
Having an average or substandard passer is bad enough.
What did Bernie take away from Deshaun Watson's #Browns debut?

"The footwork there was really telling. We're lucky to get a W with that type of offense"

–@BernieKosarQB https://t.co/fGyqbZKsim pic.twitter.com/Hs7caqkOHO

— Bernie Kosar Show w/ Hanford Dixon (@BernieKosarShow) December 7, 2022
But the price Andrew Berry paid for the Watson experiment means failure will cost more than 1 job in Berea.
Watson fans point to one magical half of football played in Week 17 when everything clicked in Washington.
That could have been Cleveland's stepping-off point, the unofficial beginning of the Watson Era.
But a follow-up loss to the Steelers has a lot of folks worried about Deshaun Watson in 2023.
Stefanski, Berry Should Be Concerned
Every quarterback is a system quarterback, and changing teams is always a risky endeavor.
For every Tom Brady-like transition and Matthew Stafford Super bowl, there are several Russell Wilson or Nick Foles lessons.
But there are precious few stories of players coming back from extended absences to play for another team.
Michael Vick is probably the closest example of what Watson and the Browns are going through.
#Browns QB Deshaun Watson on how much nerves affected him in debut: "Not so much nerves, just trying to feel the game. Just trying to settle in as much as I can, make sure the offense is operating"

— 92.3 The Fan (@923TheFan) December 8, 2022
Vick missed 2 full seasons and came back to sit on the Eagles' bench for a season after 3 Pro Bowls in 6 years with the Falcons.
In his second season back, Vick started 12 games, winning 8 on his way to the Comeback Player of the Year award.
Vick got Philly to the postseason only to lose the first game and never return.
It was a nice story if you don't love dogs, but Vick never hit the level of performance he enjoyed in his pre-suspension days.
Evidence Shows Browns Are Concerned
When Kevin Stefanski took the Browns to the 2020 postseason, it appeared he could do no wrong in Cleveland.
But since then, the Browns are a disappointing 15-19 and Stefanski's luster is tarnished.
When the team jettisoned a heavy-maintenance quarterback for their accomplished Pro Bowler, things were supposed to get easier.
Unfortunately, Watson's rust might have caused (or exposed) a few, more concerning, faults in his game.
#Browns HC Kevin Stefanski Shares who he Sees Deshaun Watson as, Optimisic About the Future With QB1https://t.co/0256VoI90U

— Brandon Little (@BrandonLittleFB) January 20, 2023
That brings us to the crowd-appeasing move at defensive coordinator and Jim Schwartz's role with the 2023 Browns.
Despite some popular notions, Schwartz is not here to take over should Stefanski and Watson fail to spark a playoff run.
Schwartz is already a second head coach, ready to lead his guys while the other "head coach" desperately focuses on offense.
It's a recipe for further disaster and infighting, possibly remedied by Mike Priefer managing the sideline on game day.
Can Watson Bounce Back in 2023? 
For all the maneuvering and lost sleep regarding the Browns' quarterback situation, Deshaun Watson is still a player.
Analyzing results, stats, or how he moved in his first 6 games is an exercise in futility.
Watson famously spent his suspension working out and practicing with a training camp playbook.
Apparently, there is a rule that prevented him from looking at the regular playbook, which is completely different and useless.
Looking at the potential schematic changes for the #Browns offense with the return of Deshaun Watson.

-Fits right in the current model
-Empty formation success
-Read Option wrinkles
-Unique RPO usage

40+ Watson clips & scheme explanations are found herehttps://t.co/QZ1WNHbKMV

— OBR Film Breakdown (@TheOBRFilmBDN) November 30, 2022
His Week 13 jitters were apparent, with tentative throws coming up short and a significant lack of fluidity behind center.
The rest of his playing time was basically a preseason, or even an offseason conditioning and skills exercise.
But Watson's anxiousness to work with Stefanski on implementing changes for 2023 indicates he saw or felt enough to be excited.
And if Watson is excited to get back on the field, Browns fans should be excited to have him line up in Cleveland next year.