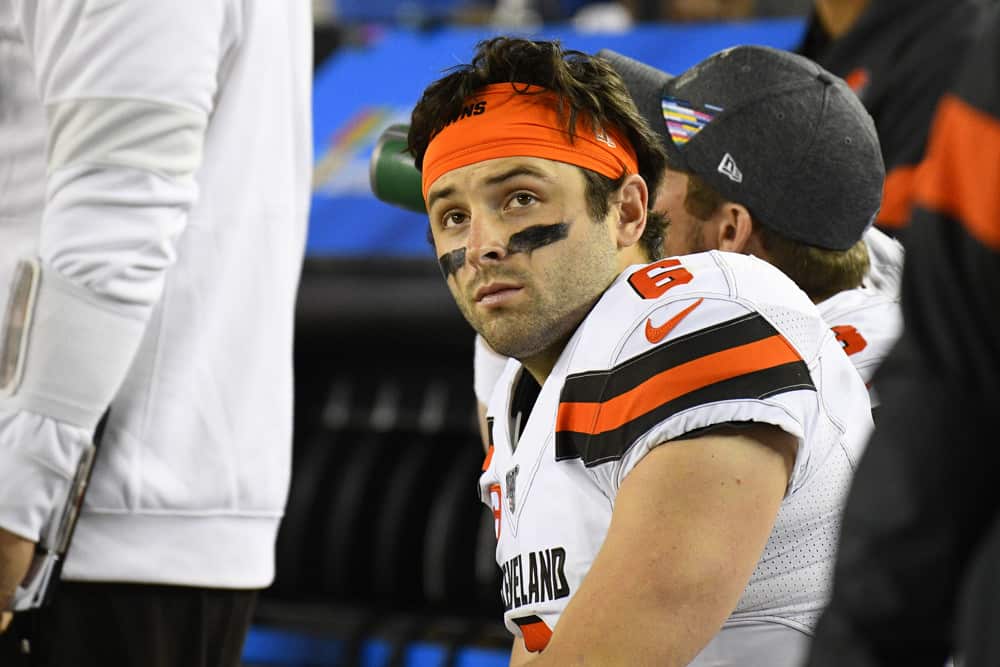 This wasn't how any Cleveland Browns fans saw Sunday afternoon going.
The Browns were on a roll at 4-1, and were heading to Pittsburgh to play a rival in a stadium they hadn't won in since 2003.
Poor game planning on the part of the coaching staff and execution on the part of the players led to a 38-7 loss.
The spotlight was shining brightly on Baker Mayfield, and he was pulled in the 3rd quarter, giving way to journeyman Case Keenum.
So what's to be done?
Should Stefanski roll the dice and bench Mayfield, perhaps damaging his self-esteem and torpedoing the season?
Or do you roll with him, hoping he can turn the season around and lead this team to a deep playoff run?
Let's take a look at the case for and the case against benching Baker Mayfield.
An Argument For Baker
While he hasn't always endeared himself to Browns fans, let's compare him to someone who has: Bernie Kosar.
A fan-favorite since his rookie year of 1985, there are many similarities between the two.
They also played for two marquee schools in the "U" and Oklahoma.
They played under bright lights in big games.
The best way I can think to compare the two is statistically-I went through the deep dive and compared them through their first 35 starts.
Baker came out on top.
Through 35 starts this is how Baker sits: 713-1,177 (60.6%), 8,446 yards, 59 TDs/41 INTs, with 16 wins and 19 losses.
Bernie was at 591-1,024 (57.7%), 7,407 yards, 40 TDs/24 INTs, with 22 wins and 13 losses.
Marty Schottenheimer stuck with Bernie when he finished multiple games with under 10 completions and completing less than half his passes for under 100 yards.
But I understand winning cures all.
Baker hasn't had the stability Bernie had.
He's had 4 head coaches and as many offensive coordinators.
With COVID-19 affecting every teams off-season, he wasn't able to get a full grasp of that new playbook.
Let's give him a bit of time.
We've seen what Stefanski can do as he coached Kirk Cousins to his best season as a pro.
Just look at the difference so far.
Once again in the coaching matter front. Baker Mayfield vs Baker Mayfield five games in the 2020 season vs 2019 season. This is with an entire new system including his foundation changed and zoom meeting to learn the offense. pic.twitter.com/Rc17DKvPpv

— ChadP71 Running Dirty (@chadp71) October 14, 2020

Then there is the team Mayfield has found himself playing for.
One of the most talent deficient franchises until last season, the Browns have drafted smarter, made dynamic trades, and have injected talent into both sides of the ball.
This is an up and coming team that needs to gel together.
This is the first time in forever where the Browns have the talent and potential to having deep playoff runs.
With that being said, there is still an achilles heal on offense: the offensive line.
While they are improved, it still hasn't been enough.
Mayfield isn't a QB in the Drew Bledsoe mold: 6'5″, 240+ pounds, not mobile.
Mayfield is listed at 6'1," 215 lbs.
The offensive line needs to be able to keep the pocket clean with passing lanes, giving Mayfield the ability to make his reads and get the ball downfield.
Since he's come into the league, that hasn't always been the case.
The offensive line, especially in the Steelers game, was pressured constantly from every angle, and the pocket collapsed.
Alex Kozora posted the exact play where it seemed Baker couldn't take the beating anymore.
Baker Mayfield is going to feel this hit from Cam Heyward for weeks. Knew Mayfield was pretty much done at this point. #Steelers pic.twitter.com/nrH8hphwo1

— Alex Kozora (@Alex_Kozora) October 18, 2020
There was also this, from Pro Football Focus Pittsburgh.
The Steelers pass rush pressured Baker Mayfield on over 47% of his dropbacks 🔥 pic.twitter.com/ZyHpCEmSOM

— PFF PIT Steelers (@PFF_Steelers) October 18, 2020
For Mayfield to get it to his playmakers, he needs clean throwing lanes and time to get the ball to them.
While the Browns have been maulers in run blocking (which makes Baker's life immensely easier in its' own way), they're not cutting the mustard pass blocking.
Andrew Berry and Co. in the front office need to make a concerted effort to continue to improve the unit.
The Case Against Baker
With all that being said, I think it's time to perhaps face the music: Baker may not be the man the Browns need under center to get them into deep playoff runs and, eventually, the Super Bowl.
Because while he has racked up some nice individual stats, he's not doing his part to make his team better.
Baker tries to play the "gunslinger" role, but it doesn't exactly pay off.
ESPN Stats and Info shared this nugget on Twitter.
Today marks Baker Mayfield's 11th career game with multiple interceptions.

Only Jameis Winston (13) & Philip Rivers (12) have more such games since Mayfield entered the league in 2018. pic.twitter.com/AqNpLy9biW

— ESPN Stats & Info (@ESPNStatsInfo) October 18, 2020
What might even be more problematic is that stature, coupled with that gunslinger mentality.
Simply put, Baker just doesn't have the physical tools to be a championship QB.
He played in a fun and gun spread offense at OU, and operated out of the shotgun against less than stellar Big XII defenses.
The quick, one-read shotgun offense, where he had some of the top offensive talent covered up his deficiencies while he was in school.
He can't do that anymore.
He's not big enough to get away from pressure in the big leagues, and it's showing this season.
🟡 Steelers pressure rate: 50% (1st)
🟠 Baker Mayfield passer rating under pressure: 30.9 (31st) pic.twitter.com/hp4InxyMwm

— PFF (@PFF) October 18, 2020
It might be time to sit Mayfield-after all, the Browns are 4-2 and still have plenty of season left.
Case Keenum was coached by Stefanski when he had his most successful year as a pro in 2017, leading the Vikings to a 13 win season.
The Browns are at the point where they need to make a decision: do we stick with the younger Mayfield at QB, who is failing to perform at a top level with the talent around him?
Or do you insert Keenum into the starter's role, knowing what he did with Dalvin Cook, Stefan Diggs, and Adam Theilein in Minnesota?
I can't make that decision for Kevin Stefanski.
But the Browns upcoming schedule could lead to a padded record: the second head to head against the Bengals, a winnable game against a young Raiders team; the Texans at FirstEnergy, followed by the Eagles, and then the Jaguars in Jacksonville.
That leads into the end of the season, with games against the Titans, two winnable games against both New York franchises, and the Steelers and Ravens.
Those are the games the Browns have to truly prep for-and at this rate, we have to trust Stefanski to go with who he thinks gives them the best chance.
Because at this point, I'm not sure who that is anymore.