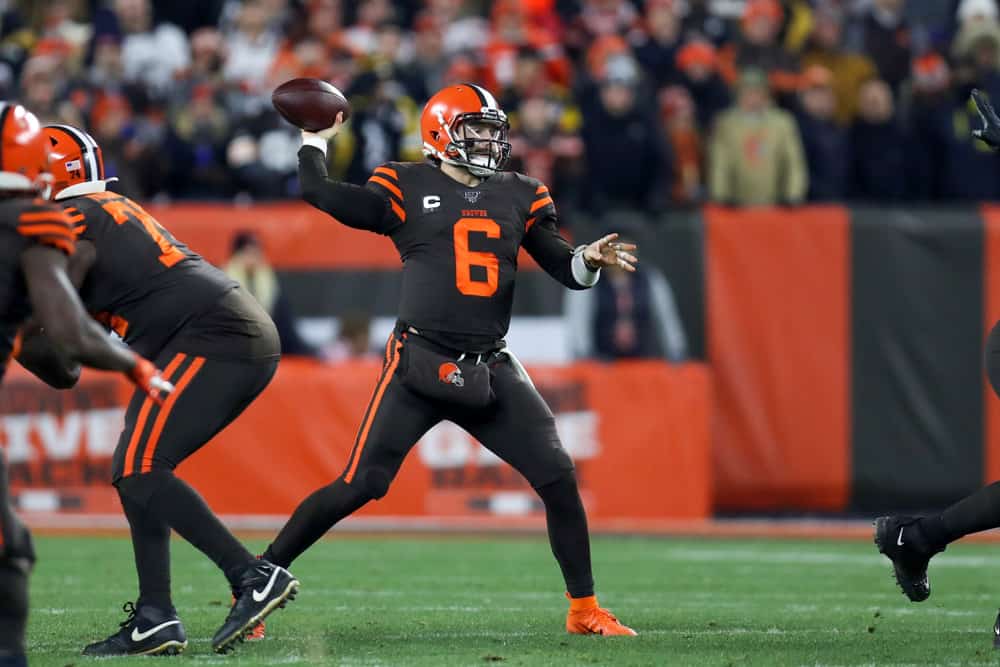 Baker Mayfield entered the 2019 season as the Cleveland Browns' pre-ordained starting quarterback.
He was initially backed up by veteran journeyman Drew Stanton, who wound up injured in the preseason.
Garrett Gilbert, coming off a successful Alliance of American Football season, became the second-string passer.
Mayfield remained healthy and started all 16 games for the Browns.
Despite Gilbert's recent AAF experience, there was no one Mayfield worried about taking his starting role.
Freddie Kitchens didn't have someone to confidently spell his starter during a disappointing season.
Kevin Stefanski says "the sky's the limit" on Baker Mayfield's potential.
He promised Mayfield a list of things to work on and game plans that maximize his skill set.
But should Stefanski provide an extra push by naming a viable challenger to Mayfield's starting role?
Why Wouldn't Stefanski Add a Starting-Caliber Backup?
Baker Mayfield has proven resilient when it comes to challenges.
The two-time walk-on college starter and oft-maligned number one draft pick loves proving doubters wrong.
It might be enough for him to read or hear the negativism directed at him after a subpar sophomore season.
Mayfield passed on the notion of hiring an outside consultant or coach to help him this offseason.
He said he can properly critique himself.
Should we doubt he'll return motivated and anxious to fix what he recognizes as his own deficiencies?
Is Mayfield's will to beat the doubters enough to expect a resounding comeback campaign?
The human psyche is an intriguing thing.
Someone who wants to do it all on his own can get rattled, if not angry, at outside attempts to help.
Hiring an 'alternate starter' has been known to backfire, creating mistrust and a dysfunctional quarterback room.
What is meant to inspire Mayfield could leave a bad taste in his mouth.
Why SHOULD Stefanski Add a Starting-Caliber Backup?
Kevin Stefanski was hired to bring winning football back to Cleveland.
What was said in his interviews and the length of his contract won't change one thing.
He can't expect to have more than two seasons to turn things around.
The Cleveland Browns fired coach and former Alabama quarterback Freddie Kitchens after one season. https://t.co/8cG7F47IS1 pic.twitter.com/c4vRZRz0Xv

— AL.com (@aldotcom) December 30, 2019
Mayfield was the first quarterback in years to start all 16 games for the Browns.
He could be the NFL's next iron-man quarterback.
But Stefanski can't bet on that.
He needs to have a backup passer who can win games,
It doesn't matter if he covers an injury, replaces an ineffective Mayfield, or simply pushes his competitive buttons.
Stefanski can't worry about Mayfield's feelings, but he should know one thing.
In 2018, Mayfield was asked how he was prepared to step in as a rookie starter.
Rookie quarterback Baker Mayfield is crediting Drew Stanton and Tyrod Taylor for his development. #Browns pic.twitter.com/2f2v5HPUtW

— Jeff Schudel (@jsproinsider) August 21, 2018
The first name he mentioned wasn't Freddie Kitchens, Ken Zampese, or anyone from the coaching staff.
It was Tyrod Taylor and Drew Stanton who Mayfield thanked first.
Mayfield is up for a challenge.
But he will also benefit from having another starter in the locker room.
So, Should the Browns Sign a Veteran Starter?
This NFL free agent season offers some astounding options at quarterback.
Twenty starters or former starters are among the 34 free-agent quarterbacks.
Cleveland shouldn't expect any of the biggest names to accept a challenger role to Mayfield.
But there are still some interesting and affordable possibilities.
Case Keenum is probably the best backup/starter option for the Browns.
Stefanski was Keenum's quarterback coach during his playoff season at Minnesota.
#Vikings Film: Keenum looked as comfy w/ gameplan as any QB has looked this yr. Great reflection on OC Shurmur and QB coach Kevin Stefanski.

— Andy Benoit (@Andy_Benoit) September 29, 2017
He came off the bench that year and would provide Browns' fans with confidence should Mayfield go down.
Keenum proved to be an asset to Dwayne Haskins in his rookie campaign, too.
Andy Dalton, with all his AFC North experience, would be an intriguing roster addition.
Dalton would prefer a starting gig, but there are fewer openings than quarterbacks this season.
If he finds himself without a team late in the preseason, Dalton might be convinced to join Cleveland.
Mayfield would do well to draw on his knowledge.
Stefanski would have an excellent insurance policy if no one else offers Dalton a starting job.
Marcus Mariota might come cheaper.
He is certainly anxious to see if changing venues works as well for him as it did for Ryan Tannehill.
Mariota famously scored highest on the QBase quarterback rating system a few years back.
Andrew Healy, still with the #BROWNS, creator of QBASE, has a Quarterback ranking system that gave a better QB score to Marcus Mariota than Patrick Mahomes out of college.

— Adamjb26 (@BrownsObsession) January 13, 2020
The developer of that system, Andrew Healy, is now part of the Browns' analytics department.
Joe Flacco or Blake Bortles are other starters who might accept a role behind Mayfield.
Veteran Backups Don't Offer Much of a Challenge
Stefanski's goal might be to challenge Mayfield without creating controversy.
He could be wary of a slow start prompting calls for a Keenum or Dalton to step in.
There are long-time backups who could provide a challenge.
But the top names would want a legitimate shot at the starting position.
Geno Smith, Colt McCoy, Matt Moore, Cooper Rush, and Chase Daniels are likely to sign with their current teams.
Josh McCown needs surgery and is expected to retire again.
Happy Retirement Josh McCown! Oh how time flies #Browns pic.twitter.com/nz6dyp7ypF

— DollarDog Nick @BIGPLAY (@DollarDogSports) June 17, 2019
That leaves players like Sean Mannion, Blaine Gabbert, Mike Glennon, and Tom Savage in the running.
Chronic "potential" starters like Cardale Jones, AJ McCarron, and Brock Osweiler are out there.
Backups who had moments in 2019 like Kyle Sloter, Brandon Allen, and Nate Sudfield are free agents.
None of them will light much of a fire under Mayfield.
What About the Draft?
Cleveland's company line is that they believe in Baker Mayfield.
They will not spend a high-level pick for another quarterback.
But if one of the mid-ranked college passers falls into the fifth round, will the Browns take a gander?
Someone like a Jalen Hurts might prompt the team to shift away from their list of needs.
It is more likely they use a sixth- or seventh-round pick on a developmental player or someone with just enough of a name to make Mayfield take notice.
That strategy perturbed Ben Roethlisberger in 2018, but he had a better season than he did in 2017.
Ben Roethlisberger doesn't seemed to be too thrilled with the Steelers' decision to draft quarterback Mason Rudolph. https://t.co/g3i07z48j8 pic.twitter.com/rYiUwOayuX

— NESN (@NESN) May 4, 2018
Maybe a Nate Stanley (Iowa) or Anthony Gordon (Washington State) can find a home in Cleveland.
In Baker We Trust?
Competition is the driver behind many successful people.
Kevin Stefanski doesn't want his star to be looking over his shoulder every Sunday.
But it can't hurt to know he can be replaced.
Stefanski told us each and every player will know what he expects of him and what they should expect.
That communication will be vital to motivate Mayfield without insulting him.
Mayfield thought a quarterback competition wasn't a problem in 2018.
Baker Mayfield says he's confident QB competition won't divide Browns @twithersAP https://t.co/JQYgNf38Yy

— AP NFL (@AP_NFL) May 4, 2018
After watching film and seeing what Mayfield has to work on, Stefanski might try to trade for Cam Newton or sign Dak Prescott.
But it is more likely Baker Mayfield is the Browns' starting quarterback for a long time.
That doesn't mean the Browns shouldn't provide some more competition for him.
After all, Mayfield hasn't met a challenge he's backed down from so far.