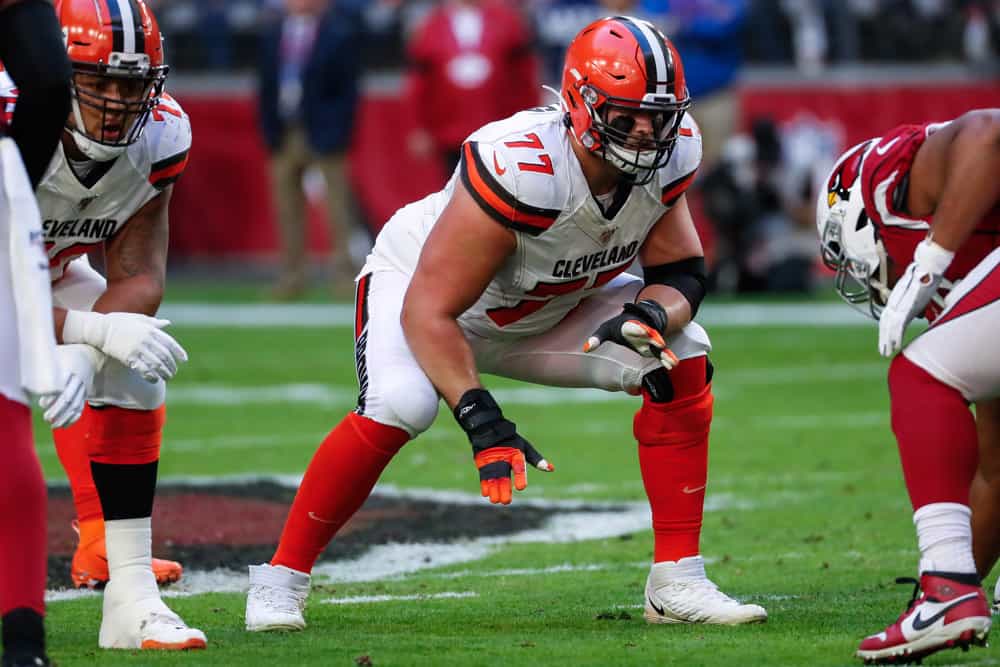 The Cleveland Browns need to pay Wyatt Teller.
Teller, the Browns starting right guard, will be entering the final season of his four-year deal in 2021.
In 2022, he is set to become an unrestricted free agent.
At least as things currently stand.
In the midst of this crazy free agency period for Cleveland, it's been easy to forget about some of the guys the team already has.
Right guards typically don't bring about a ton of fan conversation anyways, but that doesn't mean Teller's role is a belittled one.
Wyatt has the ability to be a staple on Cleveland's offensive line for years to come.
Now it's up to general manager Andrew Berry to make that a reality.
If resigning Teller long-term isn't on Berry's immediate to-do list, it needs to be.

Improvement in 2020
GM's prefer to give contract extensions to guys who's game is trending in the right direction.
Wyatt Teller certainly fits that description.
Wyatt Teller's improvement in 2020 was nothing short of incredible 🤯 💪 pic.twitter.com/Netf8DoOnB

— PFF (@PFF) February 23, 2021
After a shaky 2019 campaign, Teller came back with a vengeance in 2020.
By the end of the season, Pro Football Focus had him as their highest-graded offensive lineman.
Wyatt Teller: PFF's highest-graded OL (93.8)#ProBowl | #ProBowlSnub pic.twitter.com/ngrPXluBK0

— PFF (@PFF) December 22, 2020
While Cleveland has a loaded backfield with Nick Chubb and Kareem Hunt, that shouldn't be a reason to skimp out on the offensive line.
Having a unit that can essentially generate offense on their own is a luxury.
The Browns already have that from a talent perspective, and offensive line coach Bill Callahan just makes life that much easier for everyone.
But, the group takes a massive hit when Teller is unavailable.
Last season, Cleveland's offensive line went from the best to one of the worst run-block blocking groups in the league when Teller wasn't playing.
Browns PFF run-blocking grade:
🔸 Games w/ Wyatt Teller – 86.1 (1st)
🔸 Games w/o Teller – 56.1 (29th) pic.twitter.com/nHqtByL73I

— PFF (@PFF) December 19, 2020
After 2020, Teller has established himself as one of the league's best guards currently.
Wyatt Teller: 94.1 PFF Grade (1st)

The #Browns guard is looking like a ⭐️ pic.twitter.com/jqM0DtQZQ5

— PFF (@PFF) October 9, 2020
An Expensive New Deal
The main concern for Berry when it comes to giving Teller a huge new contract is whether he believes 2020 was a one-off of sorts for Wyatt.
His improvement was so notable that Pro Football Focus viewed him as the most improved player on the Browns in 2020.
"Teller earned overall PFF grades of 60.3 as a rookie with Buffalo in 2018 and 56.7 with the Browns in 2019", the PFF article reads. "All he did in his third season was finish the year as the highest-graded guard in the NFL."
On average, the top-ten highest-paid right guards in the league make $10 million per season.
After his 2020 efforts, Teller's new deal would warrant a yearly salary within that same ballpark.
This is where Berry needs to be sure of Wyatt.
With Baker Mayfield set for a huge new deal soon along with others like Nick Chubb and Denzel Ward, contract decisions must be made carefully.
Does Teller deserve to be paid as a top guard for years to come?
Should Andrew Berry even give him that money regardless?
Most would agree that after 2020, Teller is well worth the investment.
High level guard play isn't always easy to come across in the NFL, so Cleveland should hang onto it while they have it.