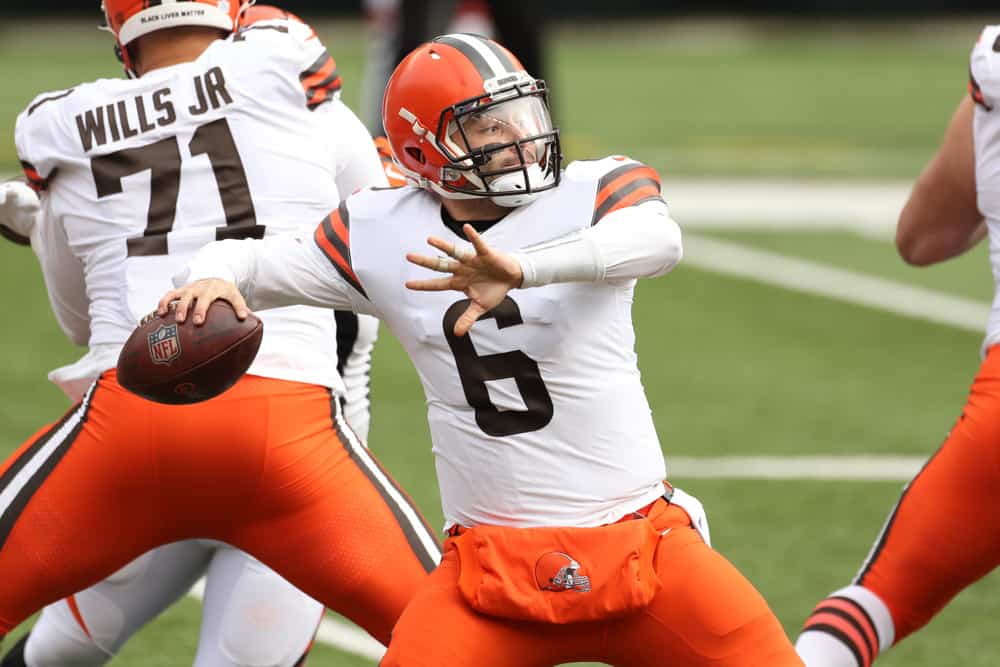 Jimmy Haslam and the Cleveland Browns finally found a winning combination of coaching and front office talent.
Kevin Stefanski is an NFL Coach of the Year and Andrew Berry is in the running for NFL Executive of the Year.
Paul DePodesta sports a quiet smile as he lets the results serve as an "I told-you-so."
Maybe better decisions here or there could have reversed the Browns fortunes before now.
But the decisions don't get easier as the Browns try to keep the good times rolling in Berea.
Baker Mayfield was surgical today. The Browns should offer him an extension as soon as they can. He's their guy.

— Ben Axelrod (@BenAxelrod) January 17, 2021
Re-signing free agents and adding speed to the defense are among the Browns' pending tasks.
But the most impactful decision might be when, or if, to lock up Baker Mayfield as the franchise quarterback.
With a near-flawless second half and the Browns' first playoff win in decades under his belt, Mayfield earned an extension.
But are Berry and Stefanski sold on Mayfield as their best long-term answer?
Or is there a nagging doubt whether he can take the next step and direct this team to a Super Bowl?
How Much Is Baker Mayfield Worth? 
Spotrac.com is a site that monitors salaries across multiple sports leagues.
They use a statistical comparison model to project free-agent contracts and player extension values.
According to their system, Mayfield is worth about $35 million per year on a 5-year extension.
This keeps the Browns' franchise quarterback signed through the 2027 season as it tags onto his fifth-year option.
And it wouldn't be long before that price is a bargain if Mayfield holds up his end of the deal.
.@bakermayfield's top plays from the 2020 season 🎯 pic.twitter.com/LaIYo58SQC

— Cleveland Browns (@Browns) January 21, 2021
Josh Allen and Lamar Jackson should sign extensions soon, and Dak Prescott will have a new deal before 2022.
Mayfield could be the 6th or 7th-highest paid passer next year, but barely among the top-15 by 2024.
That is a good argument for signing Mayfield this year, assuming Stefanski is sure he can win with him.
There is a reason for hesitation, however, and it starts with the two most-recently extended passers.
Jared Goff and Carson Wentz have their teams on the hook for big salaries amid debate over their futures in LA and Philly.
Rumors about Doug Pederson's departure involve his lack of commitment to Wentz and it sounds like Sean McVay would move on from Goff if he could.
What if Mayfield regresses or becomes a Derek Carr or Phillip Rivers; good enough to compete, but…
The Money Ball Argument 
Mayfield will undoubtedly play for the Browns on his fifth-year option in 2022.
That is a good deal for a playoff-caliber quarterback, but it is just one season.
Waiting another year to extend Mayfield could increase his contract value (and demands) significantly.
Baker Mayfield is a top 10 quarterback with bottom 10 perception. He's shutting all the doubters up today.

Ya love to see it!! #Browns

— Emmanuel Acho (@EmmanuelAcho) January 17, 2021
Of course, it could also save the team millions and years of progress should Mayfield regress or get injured.
But that is not the only reason to hold off on an extension.
Signing bonuses hit immediately and Andrew Berry needs cap space to add a few free agents in 2021.
Berry has to deal with a salary cap projected to fall to $175 million (from $193 million) in this post-Covid season.
How much he doles out to Mayfield affects his free agency and re-signing priorities.
He could dangle additional guaranteed money and bonuses if Mayfield agrees to hold off until next year.
#Browns: won 11 games for the 1st time since 1994, ended 18-year playoff drought, won a playoff game for the first time since 1994, sent the #Steelers home for the winter, verified Baker Mayfield is "the guy"

Most successful campaign in 3 decades for the franchise.

— Daryl Ruiter (@RuiterWrongFAN) January 17, 2021
Or he can just play hardball and tell Mayfield he has to wait.
Not only will that let Berry pursue more free agents, it lets him work on extending Denzel Ward.
Ward is the top rated cornerback in the NFL (per PFF), and is arguably an even higher priority than Mayfield.
Of course, this is all moot if Mayfield agrees to defer bonuses and take a salary closer to the $30-35 million mark.
By 2024, that could be a bargain price for a franchise quarterback.
And that could make pending extensions for Nick Chubb and others easier to manage.
The Psychology of Contract Extensions 
Mayfield, Ward, And Chubb share at least one common trait as their contract extensions loom.
Each of them is a popular, home-grown talent professing a desire to stay in Cleveland.
Berry would do well to treat them right in the eyes of fans and other players.
Not only does this build morale in the locker room, but it also sets a tone for future dealings.
#Browns QB Baker Mayfield was the second highest graded quarterback of the divisional round behind Aaron Rodgers. pic.twitter.com/FcLSRuCead

— Browns Dispatch (@brownsdispatch) January 18, 2021
Cleveland employs an analytics-leaning decision process which can sometimes disregard emotions.
Each of these players has statistical arguments on their side, but other factors come into play.
Running back values are a hot topic and hurt by the poor return-on-investment of several recent signings.
We know Berry undervalues linebackers on defense, and we'll soon see what he thinks about running backs.
For a franchise quarterback, Mayfield's statistics are not overwhelming, but he ranked second only to Aaron Rodgers in the playoffs.
Berry on Baker Mayfield: "We're very, very pleased with him. We wouldn't be where we were at the end of the season without his performance."

— Andrew Gribble (@Andrew_Gribble) January 20, 2021
There is also the abstract value of leadership and attitude.
Stefanski and his teammates claim Mayfield is a true leader on and off the field.
Unless Mayfield says he wants to wait, a generous extension now maintains the positive vibes coming from Berea.
The Verdict: Extend Now or Extend Later? 
Cleveland would be smart to pick up Mayfield's fifth-year option and wait until after 2021 to start extension talks.
Getting Mayfield's buy-in to that plan would make it even smarter.
But the only real risk to validating their franchise quarterback is Mayfield's performance.
Teams take injury insurance on their biggest stars and the Browns have options to recover from cap hits.
The Browns' improved offense still had some bumps this season and we should expect even better things in 2022.
"We will be back. There's a new standard here" – #Browns QB Baker Mayfield

— Daryl Ruiter (@RuiterWrongFAN) January 17, 2021
If that doesn't materialize, Mayfield or Stefanski has some explaining to do.
Kansas City showed the league you need competent play on both sides of the line to win a Super Bowl.
But they made sure their quarterback was locked up early.
That's why Cleveland's smartest move is probably not the correct move.
#Browns Baker Mayfield: "We've come a long way since I first got here but we aren't done yet and that's the best part."

— Camryn Justice (@camijustice) January 17, 2021
Signing Mayfield right now eliminates uncertainty and cements the tone for the Browns organization.
Cleveland should lock up Baker Mayfield, their franchise quarterback.
Then, they can get on with their plan to bring a Super Bowl Champion to Northern Ohio.