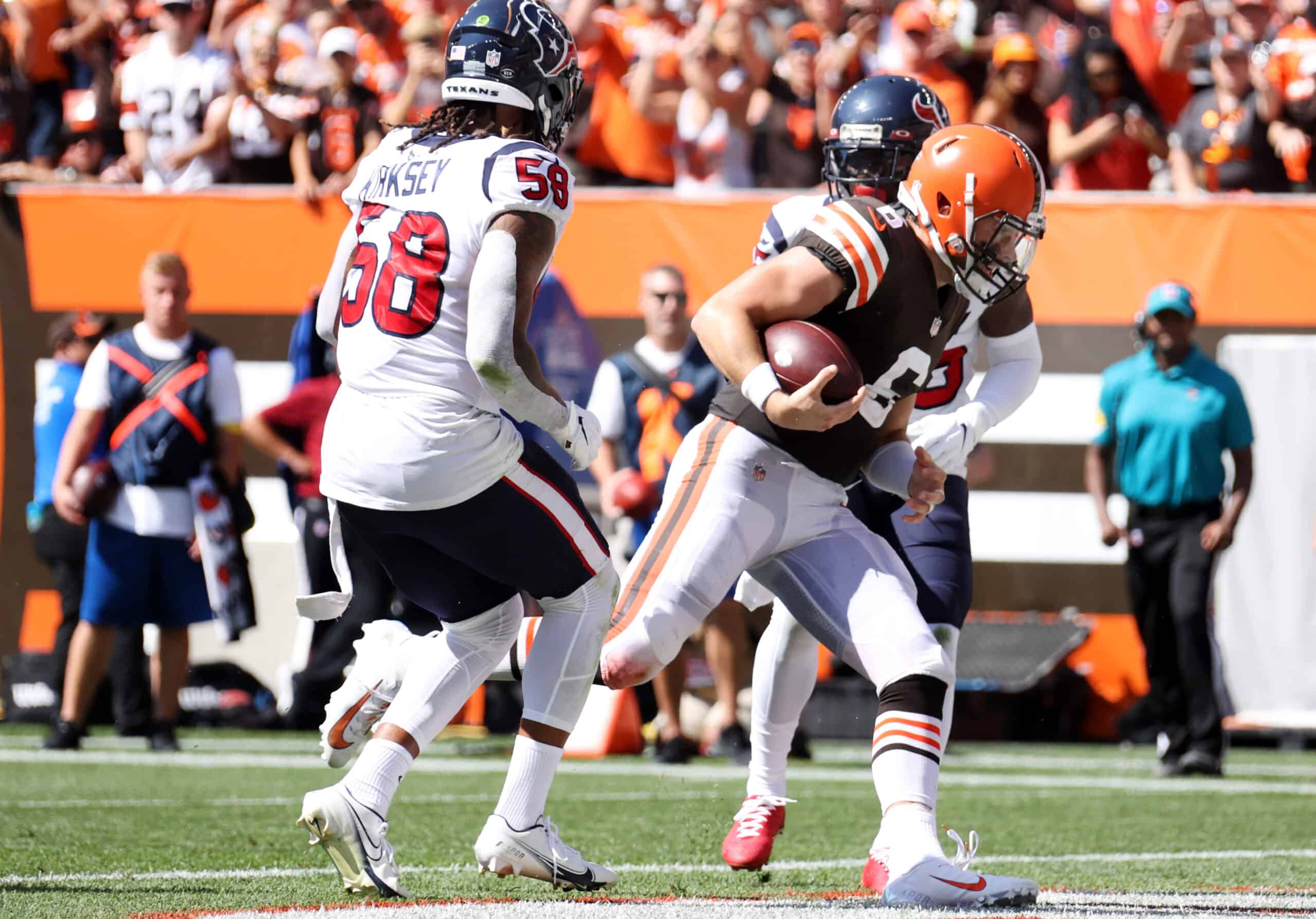 It's well known that the Cleveland Browns linebacker position has been lacking for years.
Last offseason, the front office did an outstanding job of bringing in talent to solidify the position.
They signed Anthony Walker in free agency and drafted Jeremiah Owusu-Koramoah in the second round.
These moves seemed to have panned out well for Cleveland, but there's still work to be done.
Walker is set to be a free agent and the Browns will need to seek more help at the linebacker position.
Possibly, the Browns bring in a former player to help ease the possible loss of Walker.
Christian Kirksey Returns?
The Brown selected linebacker Christian Kirksey in the third round of the 2014 NFL Draft.
He spent his first six seasons of his career with the Browns organization.
Kirksey became a full-time player in 2016 and put himself on the map with some impressive play.
He recorded a career-high 148 tackles, 2.5 sacks, and three passes defended through 16 games in 2016.
After that, Kirksey followed that up with another strong season in 2017.
His career seemed to be going in the right direction, but then he played a total of nine games over the course of the next two seasons.
In 2020, Kirksey moved on from Cleveland and signed a deal with the Green Bay Packers.
After one season, Kirksey left Green Bay and signed a one-year contract with the Houston Texans.
Texans and former Browns and Packers' LB Christian Kirksey reached agreement on a one-year contract worth up to $4.5 million, per source.

— Adam Schefter (@AdamSchefter) March 12, 2021
The 29-year-old linebacker was able to revive his career in Houston.
Through 13 games, Kirksey finished with 93 tackles, eight passes defended, and one interception.
He appears to have reset his value and should have multiple suitors this offseason.
Possibly, Kirksey considers a reunion with the Browns after having success there earlier in his career.
Worth The Risk?
It's not often that players come back to Cleveland after departing from the team.
Although, Kirksey might be the exception as he could fit on the Browns roster.
The possible loss of Walker is going to hurt as he was the Browns leading tackler with 113 tackles last season.
The good news is, Kirksey is an above average tackler who has two 130-plus tackle seasons under his belt.
There are times where Kirksey struggles in coverage, but he seemed to improve in that area last season.
Christian Kirksey defenses pass on Christian Kirk in Christian Kirk-off. pic.twitter.com/Q2sEI6LxNu

— Rivers McCown (@riversmccown) October 24, 2021
This would likely be a low risk situation for Cleveland that could pay off in a big way.
Kirksey is an underrated linebacker who isn't likely to draw a hefty long-term salary.
The Browns could potentially sign Kirksey to a low cost deal to fill the void of Walker.
It might not be a perfect solution, but it's certainly worth considering this offseason.
Cleveland has a competitive roster that could draw the interest of a veteran player such as Kirksey.
On paper, this deal could make sense for both sides, so we'll see if a reunion happens this offseason.