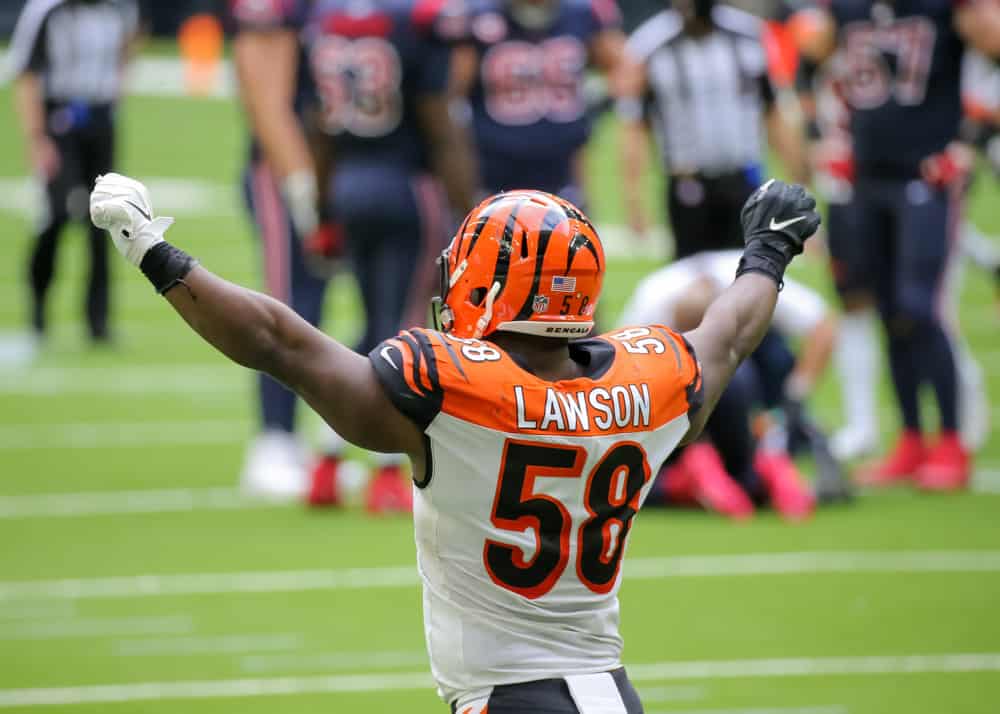 J.J. Watt commands a lot of attention in Cleveland Browns' social media.
Shaq Barrett, Jadeveon Clowney, Yannick Ngakoue, and other names are also bandied about regularly.
But one name that does not come up often enough is Bengals edge rusher, Carl Lawson.
.@Bengals @NFL #freeagency @carllawson55 @eagles #NFL has a great all around game but his ability to consistently crush the pocket is his best strength Looks like a great addition to a team who wants to contend #BaldysBreakdowns pic.twitter.com/HDSQuiIC2k

— Brian Baldinger (@BaldyNFL) February 20, 2021
Lawson is younger than all of the others and arguably, had a better season than any.
His 5.5 quarterback sacks and 36 tackles don't do justice to the havoc he caused opposing quarterbacks.
Fans don't have to look much deeper to see Lawson's name among the leaders in QB pressures and hits.
ESPN also lists Lawson as one of the best at creating sacks for his teammates.
And since this is 2021, Lawson posted a cryptic tweet recently to make us wonder if the Bengals will let him go.
Don't know whether to be flattered or insulted but it is indeed wild 🤣

— carl lawson (@carllawson55) February 19, 2021
Is Lawson flattered by the Bengals' willingness to pay him the $16 million franchise tag salary?
Or did they tell their young star they would not be able to pay what he is worth in free agency?
Or… did he meet a girl?
Why Would the Bengals Let Lawson Go? 
Cincinnati has more cap space available than the Cleveland Browns at about $36 million.
Publicly, the team has been open about their desire to bring Lawson back.
But they have other priorities that can make that more difficult than it seems.
Cornerback William Jackson is also a free agent, and another "top priority" re-signing.
Highest pass-rush grade since 2019 among free-agent edge defenders:
1. J.J. Watt – 86.3
2. Shaquil Barrett – 84.1
3. Haason Reddick – 82.6
4. Carl Lawson – 79.6 pic.twitter.com/4Lv7iRSsG9

— PFF (@PFF) February 23, 2021
Quarterback Joe Burrow needs to be kept upright as he comes back from the injured reserve.
Finding several veteran starters for the offensive line is high on the "To Do" list, too.
There is a debate in lower Ohio over whether Lawson or Jackson might be franchise tagged.
Signing one or the other before March 9 might solve the matter.
But the difference between the tag salary and realistic extension salary is greater in the case of Lawson.
Remembering how Lawson missed 13 games in 2018-19, that could push a coin-flip in Jackson's direction.
How Does Lawson Fit in Cleveland? 
Finding a true pass rusher to bookend Myles Garrett is a priority for the Browns.
Not only does it limit double-teams on either player, but it also it frees up the interior and linebackers to make plays.
Lawson showed he has a knack for collapsing the pocket, even if he doesn't get high sack numbers.
Carl Lawson's pass rush production was fueled by his burst off the LOS (0.72 seconds average get-off).

Lawson is tied for the 2nd-quickest pass rush get-off aligned on the edge this season (0.72 seconds), trailing only T.J. Watt (0.71 seconds).#PITvsCIN | #SeizeTheDEY

— Next Gen Stats (@NextGenStats) December 22, 2020
Quarterback pressures and hits of any type make passers wary and more prone to mistakes.
But Pro Football Reference notes Lawson actually put the quarterback on the ground more than any edge rusher.
He has the faith of former Bengals offensive lineman and coach Willie Anderson.
Wait til they let em rush and use all his moves . 12 sacks a year .

— Willie Anderson (@BigWillie7179) January 28, 2021
"Wait'll they let him rush and use all his moves. 12 sacks per year," said Anderson.
His injury history is as much of a concern as J.J. Watt's, but Lawson will come cheaper and younger.
With multiple needs in the defensive backfield, it is worth gambling an emerging star will continue to grow.
Carl Lawson could be the defensive line's version of Wyatt Teller, blossoming into a perennial Pro Bowl player.
And the pass rush led by Garrett and Lawson gives Joe Woods some room for error at the next levels.
Can The Cleveland Browns Sign Lawson? 
Cincinnati is attached to several of the biggest offensive linemen free agents, including Joe Thuney and Taylor Moton.
If either Lawson or Jackson is unsigned, those players will necessarily command their attention.
Spotrac predicts Lawson will command 4 years and $35.5 million.
DE Carl Lawson has been linked to the Browns. pic.twitter.com/izYm8JkQSG

— 𝐂𝐥𝐞𝐯𝐞𝐥𝐚𝐧𝐝 𝐒𝐩𝐨𝐫𝐭𝐬 𝐂𝐞𝐧𝐭𝐞𝐫 (@CLEsportsc) February 22, 2021
That could be a bargain compared to some of the other edge rushers available in free agency.
Cleveland should keep feeding the J.J. Watt rumors in the social media and press circles.
Then swoop in with a big offer to Lawson before the Bengals know what is happening.
The Browns can afford to overpay a bit, maybe as much as 4 years/$40-42 million if the tail end is team-friendly.
Such a move could make Berry the first GM to report a major signing for the second consecutive year.