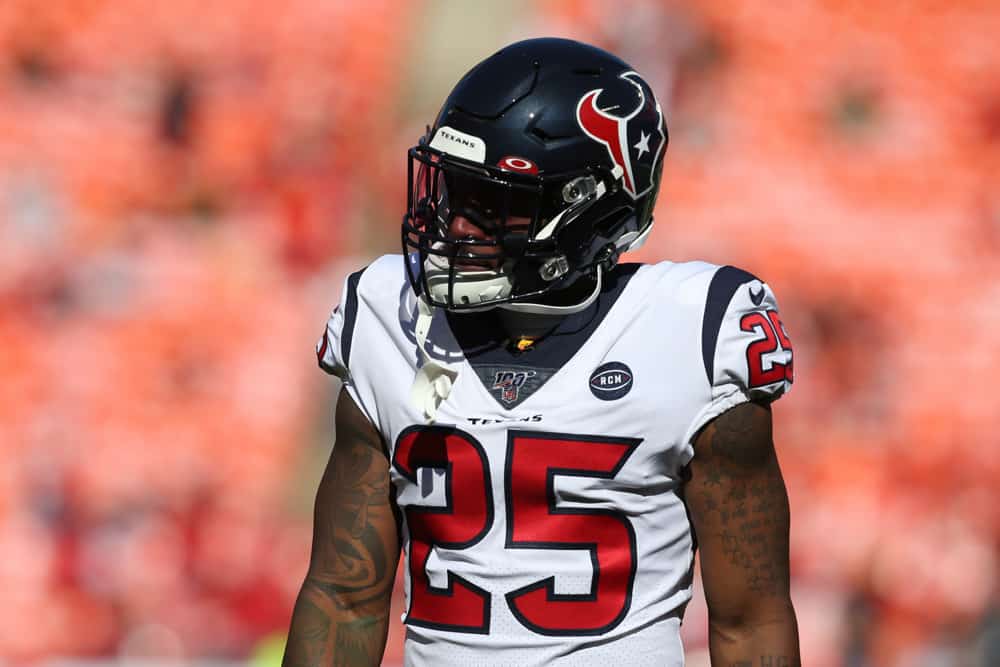 Duke Johnson Jr., the Cleveland Browns' No. 77 overall selection in the 2015 NFL Draft, is now a free agent:
#Texans are releasing RB Duke Johnson, saving $5M against the cap, per @AdamSchefter. A player they once traded a third-round pick for.

— NFL Update (@MySportsUpdate) February 26, 2021
Johnson played the first 64 games of his NFL career with the Browns before Cleveland traded him in 2019.
The 27-year-old running back had a strong college career at Miami.
However, he has been more of a complimentary back in the NFL.
After starting seven games during his rookie year with the Browns, Johnson has started just 10 games since.
His 105 touches in 11 games in 2020 were the second-lowest of his career, as he backed up David Johnson in Houston.
Although Johnson is available, is it worth it for the Browns to consider bringing him back?
Nick Chubb and Kareem Hunt are planning to be the leading rushers again in 2021, so where does that leave Johnson?
Well, Kevin Stefanski found a role for Hunt, who had a whopping 236 touches in 2020.
That number of touches, along with his 841 rushing yards and 38 receptions, ended up being his highest since his rookie year.
As evidenced by the unpredictable 2020 season, Stefanski has the potential to mix and match his running back options.
If Johnson is in the mix at the running back position, he may line up out wide a bunch.
Another option on the offensive side could be helpful if the Browns can get Johnson at the right price.
How do the Running Back Contracts Line Up for the Browns?
Heading into the 2021 season, the Browns have Chubb and Hunt locked up through the end of the year.
However, Browns fans hope that Chubb gets an extension so that his 2021 season is not his last in Cleveland.
Chubb is owed about $4.25 million for the upcoming year.
Meanwhile, Hunt's contract is as follows:
2021: $5 million
2022: $6.25 million
If the Browns want a tremendous 2021 three-headed monster at running back, they may have room for Johnson.
Unfortunately, Cleveland has a lot to improve on the defensive side of the football.
The question becomes: can the Browns commit money to Johnson this early in the postseason?
The short answer to this question should be no.
Is it Worth it for the Browns to Sign Johnson?
There is no question that Johnson can play well on the field:
From @ESPNStatsInfo: Since entering the league in 2015, Duke Johnson ranks top-7 among running backs in receptions, receiving yards, and receiving TD.

— Ed Werder (@WerderEdESPN) February 26, 2021
Ed Werder is stating some very interesting facts here.
Johnson has the talent to help the Browns on offense.
If Andrew Berry can get him to fit into the team's cap, then Browns fans should think it is a positive move.
There is an argument to have the wait-and-see approach though.
In 2020, Johnson played just 36 percent of Houston's offensive snaps.
Can he be durable enough to be thrust into an important role in the Browns offense?
Cleveland has had to deal with plenty of injuries.
If Johnson has a future issue like his 2020 neck injury, then the signing of him would be unfortunate.
Johnson did not play after Week 14 in 2020.
However, on the bright side, his 6.2 career yards per touch rank sixth among active players.
His efficiency would be a benefit to the Browns offense.
At this point, it seems like he will not be the first player signed by the Browns during the offseason.
If the pieces fall into place and Berry and Stefanski can find a way for Johnson to come back to the Browns, it should be a good move though.