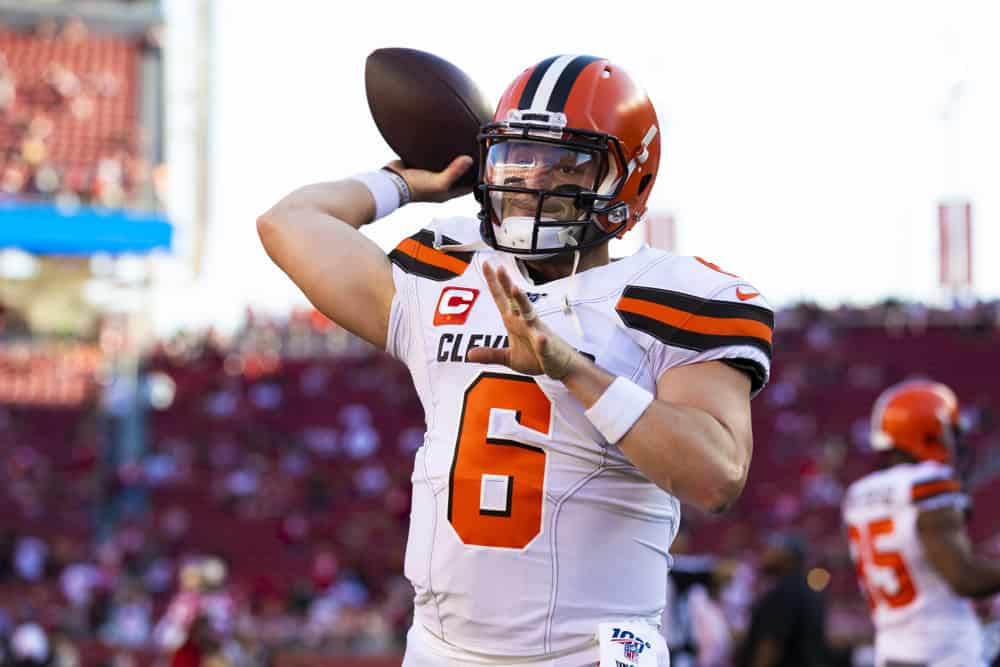 In case you missed it, Carson Wentz is the Indianapolis Colt's starting quarterback.
The Detroit Lions will pay Jared Goff's 2021 salary.
By September, Deshaun Watson is as likely to be under center for the New York Jets as he is for Houston.
Berry "very pleased" with QB Baker Mayfield. "He's grown before our eyes." Berry wouldn't get into any discussions about a contract extension for Mayfield, but made it clear team is excited about him and his future.

— Tom Withers (@twithersAP) January 15, 2021
Leading a perennially bad franchise to the playoffs rightfully earns Mayfield some kudos and love.
Even this writer changed his tune on the Cleveland Browns quarterback as the season went on.
Mayfield deserves to be locked in as the Cleveland passer on a generous contract extension.
But the tales of Wentz, Goff, and Watson provide a reason for concern.
Andrew Berry, like the rest of the NFL, knows a big extension is no guarantee of future success.
Patrick Mahomes' mega-deal is working out well so far for the Kansas City Chiefs.
But nobody expected the Eagles, Rams, or Texans to be on the quarterback market in 2021.
That is why the Browns might be tempted to hold off on a Baker Mayfield extension.
Mayfield's Improvement Under Stefanski
Kevin Stefanski and the rest of the Browns coaching staff played a big role in Mayfield's 2021 success.
Mayfield-friendly game plans and the improved offensive line made the job easier.
Cleveland also boasts one of the most talented groups of skill-position players in the league.
But none of that should take away from Mayfield's improved decision-making or his passing prowess.
Quarterback is the most important position, regardless of who lines up around him.
.@bakermayfield + @obj connect for the 35-yard TOUCHDOWN!#MIAvsCLE pic.twitter.com/pYl2aWz9ju

— Cleveland Browns (@Browns) November 24, 2019
Watson brought the Texans to the playoffs twice with a relatively inferior offensive line and rushing game.
Jared Goff played with a superior group of receivers and took the fall for a subpar offensive performance.
With Alex Van Pelt, Stefanski, and line coach Bill Callahan around, Mayfield appears set for success.
But nobody saw Goff's performance falling off as it did after signing his extension.
Nobody predicted relationships would sour as they did (for different reasons) in Philadelphia and Houston.
And as rosy and promising as everything looks now,
Nobody can predict what will happen if difficult decisions and future constraints affect the Browns' outlook.
Do The Other Three Passers Reflect a Risk About Mayfield? 
Baker Mayfield has less than three seasons under his belt to judge his NFL future.
That is underwritten by his tremendous performance at the college level.
What if Mayfield signs a 6-year, $210 million extension with big guarantees and has a Goff-like reaction?
There is no indication Mayfield's skill set is lacking, despite his off-year under Freddie Kitchens.
If that is the only fear Berry has about Mayfield, there are tons of analytic data to validate or disprove the risk.
Likewise, there is no indication Mayfield's relationship with his coaches is anything less than mutually solid.
"He's done everything we've asked him to do and now you're kind of seeing things pay off"#Browns HC Kevin Stefanski on Baker Mayfield

Listen pic.twitter.com/8ZYGc4dcN7

— SiriusXM NFL Radio (@SiriusXMNFL) October 6, 2020
Mayfield handled the signing of Stefanski-favorite Case Keenum better than Wentz handled the draft of Jalen Hurts.
But Mayfield is historically a loner when it comes to coaching and offseason work.
What if Van Pelt or Stefanski want Mayfield to work on a flaw and he insists he can figure it out by himself?
Watson's case is one of a perceived slight, which seems unlikely now, while the Browns revel in success.
But fans see Mayfield has some favorite targets on the roster.
Could relationships fray if Berry has to cut Jarvis Landry, can't re-sign Rashad Higgins, and lets David Njoku go?
Practical Reasons to Hold Off On a Mayfield Extension
One could argue a frayed relationship does not make Mayfield less of a quarterback.
Aaron Rodgers didn't seem very happy with the Packers' front office, and he played pretty well for Green Bay.
But Mayfield's confession to mailing in parts of 2019 under Freddie Kitchens raises a legitimate concern.
The moment Freddie Kitchens lost Baker Mayfield. pic.twitter.com/r4vnahJedJ

— Jeff Eisenband (@JeffEisenband) January 4, 2020
There is no requirement to extend players early, regardless of how well their third season goes.
Cleveland would do well to pick up Mayfield's fifth-year option and its $20 million price tag for 2022.
But Berry could try to convince his field leader there are mutually beneficial reasons to wait on an extension.
Berry and Stefanski get another year to see if Mayfield improves or takes a step back.
And Mayfield can win a bet on himself that puts him in the drivers seat during 2022 extension talks.
Pending extensions for Dak Prescott, Jared Allen, and Lamar Jackson can only raise the bar for salaries.
Even if things get dicey and the Browns need to franchise-tag him, Mayfield gets more money.
Given the uncertainty raised by recent contract extensions, that might be the best call for everyone.