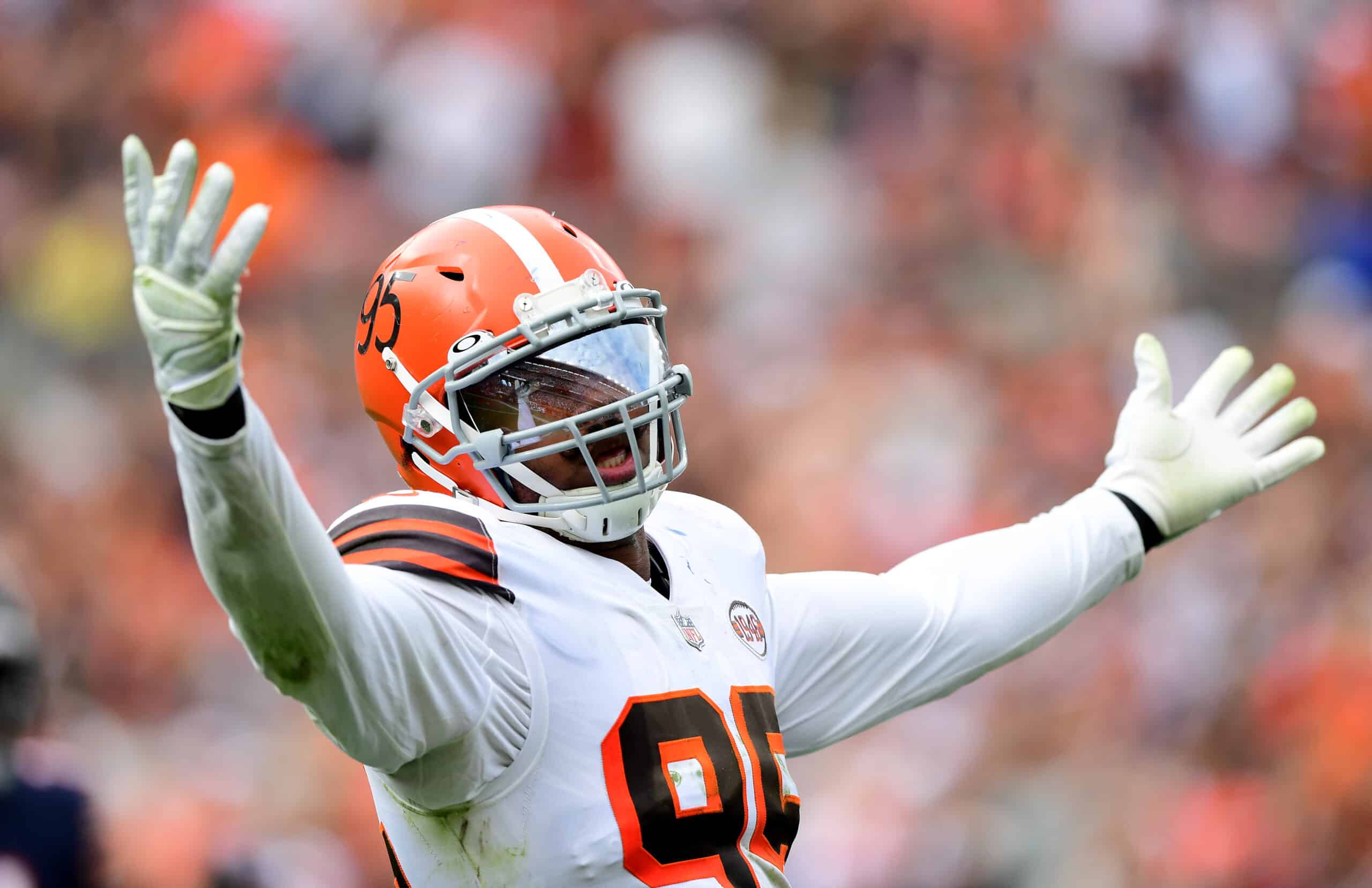 The Cleveland Browns defense, led by Myles Garrett, had their best game of the season by far.
Chicago Bears quarterback Justin Fields had no time to set and throw.
He kept seeing visions of Myles Garrett in front of him.
Garrett recorded 4.5 sacks, a new Browns franchise record.
The previous recordholder was linebacker Andra Davis who recorded 4 sacks on November 3, 2003.
Here is what his record breaking domination looked like.
MYLES GARRETT. 4.5 SACKS.

📺: #CHIvsCLE on FOX
📱: NFL app pic.twitter.com/8iqoPoRiWa

— NFL (@NFL) September 26, 2021
Here is what it sounded like for the 44,000 fans lucky enough to witness the historical moment at FirstEnergy Stadium.
Fans chanted "Myles Garrett" as he ran off the field and into the tunnel.
Sent via DM: The "Myles Garrett" chant today at FirstEnergy Stadium. #Browns pic.twitter.com/J4on8smM8I

— Brad Stainbrook (@BrownsByBrad) September 27, 2021
Everyone was impressed except maybe teammate Odell Beckham Jr. who joked about it in his response when asked about Garrett.
OBJ on Myles Garrett's sacks today: "He needs 6 to 7 to impress me." #Browns

— Hayden Grove (@H_Grove) September 26, 2021
Social Media Response
For those of us not blessed to see the event in person, we had to take our excitement to social media.
Here are some of the funny comments gathered during the course of the game.
Myles Garrett may become a popular kid's name in the future if this Tweet is to be believed.
MYLES GARRETT IS THE NAME OF ALL MY FUTURE CHILDREN REGARDLESS OF GENDER

— Sir Yacht🤠 (@SirYacht_) September 26, 2021
There was also the contingent that wanted to rub salt in the wound of all the poor souls who have to go on the air tomorrow and change their narrative after saying Garrett is overrated.
The "Myles Garrett is overrated" crowd is very quiet today 🤔 #Browns.

— Tyler Johnson (@T_johnson_TJ) September 26, 2021
39-year-old Jason Peters could not contain Garrett; some compared Garrett's treatment of Peters to elder abuse.
What Myles Garrett is doing to Jason Peters should be considered elderly abuse

— Tron Madden (@madden_tron) September 26, 2021
The suggestion of imposing a Myles Garrett Day each September 26 gained momentum.
September 26th should be known going forward as Myles Garrett day! 4.5 sacks setting a new franchise record. #Browns @Flash_Garrett pic.twitter.com/zEbMQrEU1R

— George (@dawgsandelfs) September 26, 2021
Myles Garrett put the hurting on Ohio State's legendary quarterback Justin Fields.
Many of the FirstEnergy spectators are Fields fans except when he plays the Browns.
Justin Fields was welcomed back to Ohio with Myles Garrett's open arms… https://t.co/OUVeWruFpV

— Browns Clock (@browns_clock) September 26, 2021
The open arms that Fields got via Myles Garrett is not at all what he was looking for in his Ohio homecoming.
Victory Monday will be sweet for Browns fans.
This Tweet summarizes the Browns Week 3 game very well.
Good night from FirstEnergy Stadium after Myles Garrett racked up 4 1/2 sacks and Kareem Hunt again showed why the #Browns have an unrivaled backfield. pic.twitter.com/kw95nDwT4Q

— Tom Withers (@twithersAP) September 26, 2021