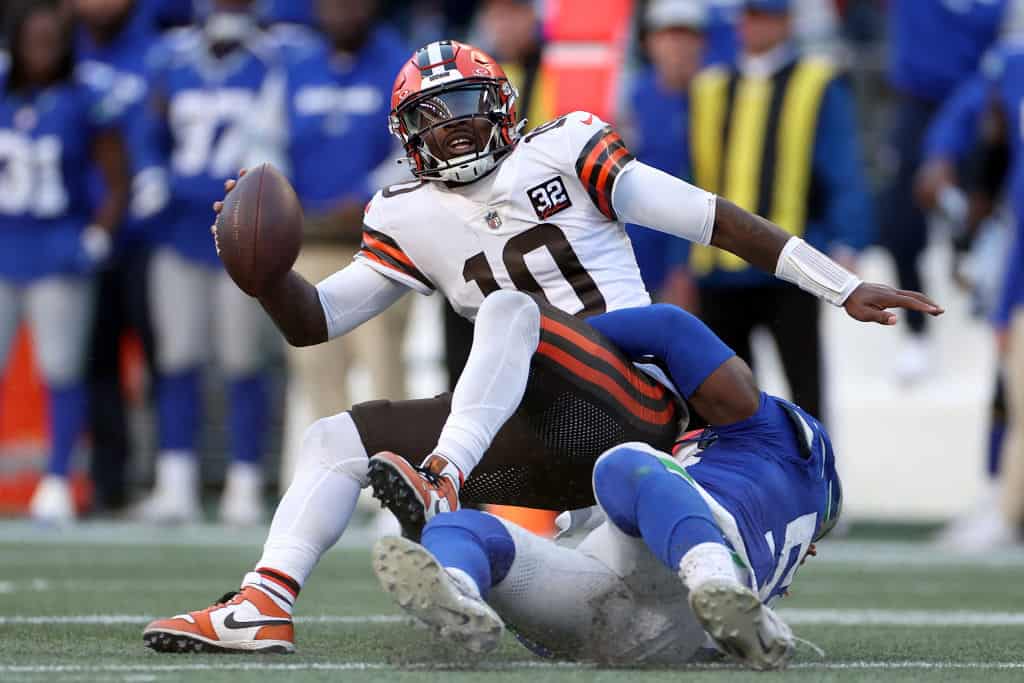 The Cleveland Browns have had no choice but to roll with P.J. Walker over the past month or so.
The XFL veteran took a step forward and subbed in for Deshaun Watson, who's been struggling with a shoulder injury and hasn't been able to play for more than a handful of plays.
Walker has become a strong presence in the locker room, and his efforts are well appreciated.
Nonetheless, he's had some serious turnover issues on every start, and that often hampers the team's ability to get the job done.
To put this in context, Orange and Browns Report's Cody Suek pointed out the fact that Walker currently has the highest turnover-worthy throw rate in the league at 7.7 percent.
He's one of just five quarterbacks with a rate at or above 5.0 percent (min. 100 dropbacks), joining the likes of Garnder Minshew (7.7 percent), Mac Jones (5.7 percent), and Desmond Ridder (5.4 percent).
#DawgPound P.J. Walker has the highest turnover worthy throw rate in the NFL (7.7%). Only five QBs have a rate at or above 5.0% (min. 100 dropbacks):

Walker (7.7)
Minshew (6.7)
M. Jones (5.7)
Ridder (5.4)
Purdy (5.1)

— Cody Suek (@CodySuek) October 31, 2023
Needless to say, this isn't precisely elite company by any means, and with eight turnovers in just three games, it's been almost a miracle that the Browns have managed to escape with a 2-1 record.
Being an NFL quarterback is one of the toughest jobs in all sports, and there's just a handful of people who could actually thrive in that spot.
P.J. Walker isn't one of those, or he would've won that job with the Carolina Panthers or someplace else.
Of course, one could do a lot worse in terms of a backup, but the Browns simply cannot afford to keep rolling with him if they have serious intentions of going the distance.