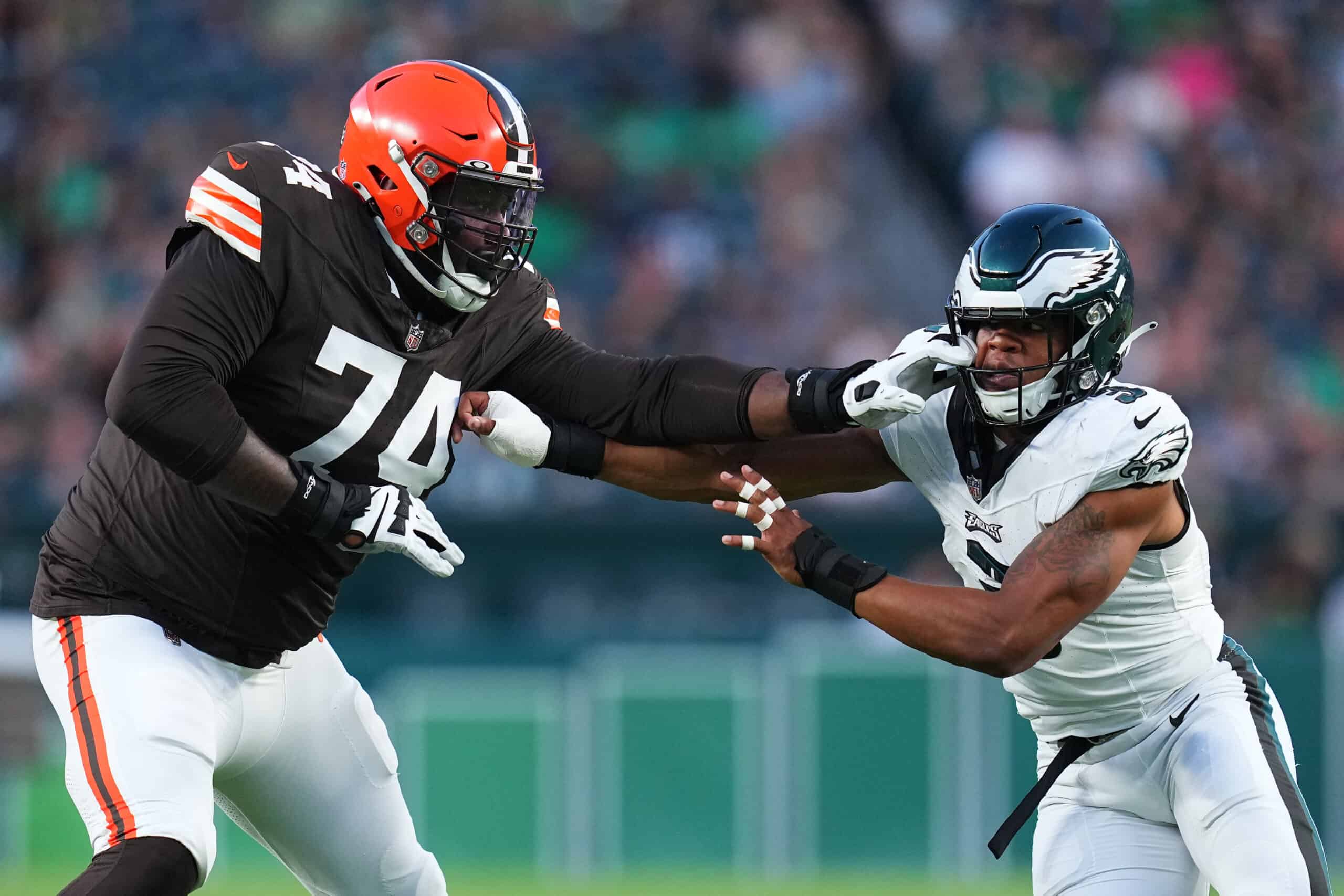 When an NFL team puts a rookie starter on the offensive line, they tend to be blue-chip first-round picks.
But the Cleveland Browns landed their starting right tackle in the fourth round of the 2023 NFL Draft.
Dawand Jones made his starting debut against the formidable T.J. Watt last week and more than held his own.
And the lessons of that battle helped him throw a shutout against the Tennessee Titans, per PFF CLE Browns.
Dawand Jones vs the Titans

🐶 37 pass blocking snaps
🐶 0 pressures allowed pic.twitter.com/VsmYRYmVgS

— PFF CLE Browns (@PFF_Browns) September 26, 2023
Jones was on the field for every snap Sunday, including 37 pass plays.
Not once did his assigned defender rush, hit, or sack Deshaun Watson.
Jack Conklin's season-ending injury in Week 1 forced the Browns' hand on making a change on the right side.
And now we see why Jones got the nod over third-year tackle James Hudson.
Jones is quick on his feet and uses his arms well to keep rushers at bay.
And his effort helped Watson and the Browns find success against the Titans.
NFL analyst Brian Baldinger is a big fan of Jones' technique and his enthusiasm for the game.
He said he came off the bench and played "like a seasoned vet."
.@Browns @dawandj79 didn't surrender a single pressure v @Titans excellent front while constantly trying to strike DEEP. Great technique throughout. I think he ❤️❤️❤️ playing in the #dawgpound #BaldysBreakdowns pic.twitter.com/dFuEuHURH4

— Brian Baldinger (@BaldyNFL) September 25, 2023
And Baldinger's weekly evals haven't diminished in their excitement for Jones' unexpected success.
Jones laments what he calls a sack by Watt in Week 2, although PFF did not credit it to Jones.
That led NFL Rookie Watch to declare Jones the only starting rookie tackle not to give up a sack this season.
However you define sacks, Jones appears to be a real find in the middle of Cleveland's draft class.