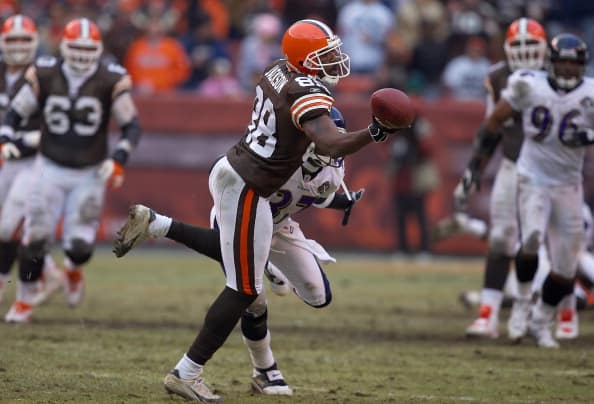 The Pittsburgh Steelers announced on Tuesday that they are adding former Cleveland Browns wide receiver Frisman Jackson to their coaching staff for the 2022 season.
Jackson, 42, will take over as the wide receivers coach, a position most recently filled by Ike Hilliard, 45, whose contract was not renewed for 2022.
Former Leatherneck Great Wide Receiver Frisman Jackson named WR coach for the Steelers! #PoundTheRock pic.twitter.com/VARkUif1wL

— Brian Spotts (@brianspotts57) February 8, 2022
Who Is Frisman Jackson?
Jackson was a five-year veteran of the Cleveland Browns from the 2002 through 2006 seasons.
He was an undrafted free agent out of Western Illinois University and is still considered one of the best wide receivers to ever play for the school.
Jackson had 40 catches during his Browns career for 490 yards and 1 touchdown.
He entered coaching shortly after his playing career ended.
Moving between college and the NFL, Jackson spent the 2017 season with the Tennessee Titans and the 2020 and 2021 seasons with the Carolina Panthers.
For the 2018 and 2019 seasons, he was at Baylor.
In all of his recent coaching stops Jackson was the wide receivers coach, and in 2021 he also acted as the offensive passing game coordinator with the Panthers.
What Happened To Ike Hillard?
Hillard, an esteemed wide receiver from his days with the New York Giants and Tampa Bay Buccaneers, was the Steelers wide receivers coach for the 2020 and 2021 seasons.
He was successful in mentoring Chase Claypool into a great young Steelers receiver.
The #Steelers are moving on From Ike Hillard as WR Coach.

— SteelerNation (@SteeIerNation) February 8, 2022
There has been no further explanation as to why Hilliard's contract was not extended though Steelers head coach Mike Tomlin was not happy with how the wide receivers played in the team's wildcard loss to the Kansas City Chiefs.
A New Direction
The Steelers will look a lot different in 2022.
With Ben Roethlisberger retired and also potentially without free agent JuJu Smith-Schuster, the offense will have a new look and feel.
Adding Jackson to the coaching staff is just one of many changes expected for the Browns AFC North rival this offseason.