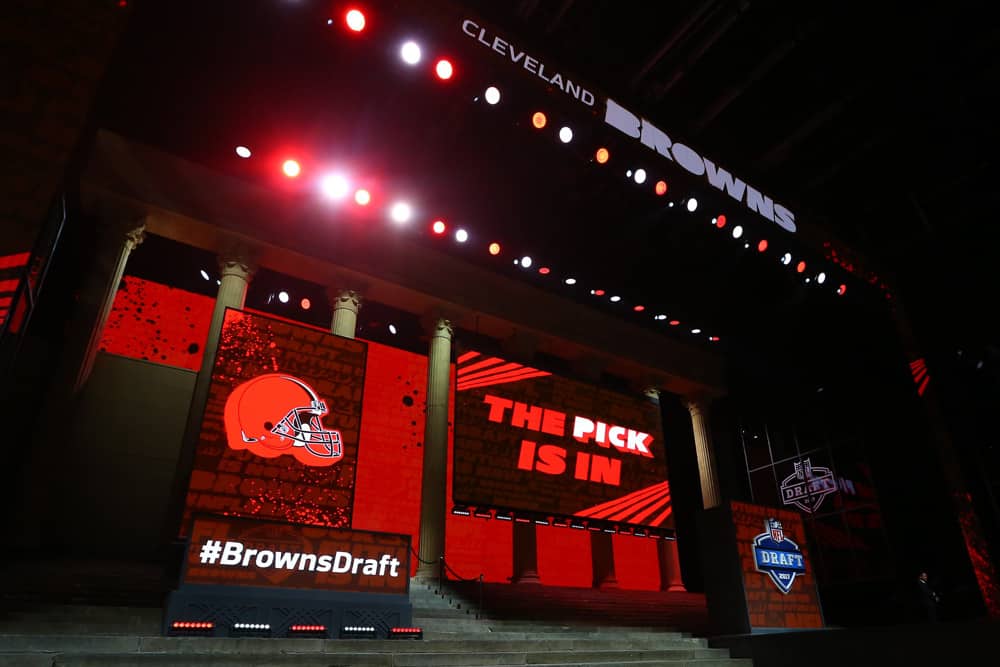 The Cleveland Browns are coming off their bye week with a 6-6 record.
Five games remain this season.
At least three of those games should be considered winnable.
However, these are the 2021 Browns.
Absolutely nothing is certain.
At this point, it's time to look ahead to next year.
Cleveland has some issues with their roster that must be addressed in the 2022 draft.
These are the three position groups the team should focus on.
3. Safety
This is not so much a position of glaring need as it is a need for consistency.
The Browns have Grant Delpit, John Johnson III, Ronnie Harrison and even rookie Richard LeCounte.
Delpit and Johnson have done a fair job of backstopping the Browns secondary.
Even Harrison has put together a good game here and there (14 total tackles against the Ravens in Week 12).
However, the play from this group hasn't always been steady.
Too many big plays have beaten the safeties deep.
It has also been exasperating to watch, on occasion, missed tackles or a safety out of position to help.
Harrison hasn't exactly helped himself (or the team) when getting tossed out of the Chiefs game and getting caught on other gaffes.
Browns DB Ronnie Harrison got ejected after getting into it with a Chiefs coach pic.twitter.com/WtDLYNTWxh

— Bleacher Report (@BleacherReport) September 12, 2021
LeCounte has barely seen the field and may not be in the team's long-range plans after this season.
It might be worth investing a third or fourth-round pick in this area for the sake of depth and development.
2. Defensive Line
Overall, the Browns defense is solid with a 12 overall ranking after a dozen games.
They are in the top ten against the run and the pass.
However, much like the safety group, the interior defensive line, specifically, could use an upgrade.
Both Maliks' (McDowell and Jackson) have been better than advertised and have held their own at times.
It's the consistency that is the problem.
Some games, they get a great interior push and rack up multiple tackles.
Other games, they have a stat line of one; as in one combined tackle.
Furthermore, Malik McDowell has three sacks and six tackles for a loss on the season.
Malik Jackson has a half sack and one tackle for a loss.
No other interior defensive linemen on the Browns has more than single digit tackle totals.
On the defensive end side of things, Myles Garrett is good to go.
One can safely wonder as to Jadeveon Clowney, however.
Without a doubt, Clowney can be a menace when he's on his game.
He has 3.5 sacks, 26 total tackles and eight tackles for loss.
Good, but not great, numbers.
Takk McKinley has 16 combined tackles, 1.5 sacks and three tackles for loss.
The Takk McKinley deal is a win win.

The Browns cheaply get a 25 year old with big potential.

If Takk shines the Browns have an insane value with the advantage to keep him.

If McKinley doesn't produce he was a cheap investment. No harm.

Chess not checkers by Andrew Berry. pic.twitter.com/82P5oyX0lw

— Nick Karns (@karnsies817) March 16, 2021
The Browns didn't overpay for either end, but they haven't exactly been world beaters.
Cleveland could use more consistent push up the middle as well as more tackles for loss from the end opposite of Garrett.
A defensive tackle in the first or second round shouldn't be out of the question for the Browns.  Defensive end (if the team extends Clowney) can wait until rounds 2-4.
1. Receiver
This is an obvious position of need.
OBJ is gone.
Jarvis Landry has struggled with an injury and Baker Mayfield's health/performance issues.
Donovan Peoples-Jones and Anthony Schwartz are still developing and Rashard Higgins is almost absent.
Landry has been frequently mentioned in offseason trade possibilities in 2022.
If that happens, the Browns should trade him for a younger, proven receiver and add through the draft as well.
Nearby Ohio State University has two very good choices the Browns might want to take a look at in April.
OSU wideouts Chris Olave and Garrett Wilson were a PROBLEM last year:

Olave: 50 REC, 729 YDS, 7 TD
Wilson: 43 REC, 723 YDS, 6 TD

Best returning core in college football? ⚡️ pic.twitter.com/2NP4SKV24s

— Bleacher Report CFB (@BR_CFB) September 2, 2021
Basically, Cleveland needs a "ready now" receiver who can contribute right away in '22.
First-round is where the team should focus their attention on a receiver and no later than the second round.
Any later and the team is stuck with more developmental projects.
That's the last thing the offense needs in 2022.