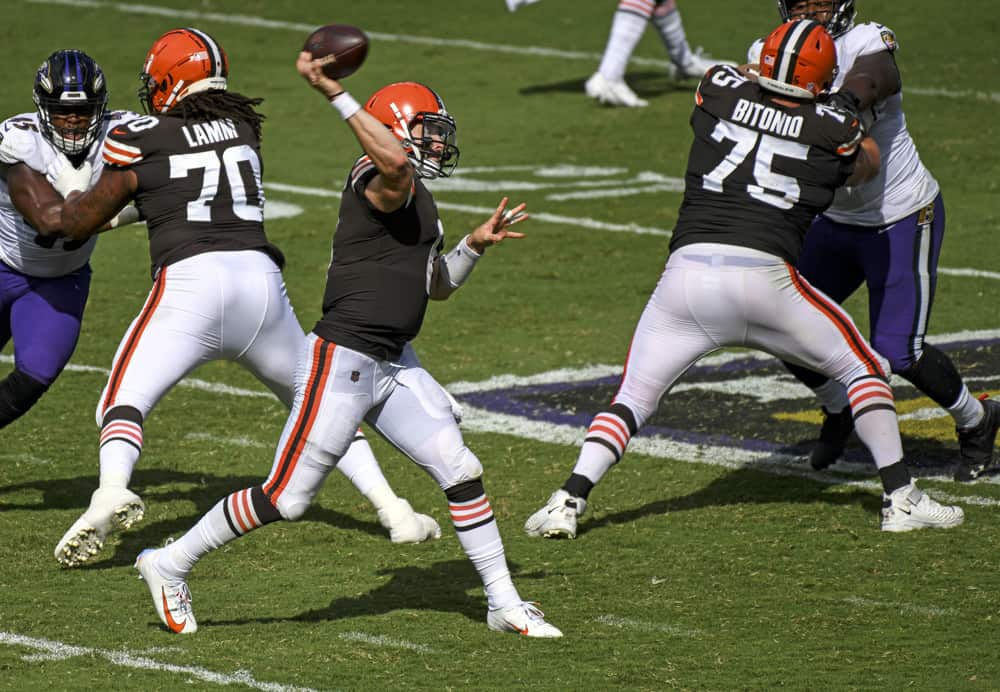 Browns fans know rebuilding teams with new coaches are at a disadvantage early in this season.
And drawing a popular Super Bowl pick like the Baltimore Ravens was going to be tough.
But that didn't make the outcome any more palatable.
There were a few bright spots in the Cleveland Browns 38-6 defeat at the hands of a division rival.
And they deserve to be lauded for their efforts, even if they fell short of rallying the team to victory.
Here are some studs and duds from the Week 1 Cleveland Browns.
David Njoku found himself in the headlines for all the wrong reasons this offseason.
His back and forth on trade demands prompted mentions of his disappointing 2019 more than his solid 2018 effort.
When the rosters were finalized, he found himself listed as the third man on the tight end totem pole.
Watching Harrison Bryant reel in the first pass completion by the group was an emphatic reminder of his status.
Cleveland browns team site really hyping up rookie TE Harrison Bryant… mannn Njoku May have said he wants back in but if they just found a cheaper version of him 👀

— Jay (@SimStrength) August 19, 2020
But by the end of Week 1, Njoku was the tight end we were talking about.
The Chief broke open in the end zone and didn't drop Baker Mayfield's only touchdown pass of the game.
Later, Njoku made a highlight-reel grab, jumping over a defender to take the ball away for a first down.
All told, his 3/3/50/1 line was better than the 3/4/20/0 combined line of Austin Hooper and Bryant.
Whether he improved his trade value or carved a role in Stefanski's offense, he let us know he is still an asset.
DUD: Baker Mayfield
Baltimore owns one of the toughest defenses in the league.
It seems unfair to judge a quarterback's progress against a cerebral, fast, and powerful unit like the Ravens'.
But Mayfield did little to instill faith in the Browns faithful.
I hate to break it to Cleveland but maybe Baker Mayfield just isn't good 🤷🏻‍♀️🤔 #ClevelandBrowns

— Terry 🏈🇺🇸 💛🖤 (@TerryinSoCalif) September 13, 2020
For every well-delivered pass, there was another that came in a tad late, a little behind or flew over everybody.
There were more than a few tips and bat downs at the line of scrimmage.
Mayfield was fortunate his interceptions didn't outnumber his touchdowns.
When Mayfield moves away from pressure, he does not always maintain vision down the field.
He showed enough to remind us how accurate he can be.
But victories might come down to whether Mayfield's good throws outnumber his bad each week.
Much of the receiving focus this season was on Odell Beckham's health and connection with Mayfield.
But Cleveland's other All-Pro wide receiver had offseason surgery after playing hurt last year, too.
Even though Jarvis Landry was on a pitch count similar to Beckham, there were few mentions of his progress.
Landry was confident he'd be ready for Week 1, but there was some doubt right through August.
All Landry did was catch 5 of his 6 targets for a team-leading 61 yards.
He looked smooth and effective in his routes, providing the outlet Mayfield relied on since his debut.
As much as the Browns advertise a WR-1 and 1-A, Landry is the top dawg.
For all the carnage present on Sunday, the Browns had several chances to shift momentum.
One of those was on a gutsy call from punt formation early in the game.
YOU KNOW FOOTBALL IS BACK WHEN THE CLEVELAND BROWNS DO THIS 😂 pic.twitter.com/EmstoSO3kP

— Abdul Memon (@abdulamemon) September 13, 2020
Well, it would have been a gutsy call if it worked.
Instead, punter Jaime Gillan fumbled the ball after contact, setting up a short field for the Ravens.
But Andre Sendejo and D'Ernest Johnson allowed the contact to happen.
Each of the pair put hands on Ravens linebacker LJ Ford, but they didn't do much else.
Their effort not only failed to slow down the only player in a position to blow up the play,
But they almost seemed to guide him directly into Gillan's path.
Sendejo followed that up by allowing several big plays on defense as we wait for Ronnie Harrison to take over.
Cleveland has a running game led by a pair of Pro-Bowl-caliber rushers.
Nick Chubb was strong out of the gait, accounting for a pair of first downs on the opening drive.
FOOTBALL AND NICK CHUBB ARE BACK.#CLEvsBAL pic.twitter.com/xjmK9NTD0z

— Cleveland Browns (@Browns) September 13, 2020
One of them even came on a reception where he lined up out wide.
Nothing changed when Hunt was in the backfield and he looked as sharp and fluid as ever.
The Browns' touchdown drive was highlighted by a 22 yard run from Hunt and a 29-yarder from Chubb.
Cleveland's dynamic duo combined for 132 yards on 23 carries, a 5.7 yards-per-carry clip.
Chubb's rare lost fumble aside, fans will want to see more than 23 rushes from their twin rushers.
DUD: Kevin Stefanski 
Cleveland's offense looked very familiar to fans yesterday.
And it wasn't a good look for Kevin Stefanski.
For all the talk of play-action and designed motion to keep Baker Mayfield in control,
Mayfield's motion was mostly defense-induced.
New year same Cleveland browns pic.twitter.com/s3U5l5E9jd

— katina jones (@kjonesfever17) September 13, 2020
The short and unusual offseason certainly played a role in the vanilla flavor of the offense.
But unexpected plays and twists allow inferior teams to level the field against superior opponents.
Surely the analytic offensive genius could have had something special ready for the Ravens?
Maybe the disastrous fake punt gave Stefanski cold feet on further trick plays.
But the offense as a whole did not look different enough from last season.