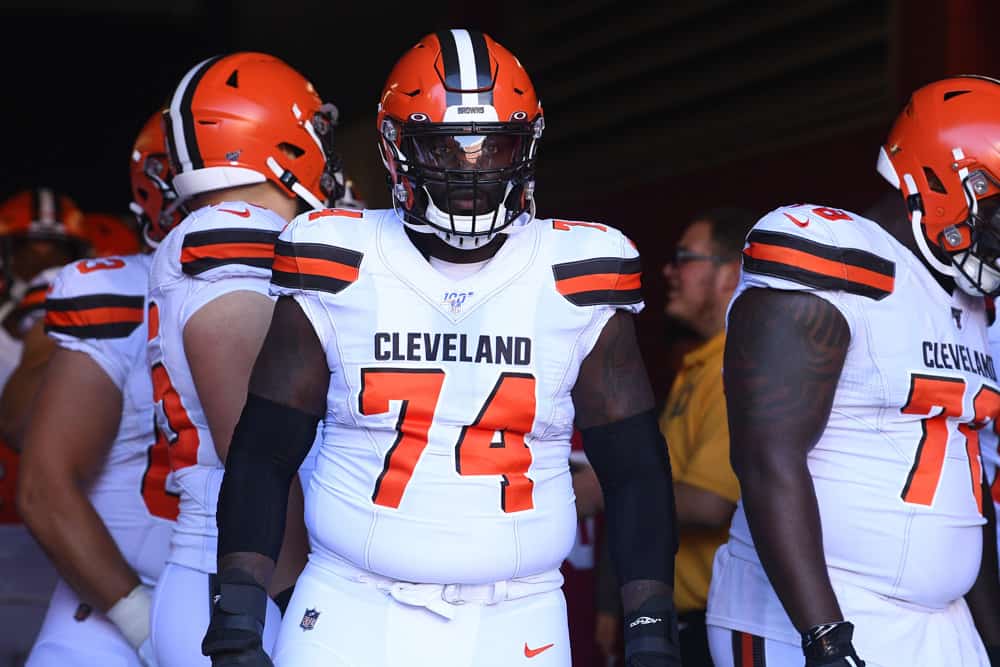 There was some speculation this offseason that the Cleveland Browns would release offensive tackle Chris Hubbard.
The organization decided to keep Hubbard and restructure his deal for more guaranteed money.
Can confirm the #Browns restructured OL Chris Hubbard's contract to save some cap space. @FieldYates first reported. Jack Conklin took his RT job

— Mary Kay Cabot (@MaryKayCabot) March 26, 2020
The team does enjoy his leadership and passion, but he doesn't have much of a role anymore.
Cleveland signed right tackle Jack Conklin to a long-term deal this offseason.
Which means, Hubbard probably won't play much unless an injury happens to one of the starting tackles.
The Browns could use this as an opportunity to trade Hubbard for depth or possibly future draft picks.
Hubbard On The Move? 
The Denver Broncos are in desperate need of a tackle after a few unfortunate events.
Former first-round pick Ja'Wuan James has decided to opt-out of the upcoming 2020 season.
That leaves the team with Elijah Wilkinson who played 12 games in Denver last year.
Sadly, he struggled heavily in 2019 and is recovering from offseason surgery.
The Broncos are without many options at the tackle spot and could look to make a trade.
With Ja'Wuan James' decision to opt out for the '20 season and Elijah Wilkinson currently on PUP (offseason foot surgery), other than Garett Bolles, Jake Rodgers (one career start) is the only other OT on current roster to have appeared in a game with the team.

— Jeff Legwold (@Jeff_Legwold) August 3, 2020
Landing a player like Hubbard could be ideal for the Broncos right now.
In two seasons with Cleveland, Hubbard has started 29 of 30 games played.
He ranks 45th among NFL offensive tackles in Pro Football Focus' pass-blocking efficiency in 2019.
Hubbard could be a suitable option for Denver, but now it's about getting a deal done.
What is Hubbard Worth?
On paper this deal makes sense, but would Denver be willing to give up enough?
The Browns aren't going to give up Hubbard for free, especially after restructuring his contract.
He is not a superstar caliber player, but should be worth at least a fourth-round pick.
Hubbard started 13 games for the Browns last season and played 86 percent of the offensive snaps the year before that.
He is a much better player than what the Broncos are currently left with right now.
There isn't a ton of reliable talent left in free agency, so a trade is probably the best route here.
Ideally, the Browns could get an offensive guard back in exchange for Hubbard.
Cleveland is desperate for depth after Drew Forbes decided to opt-out of the 2020 season.
Wow. #Browns second-year OL Drew Forbes opts out of the season. He was going to be competing for the right guard starting spot.

A key backup OL too. https://t.co/uJpseqxlnS

— Kyle Kelly (@KyleKellyNFL) July 29, 2020
Denver does have depth at offensive guard, so maybe the two teams can swap some linemen.
In a perfect world, the Browns could acquire a backup guard and possibly a late-round pick from Denver in exchange for Hubbard.
However, not everything works out perfect, so we'll have to wait and see if the two sides even come to an agreement.
Would Cleveland Survive Without Hubbard?
As mentioned earlier, the Browns added Conklin this offseason.
They also drafted Alabama offensive tackle Jedrick Wills who is expected to start at left tackle.
After that, the Browns still have Kendall Lamm who has experience at both tackle spots.
Cleveland does not need Hubbard in order to succeed in 2020.
Actually, trading him might benefit the team more than he would on the team next season.
Hubbard is a nice piece to have as depth, but doesn't have much of a role anymore.
This could be a win-win for both sides, assuming the Browns and Broncos are able to make a deal happen.