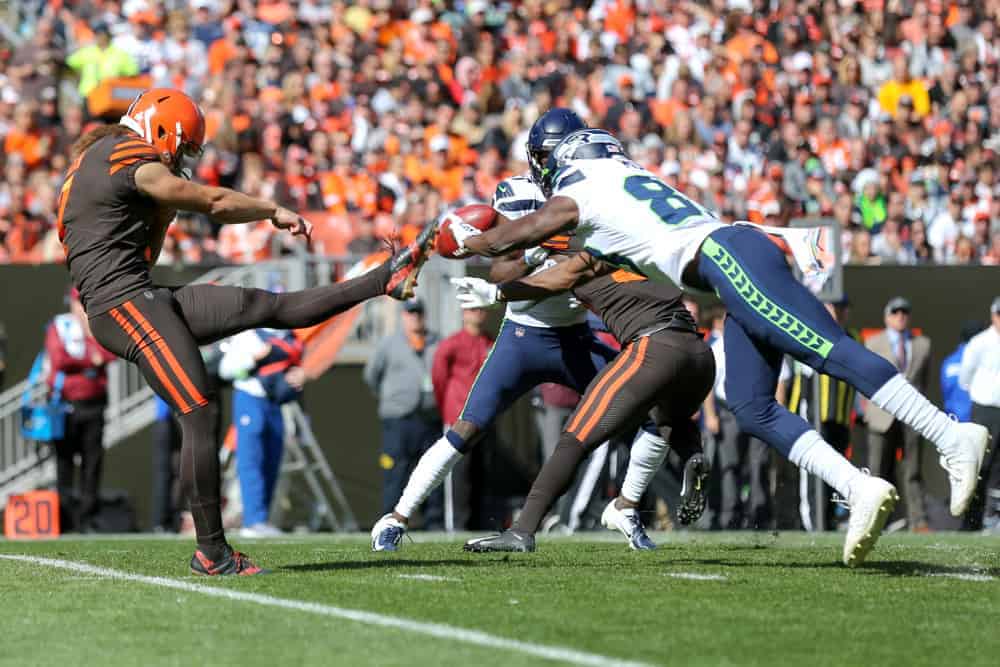 After a disappointing loss to the San Francisco 49ers on Monday night, the Cleveland Browns needed a win against the Seattle Seahawks this Sunday.
Unfortunately, headed into the bye week, the Browns are now 2-4 (0-3 at home).
The Browns looked great in the beginning of the game, scoring 14 points in the first quarter.
As the game progressed, the defense fell apart, Baker Mayfield turned the ball over, and Russell Wilson found his groove.
The final score was the Seahawks 32, Browns 28.
In two weeks, Cleveland will look to pick up a victory against the undefeated New England Patriots.
A bye week might be exactly what this team needs to regroup.
The Good
Nick Chubb
Nick Chubb is dominating opposing defenses this season, and this Sunday was no different. He rushed for 122 yards and 2 touchdowns on 20 carries.
.@NickChubb21 is IN for his second TD of the day! pic.twitter.com/Pb4zQkGQD3

— Cleveland Browns (@Browns) October 13, 2019
He also caught 5 passes on 6 targets for 17 yards.
It is clear that Freddie Kitchens wants to get Chubb more involved in the game, but accomplishing that is difficult when the Browns are consistently losing in the fourth quarter.
Prior to this game, Chubb had 31 evaded tackles (6.2 per game) and 4 runs of 15 yards or longer.
He added to both those stat categories, and he will continue to be an explosive offensive weapon for Cleveland moving forward.
Odell Beckham Jr.
After Jarvis Landry voiced his frustration with Kitchens' effort to get Odell Beckham Jr. the ball, saying the Browns "have to deliberately, intentionally get [Beckham] the ball," Mayfield targeted OBJ 11 times.
The star wide receiver caught 6 of those 11 targets for 101 yards, including a 41-yard, SportsCenter-worthy catch along the sideline.
.@bakermayfield to @obj for 41 yards! pic.twitter.com/hCqBvDAhls

— Cleveland Browns (@Browns) October 13, 2019
Mayfield was able to get the ball to OBJ down the field because their offensive line finally held up.
The Seahawks recorded 0 sacks this weekend, but interceptions are still a major concern.
The Bad
Turnovers
Mayfield attempted 37 passes, completing 22 for 249 yards and 1 touchdown, including 3 interceptions.
As noted below, Mayfield's 11 interceptions on the season are the most through 6 games of any Browns' QB since Paul McDonald in 1984.
Baker Mayfield's 11 interceptions through 6 games are the most by a Browns QB through 6 games since Paul McDonald had 12 back in 1984. pic.twitter.com/z8vzWY0tGK

— ESPN Stats & Info (@ESPNStatsInfo) October 13, 2019
As a team, the Browns turned the ball over 4 total times, as Nick Chubb also lost a fumble.
This resulted in Cleveland losing the time-of-possession battle.
The Seahawks' offense remained on the field for slightly under 34 minutes, compared to the Browns' offense at about 29 minutes.
Rush Defense
Entering this week's game, the Browns' rush defense was under quite a bit of scrutiny. If the Browns wanted to win this game, they needed to address that concern.
Unfortunately, Seattle cruised to 170 team rushing yards on 38 attempts. This is slightly below the Browns' season average at 4.5 yards per carry.
Allowing so many rushing yards opens up the play-action, and Wilson took advantage of that on his way to nearly 300 passing yards and 2 touchdowns.
If Cleveland wants to find success this season, their rush defense will have to improve.
The Ugly
Play Calling
Mayfield, OBJ., Landry, and the Browns' defense are not playing well enough to win football games.
However, Freddie Kitchens is also not coaching well enough to win football games.
In a pivotal point in the game, Cleveland opted to give Chubb two carries on the 1-yard line. He failed to score twice.
Statistics show, the quarterback sneak is 13 percent more effective on the opposing team's 1-yard line than any other play call.
Kitchens needs to be capitalizing on these scoring opportunities.
The Browns had a chance to drive the ball down the field later in the game, and Kitchens decided against giving the ball to Chubb. The decision-making process needs to be better.
Again, the bye week should help to get everyone on the same page, but unless Kitchens starts acknowledging the power of analytics, the Browns are doomed to failure.
WR Drops
Finally, Cleveland needs to start helping out Mayfield. In the last two weeks, Antonio Callaway and Dontrell Hilliard dropped two passes that directly resulted in interceptions. Callaway's drop should have been a touchdown.
Not his fault on this play but this is the 3rd INT for Baker Mayfield today.

He now leads the league with 11 INTs in 6 games. He passed Brandon Weeden's 2012 mark of 10 INTs in 6 games for Browns QBs.pic.twitter.com/56oZDSTrHW

— Dov Kleiman (@NFL_DovKleiman) October 13, 2019
Mayfield is struggling enough without the added pressure of not being able to trust his WRs.
The Browns, after OBJ and Landry, have Callaway, Hilliard, Rashard Higgins, and Damion Ratley.
Whichever WR is going to catch the ball consistently needs to see the field more.