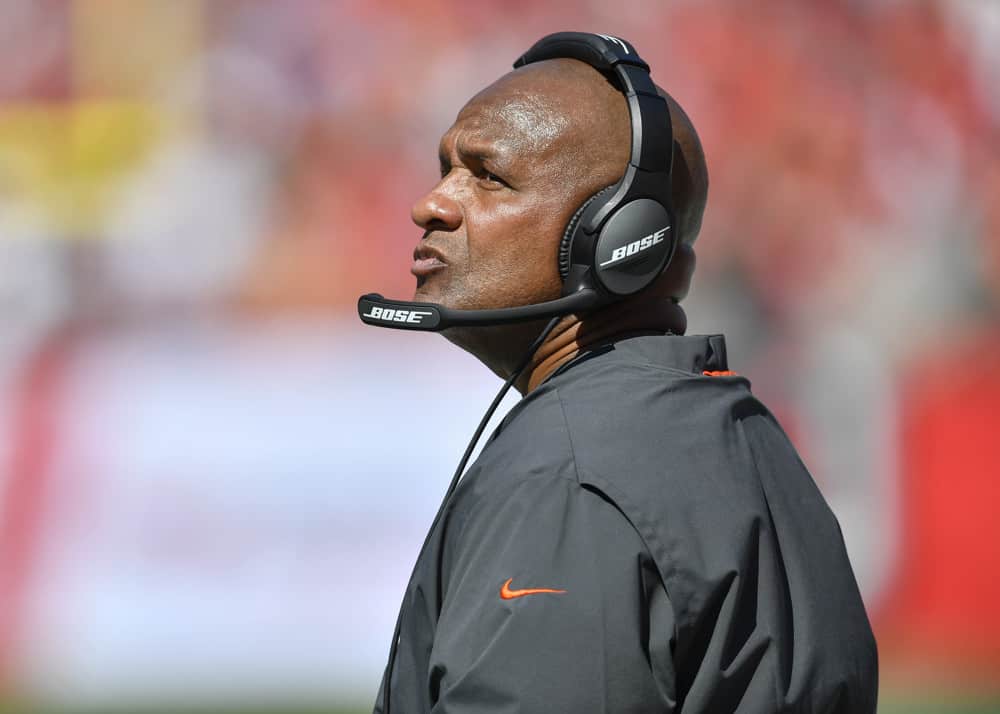 Hue Jackson jumped back into the Cleveland Browns spotlight this week with a testy ESPN850 interview.
And the first thoughts many of us had were "Who?" and "Why now?"
The "Who?" might be in a mocking manner as memories of Jackson's 3-36-1 tenure all but faded away with last season's success.
But the "Why now?", more than two years after Jackson was fired amid controversy mid-season, was legitimate.
Former Browns Coach Hue Jackson joined The Really Big Show today w/@TheRealTRizzo @HammerNation19 and had to get something off his chest about his time in Cleveland

Hear the full interview at https://t.co/Rm2mIQTgJE pic.twitter.com/3XO8HgYxxQ

— ESPN Cleveland (@ESPNCleveland) March 29, 2021
The answer is actually quite simple.
Jackson's contract with the Browns didn't expire until after the 2020 season.
If he shared his recent derogatory comments before March 17, the team might have tried to void it early.
And although Jackson says he wrote a book about his Browns experience, he wasn't confident enough in its success to risk losing his Cleveland salary.
So now Hue Jackson is a free agent, so to speak, free to speak his mind without financial risk from Cleveland.
His attack could limit future NFL job opportunities for Jackson, but that appears to be a minimal risk, too.
Why The Comments Are… Surprising
Hue Jackson might or might not have some legitimate gripes about the situation in Berea.
It is difficult to imagine 1-35 being the fault of one man, although most honorable head coaches would accept it.
Paul DePodesta admitted he had no business making football decisions when he first came to Cleveland.
But he was smart enough to know that and hired "football people" around him while he studied up.
Secret contract is Hue Jackson's latest attempt to escape Browns blame https://t.co/8XySLoOhQf pic.twitter.com/49sSeCk8AE

— New York Post (@nypost) March 30, 2021
The former coach says the team was not upfront about the plan to tear down and start over.
Sashi Brown took a lot of heat from Jackson, but most fans knew exactly what he was doing to the Browns roster.
For Jackson to claim he was lied to about it doesn't sound very credible.
Gregg Williams stepped in and boasted a winning record after Jackson's termination with the same roster.
Players cited improved direction and focus and played inspired ball as soon as Jackson was gone.
That seems to be more telling than anything coming up in Jackson's new book.
Will There Be Repercussions? 
Usually, when head coaches are fired but remain on the payroll, we can refer to the time as a cooling-off period.
Coaches have time to reflect on what they could have done better.
Teams can see what the new coach does differently and judge their own decision.
But Jackson still talks about his tenure like it ended yesterday.
Hue Jackson on Twitter clapping back at Browns fans like … pic.twitter.com/jLYU02WTu0

— Steven R. Walker (@Steve_R_Walker) March 25, 2021
This is despite Williams' success with the exact same team over the second half of Jackson's abbreviated season.
And even after the same analytics guys he complains about, sans Sashi Brown, delivered the 2020 season.
Jackson complained the atmosphere was football guys versus analytics guys, not working in harmony.
But story after story during that period indicated it was Jackson creating the most controversy.
There were very few decisions that went his way and worked out.
Jackson does not have a publisher for his book yet.
Perhaps that is because publishing companies don't believe there is anything there, either.