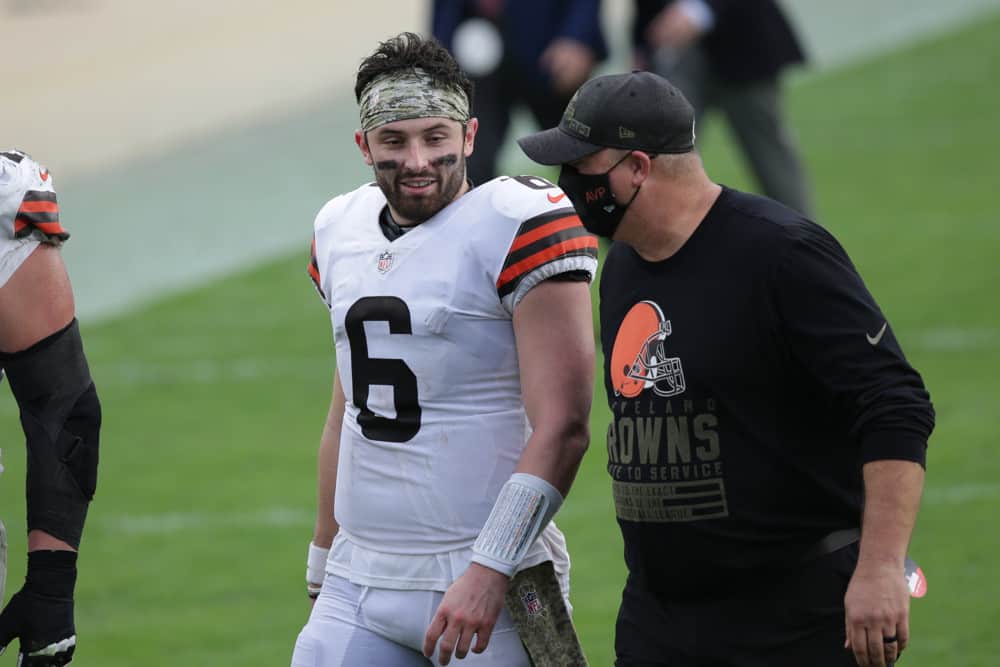 The Cleveland Browns travel to Tennessee to take on the Titans on Sunday.
To say this game is big is an understatement.
It is important for both 8-3 teams in their quest for the playoffs.
Currently, the Titans are the third seed, and the Browns are fifth.
Playing the Titans next week is going to be a massive test for the #browns !!! …. if we win we are playoff ready 👀!

— Paul Brown🇬🇧 Browns 🏈/ Food 🌶/ London💂Vlogger (@PaulBrown_UK) November 29, 2020
Not only is it a big game for the Browns team, but it is also extremely important for Browns QB Baker Mayfield.
A solid performance from Mayfield can help resolve the issues that have dogged (pun intended) Mayfield all season.
1. His Future in Cleveland
Going into the 2020 season, everyone was talking about Mayfield's third year as being the make-or-break for him in Cleveland.
His four-year contract is up with the Browns at the end of the 2021 season.
What is the plan for Mayfield?
Will the Browns negotiate an extension with him prior to the 2021 season?
Mayfield has played well this season, but it's not yet clear if it's well enough to answer the questions about a contract extension or his future in Cleveland.
A win, where he has to make big plays at vital times in the game, against the Tennessee Titans would certainly provide more leverage for Mayfield with the Browns.
2. His Reputation as a Franchise Quarterback 
Mayfield is a polarizing figure in Cleveland and beyond.
People either love him or hate him, but one thing they do agree on is that he hasn't proven himself as a franchise quarterback just yet.
He hasn't shown that he can carry a team on his back all the way to the playoffs like Aaron Rodgers is capable of doing.
This year, the Browns front office drafted, traded, and hired well so that Mayfield has a lot of resources to help him.
Why does Baker Mayfield look so much better in 2020 than 2019? Coaching. Stefanski puts him in positions to succeed. Alex Van Pelt was Rodgers' QB coach for years. Bill Callahan might be the best OL coach in the league. Chad O'Shea's pass game has been light years ahead of 2019's

— Anand Nanduri (@NanduriNFL) December 2, 2020
Because this Browns team is the best one he's been on since arriving in 2018, the pressure has been off of him.
But at some point, and it could be this week, there will be a third or fourth down conversion that is a pass play that will come down to Baker's ability and accuracy.
Making plays like that will strengthen his reputation.
3. His Ability to Play Well In Big Games 
Baker Mayfield had a QB rating of 116.7 today, marking the 5th time he's cleared 100 on the season. He did it 3 times all of last year.

Browns are 5-0 in those games this season.

— Andrew Gribble (@Andrew_Gribble) November 29, 2020
Everyone has said that the Browns beat the teams they should have this year.
Big wins against lesser talented teams still count as wins, but it still has left a question mark as to how Baker will perform in big games with a lot on the line.
Two of the Browns losses came in big games against talented divisional rivals; the Baltimore Ravens and Pittsburgh Steelers.
If Baker can engineer a team victory against the Titans, that would change the conversation of how well he plays in big games.
This game is the stepping stone for Baker Mayfield.
Playing well will help his confidence considerably.
But his reputation and future could ultimately be decided in the playoffs should the Browns get there.
His tweet after last week's game shows that he knows what's at stake.
I know I can be better… and I will be. Job isn't finished, lot of ball left. We're 8-3 and not satisfied. That's the best part about this team.

— Baker Mayfield (@bakermayfield) November 29, 2020
The question is will he deliver?