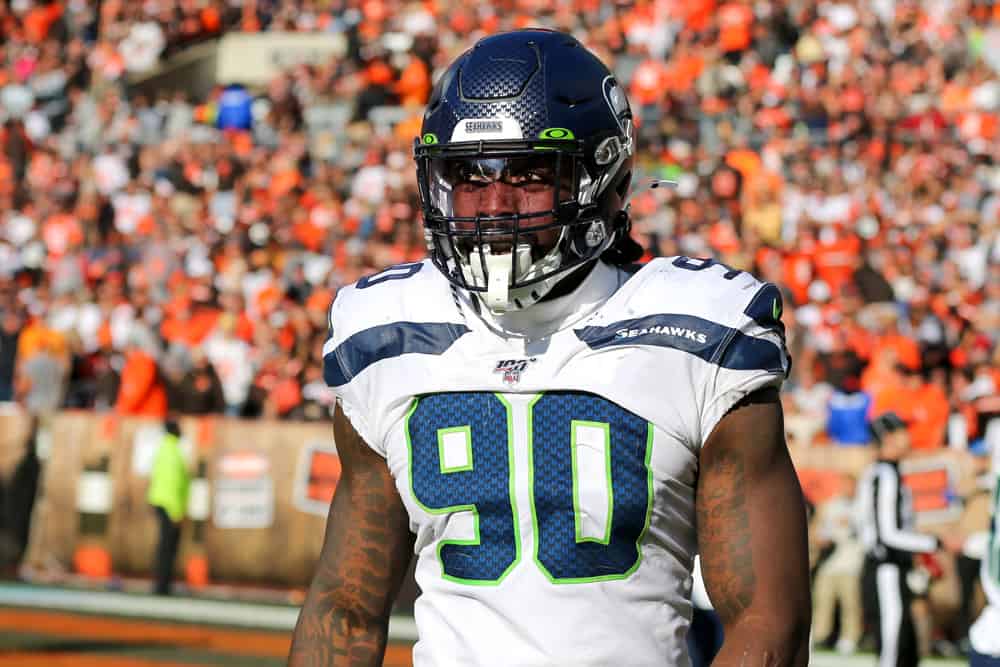 Cut bait.
That's the first thought that came to mind when hearing Adam Schefter's update about free agent Jadeveon Clowney.
The ESPN insider reported yesterday that the Cleveland Browns have offered more money to the defensive end than any other team. However, Clowney remains available, a fact Schefter noted may be because he simply doesn't want to play in Cleveland.
Adam Schefter, on The Next Level on @ESPNCleveland today, had this to say about DE Jadeveon Clowney and the Browns @AdamSchefter @egoldie80: pic.twitter.com/d3URysUQ7M

— Jake Trotter (@Jake_Trotter) May 27, 2020
Sounds good. No need to pursue this any further.
These are obviously just my thoughts on the matter. Still, when hearing an update like this, it certainly seems as though there's no point in the Browns leaving their offer on the table anymore.
Before moving forward, it's important to note a few considerations here.
For one, Clowney hasn't said a peep. This report may have been sourced from his agent, who's attempting to dissuade any interested teams from thinking Cleveland has the inside track when vying for his client's services. It could very well be one last attempt to see if a preferred landing spot is willing to up its respective offer.
Secondly, Schefter didn't come right out and say "Clowney wants nothing to do with the Browns." He simply laid out the facts — Cleveland has offered the most, Clowney hasn't accepted it.
Sure, it wasn't hard for Schefter to speculate from there. That said, speculation is all it is right now.
Even with all that said, the reality is the Browns have aggressively pursued a player, and the desire to get a deal done appears to be one-sided. Clowney is about to enter his third month as a free agent, and has yet to see the demand he expected.
Knowing that, his hesitation to sign should just motivate the Browns to take their business elsewhere. They've offered a player who's seeking an expensive salary more money than any other team, and he's not taking it.
So why bother anymore?
Obviously, there's no pressure for the Browns to rip apart their offer. Clowney would be a solid addition to the roster, but not acquiring him wouldn't put the team in a rough spot. Many fans view him as an upgrade over current defensive end Olivier Vernon, but the fact is Vernon has more solo tackles (184), QB hits (116) and sacks (39.5) over the past six seasons than Clowney.
Despite that, there's technically nothing wrong with just leaving the ball in Clowney's court while going about their business.
At the same time, would Clowney deciding to head to Cleveland, only after holding out for someone else to give him a better offer, be viewed as a win?
Again, we only have this one speculative update from Schefter. Yet, that doesn't change the fact that it seems Clowney is willing to turn down his most expensive contract because he doesn't want to play for the Browns.
It just forces the question — do the Browns want someone who, as he approaches June still unsigned, says "let me see if something better comes along?"
Don't get me wrong, this doesn't have to be some sort of grandstanding, "we're done here" moment from Cleveland. Nobody needs to dust off the Freddie Kitchens "if you don't wear brown and orange, you don't matter" routine.
Still, there's nothing wrong with the Browns seeing this as an opportunity to say "if you don't want to be here, that's your call, best of luck."
If they want to feel incensed about being turned down despite offering the most, they're free to do so. The fact is the Browns have done very little to prove their reputation as an NFL doormat is behind them. Their roster looks good on paper, sure, but the same could be said for last season, and we all know how that turned out.
That said, Cleveland still isn't in a position where it should be desperate in its pursuit of a player who appears to be making his intentions known. Simply put, the longer this lasts, the more Clowney doubling back and accepting the Browns' offer just comes off as settling.
They really don't need that.
Cleveland is recovering from a year where locker room chaos helped derail a hopeful season. While nobody is insisting Clowney would keep the said trend alive, it certainly seems like joining the Browns isn't something he'd be excited about.
With that in mind, it's time Cleveland just closes up shop, if it hasn't already. Clowney, talented as he may be, isn't individually going to push the Browns over the top this season.
That's especially true if he's already hinting he has no interest in playing for them.